I didn't have the need for a headphone amplifier until I tested some high-impedance headphones like Sennheiser HD700 or Beyerdynamic T90. Then I decided to purchase the Beyerdynamic A20 because it seems to have everything I need for an affordable price.
Does the amplifier meet my expectations? We're going to figure out in the review.
Unboxing Video
Design & Features
It's been a while I haven't seen such an awe-inspiring build quality on a piece of technology. I fell in love with the Beyerdynamic A20 solid-state amp as soon as I took it out of the box. Unlike other manufacturers, all Beyerdynamic products are still made in Germany with high standard, so there is nothing to complain about the design, materials and finishes on the device. Everything is just flawless although the review unit was purchased as used on eBay.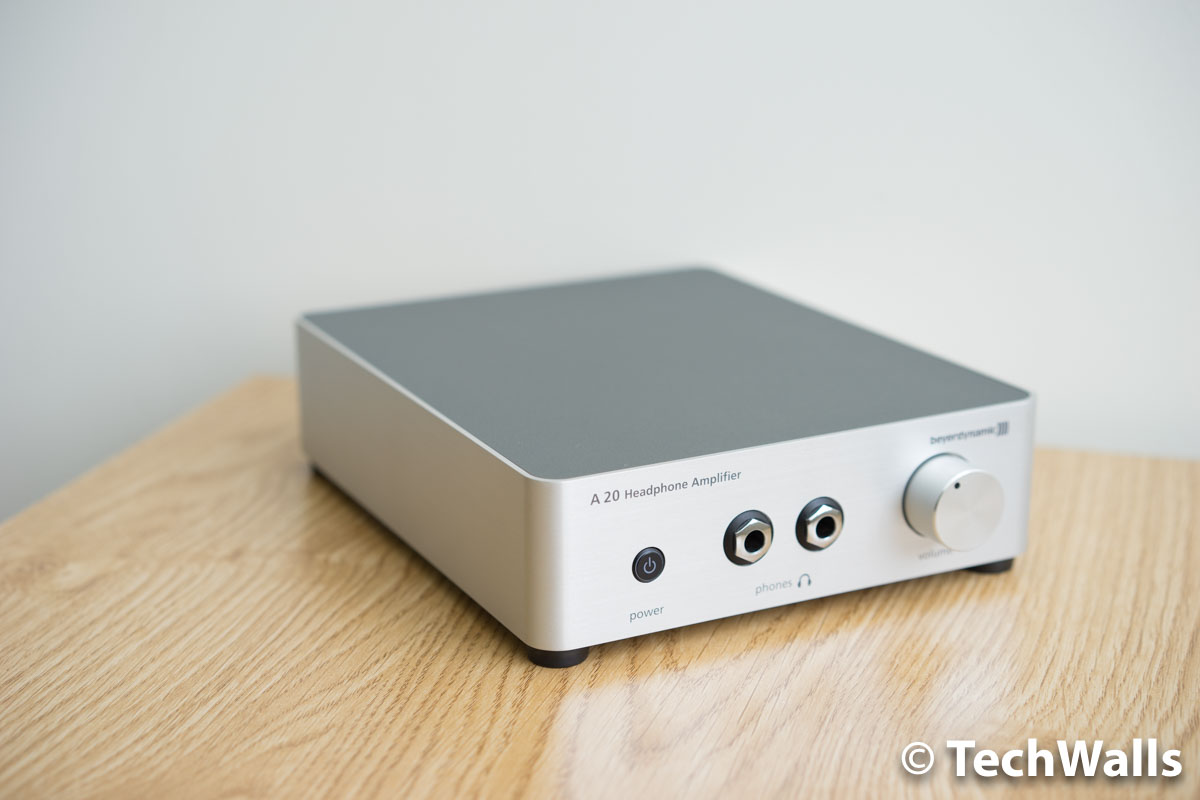 Apart from the amp, there are 2 power cords included in the box, one for US households and another for European/Asian households. The input voltage ranges from 100 to 240V and input frequency is 50Hz/60Hz, so basically you can use the amp anywhere on the planet.
The A20 feels very solid and it is also heavier than I imagined. It measures 6.45″ x 8.34″ x 2.16″ but weighs more than 3.5 lbs. Just by looking at the amp, I already have the feeling of a high-end audio product. The brushed-aluminum housing wraps all sides seamlessly and get rounded at 4 corners, you don't see external screws at all. The top is made of plastic but it is extremely strong and sturdy.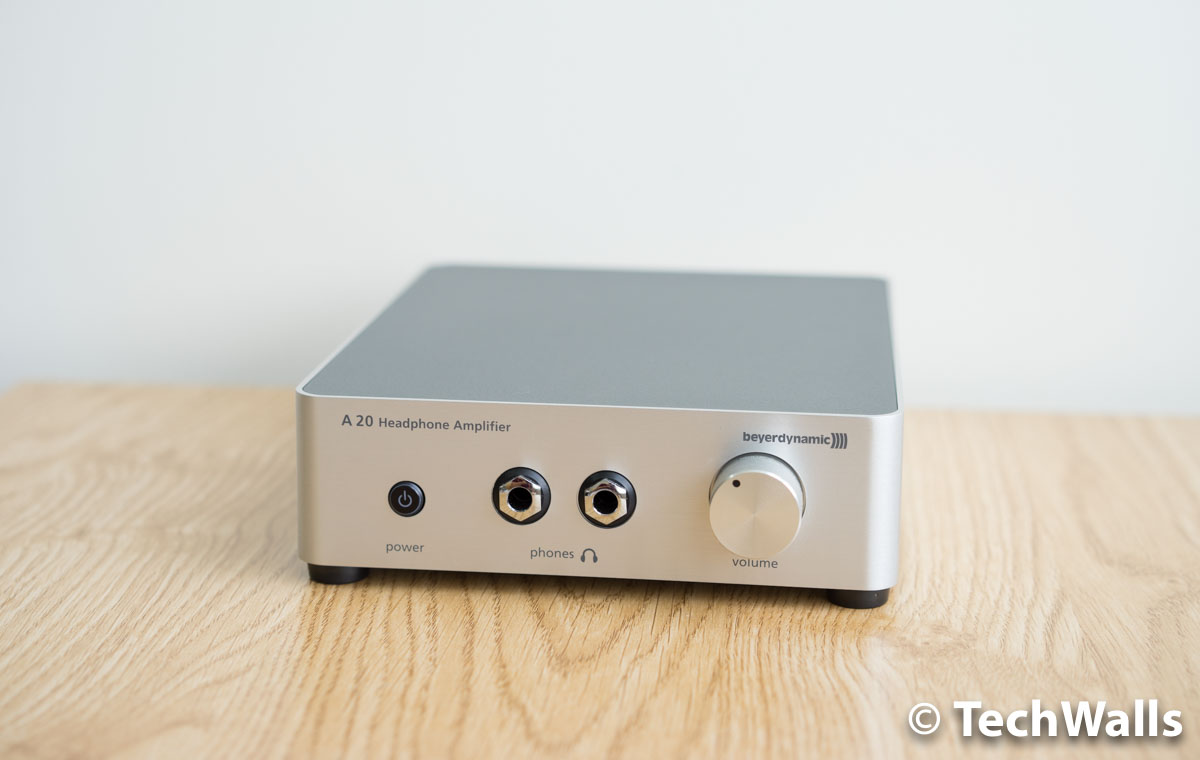 On the front, you can find a LED power button, two 6.35 mm (1/4″) headphone outputs in parallel mode, and a ALPS potentiometer knob for smooth and light turning. The knob will control volume of both headphone outputs, you might see a little decrease in volume level when you plug in 2 headphones at the same time. On the back, we have RCA inputs, RCA outputs and power input.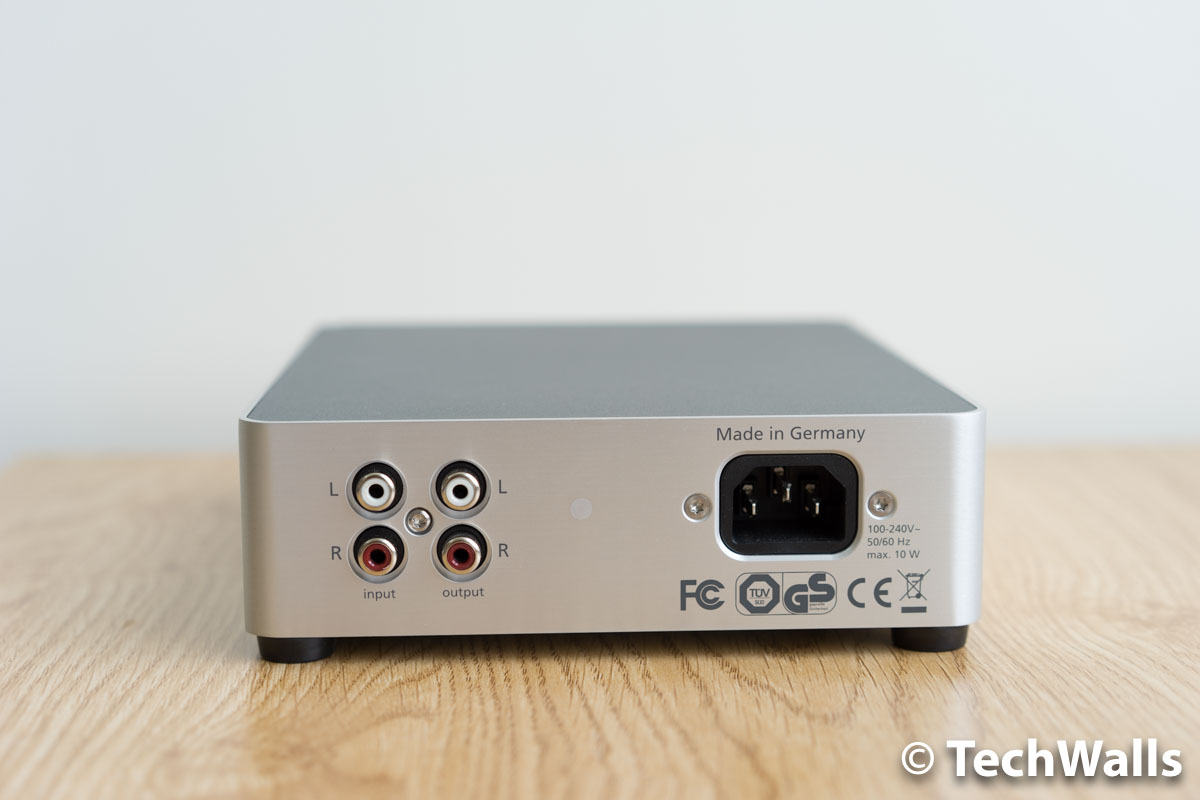 Audio Quality
In terms of specs, the Beyerdynamic A20 can drive 2 headphones with impedance from 30 to 600 ohms. Its output power is 100 mW / 600 ohms, 150 mW / 30 ohms, 170 mW / 250 ohms. So, it shouldn't have any problem driving all headphones I've ever reviewed here.
I've paired it with the Denon DA-300USB DAC and tested with the Sennheiser HD700 headphones most of the time. The setup has actually stayed on my desk for over 6 months. You can see the low-budget audiophile headphone setup in the video below.
The job of a headphone amplifier is to increase volume level and the A20 does its work exceptionally well. If you connect the Sennheiser HD700 to your headphones or DAC, you will most likely crank up the volume to nearly maximum. After adding the amp, the volume knob often stays at just 30-40% and the sound is quite loud already.
Notably, the bass is slightly extended and becomes tighter without overwhelming the mids. What I love the most is, of course, the midrange presentation. I enjoyed the "Sessions from the 17th Ward" album by Amber Rubarth even more as I could hear more details and the mids are extremely smooth with more silent background. There is no more hissing sound and distortion at high volume.
Conclusion
Pros
Premium design and build
Makes the sound richer and cleaner
Can drive most headphones
Cons
Works better on high-impedance headphones, so you shouldn't expect better performance on all headphones.
The Beyerdynamic A20 headphone amp is a must-have companion for your expensive headphones. It has an affordable price and capabilities of high-end amps, therefore, I highly recommend the product.
Disclosure: We might earn commission from qualifying purchases. The commission help keep the rest of my content free, so thank you!