So you want to bring the whole home theater experience to your desktop, eh? There are quite a few options to choose from in the way of media centers, but the average entry-level entertainment hub just won't cut it – you're looking for a highly customizable, feature-rich solution to all your video streaming needs. Well search no longer – here are a few of the most popular free media center apps available for your Mac.
XBMC Media Center
I've been a die-hard XBMC user since the glorious days of original Xbox modding – a simpler time before media center apps were a dime a dozen, and Microsoft was still relatively new to the world of console gaming. Now fast-forward to nearly a decade later and XBMC Media Center is among the most prestigious, advanced and elegant solutions to providing a high-quality entertainment center experience. There's even an entire Xbmc OS based on Canonical's Ubuntu – XBMCbuntu, but we'll save that for another time.
There is a seemingly endless array of plugins and scripts for this behemoth of a media center, ranging from content aggregators like Navi-X to full-fledged TV simulation scripts like PsuedoTV. Scripts are essentially mini apps, (written in the Python scripting language) which run exclusively on XBMC. Plugins are also written in Python but are much simpler and lighter on resources; rather than using their own interface, they present themselves as a basic XBMC menu.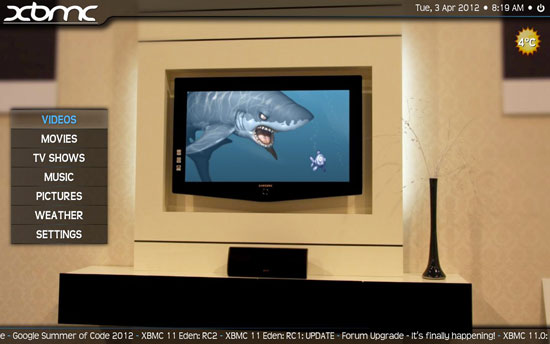 Aside from the massive selection of add-ons, Xbmc is highly themable and skins are effortlessly downloaded and installed through the app itself. Unlike a lot of media center apps – or even open source programs in general – Xbmc has a huge assortment of beautiful and practical themes that completely morph every aspect of the UI and give it a whole new feel.
There's also a free remote app available for Android devices, developed by the official XBMC team. With XBMC Remote, the entire media center can be controlled via your Android handset or tablet over WiFi. I've had some trouble getting it to work on my ancient Xbox but it's always worked flawlessly on my MacBook, although a remote isn't very useful with such a small display.
XBMC is a great platform for just about everyone. From the computer-illiterate folks to the most tech-savvy geeks, this media center will cater to all your multimedia needs.
You can download the most recent version at XBMC.org
Plex
Like nearly all open source media centers, Plex is based on XBMC. To be completely honest, I was pretty disappointed with this one. From my experience it should be called something along the lines of "YouTube Media Player", considering its main function but we'll get to that in a bit.
Of all the media centers I've tinkered with, Plex wins the award for being the most bland and least user friendly. The default theme is a stripped down version of XBMC's Mediastream – and by stripped down, I mean they took the same theme and just removed the background images and anything else that would make it look appealing.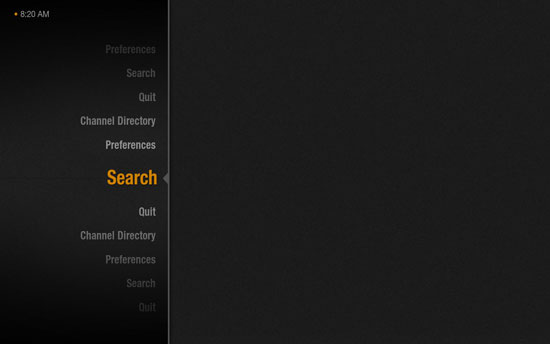 Plex gives the impression that the developers know just enough about coding to change around a couple minor things and pass it off as something different than XBMC. It's different all right – different in the sense that your cursor can't reach the bottom quarter of the screen and you're forced to use the keyboard to navigate most menus. Different in the sense that the only real feature is the search bar – complete with next-generation, mind blowing features such as searching YouTube and… Oh wait – that's all it does. I suppose it can search your library as well, if you could figure out how to import any media, that is.
At this point, those of you who know (and love?) Plex are probably thinking I'm just some idiot who didn't take the time to figure out how it actually works – and you're partially correct. How user-friendly the app is plays a key role in my evaluation, and Plex was definitely lacking in that area.
To populate the media library, you have to download some additional software: Plex Media Server. Correct me if I'm wrong, but it seems kind of redundant to stream media from your desktop, to your desktop. It just seems to me that there are some unnecessary steps in there that could have been easily avoided.
For the most part, Plex isn't all that great. But when you take a few hours to read the documentation and get the media server up and running, it's almost up to par with the early versions of XBMC or Boxee. The most accurate description of this app would be a less functional, bug-ridden clone of XBMC.
You can get the latest version here.
Boxee
Boxee is also based on XBMC, but is proprietary software originally developed for the Boxee Box by D-Link. I haven't actually got my hands on one of the devices, but luckily there is a desktop client as well.
Boxee feels a lot like XBMC but with more bells and whistles as well as a few extra features. This app does have a built in Web browser, but I've found it to be somewhat of a waste of time with most Web 2.0 based sites. It's just a bare-bones browser, and the Boxee team doesn't even encourage use of it; it's more or less "something to fall back on," as they put it.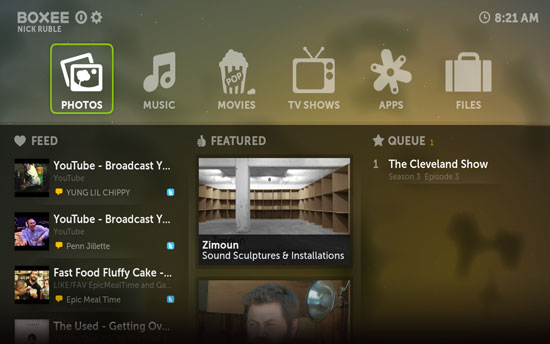 Right – this is about the media center, not the next bleeding-edge Web browser. One thing that I really liked about Boxee was its method of streaming video. If you have a DSL or lower-bandwidth cable connection, HD streams won't do so well with XBMC. Boxee, however, buffers until it knows you'll be able to enjoy the movie without interruption – which might take a while in some cases, but at least you can enjoy the movie without worrying about random buffering every 10 minutes.
Like XBMC, Boxee also has "scripts," but they're referred to as Apps on this platform. Some of the most useful include Netflix, YouTube and Navi-X Remix. Netflix support is a big plus for Boxee, considering the shockingly impractical Web-based client Netflix itself provides. YouTube is pretty self-explanatory, and Navi-X Remix – the XBMC version's more attractive cousin – is probably one of my favorite Boxee apps. With Remix, you can search nearly every video streaming site on the Web, as well as browse the Navi Xtreme Media Portal which has a ridiculous amount of user-submitted content.
Another great feature of Boxee is its seamless integration with social networks. On the left panel of the home screen is a stream populated by uploaded media from your Facebook, Twitter and YouTube newsfeeds – this app truly makes for a complete social-entertainment experience.
Development on the Boxee desktop client appears to have ceased but the most recent version still works great, and is available for download at MacUpdate.
In the end, each platform has its pros and cons, with the exception of Plex – that one's mostly cons. Boxee provides a more elegant, social experience while XBMC provides more freedom and community support. XBMC is much more frequently updated than Boxee, but both are pretty solid platforms and it's really all about personal preference.
Which one do you prefer? You can let us know by leaving a comment in the box below.
Disclosure: As an Amazon Associate, I earn from qualifying purchases. The commission help keep the rest of my content free, so thank you!