If you have just got a new Android or iOS device and you are clueless on what apps should be installed, you can reference the list of top apps that Google and Apple announce at the end of each year. It is not an exception this year as they have already announced the list. Some of the apps have just been released in 2012, some others just issued updates and brought a better user experience.
It is not surprising that the list of apps include apps from many categories and they will be very helpful for users. Let's check out the best apps of the year.
Best Android Apps in 2012
Zappo's: The popular digital storefront Zappos.com offers awesome experience you get on its website with the added convenience of portability. (Free)
Pixlr Express: Pixlr Express is a photo editor that lets you quickly crop, re-size, and fix any picture. It also has more than 600 effects, overlays, and borders to personalize your pictures. (Free)
SeriesGuide Show Manager: This app allows you to track TV shows you should watch and re-watch your favorite programs. (Free)
Grimm's Snow White: The classic Snow White story in interactive pop-up fairy tale book for children. (Price: $1.99)
Evernote: The best app for taking notes and organizing documents. (Free)
Expedia: The Android app can help you book and manage your travel plans, save money from booking hotels and flights. (Free)
Pocket: Pocket is a reader that allows you to save any content for viewing later. It is very useful when you find something interesting on the web. (Free)
Mint: Mint allows users to manage personal finances such as tracking, budgeting and managing money. (Free)
TED: This app presents inspirational talks from remarkable people like education radicals, tech geniuses, medical mavericks, business gurus or music legends. (Free)
Fancy: This app helps you discover, collect and buy things you love at wonderful places and great stores, and unlock some great deals. (Free)
Ancestry: With this app, you can easily interact with your Ancestry.com family trees or build a new family tree from scratch. (Free)
Pinterest: Help manage your brand's Pinterest pages from anywhere. (Free)
Best Android Games of 2012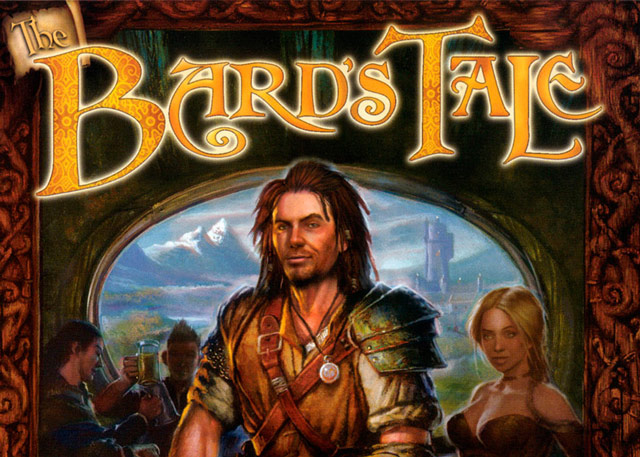 The Bard's Tale: A funny RPG with action, intrigue, interesting and realistically motivated leads. ($2.99)
Nun Attack: Nonstop action with a wildly irreverent story and epic boss battles. (Free)
Granny Smith: Very cute game that Granny Smith run through different environments to catch a thief. ($1.99)
Zoo Keeper Battle: An action puzzle game that you need to capture as many animals as you can in 30 seconds. (Free)
Devil's Attorney:  A turn based strategy game that we play defence attorney Max McMann to free his clients by using his courtroom skills. ($0.99)
Strikefleet Omega: A strategy game that has you lead warships to protect the Earth. (Free)
Funky Smugglers: An arcade game that we have an X-Ray scanner to check people from smuggling stuffs through an airport. ($0.99)
ShadowGun: DeadZone: get into heroic multiplayer battles with up to 12 online players. (Free)
Need for Speed: Most Wanted: Console quality graphics and deeply immersive gameplay make the best racing game ever. ($0.99)
Hamlet: The game features tricky puzzles , unrestrained creativity and humour. (Free)
Subway Surfers: Help Jake escape from a grumpy Inspector and his dog in the chase game. (Free)
Naught: Play with real gravity to avoid danger, solve puzzles and explore your mind. ($0.99)
Best iOS Apps for 2012
Apple also announced their list of their best apps for iOS. iPhone app of the year is awarded to the video editing app Action Movie FX while Rayman Jungle Run grabs the best iPhone game of the year award. For iPad, the best app is Paper and the game of the year is The Room.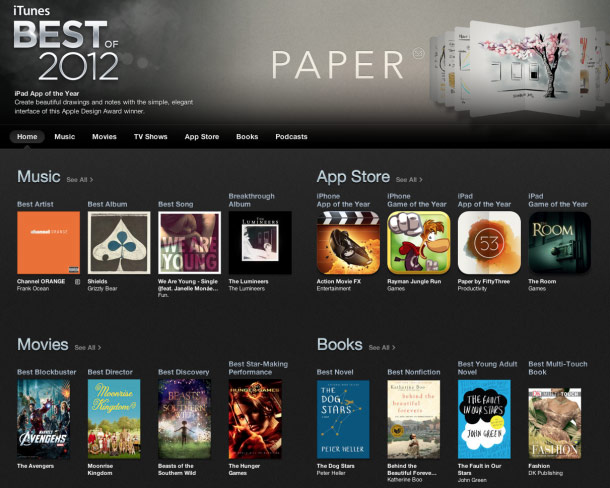 Below is a wider selection of top apps from Apple.
Top Paid Apps for iPhone
Angry Birds Space
WhatsApp Messenger
Draw Something
Camera+
Where's My Water?
Angry Birds Star Wars
Fruit Ninja
Angry Birds
Bejeweled
TETRIS®
Top Free Apps for iPhone
YouTube
Instagram
Draw Something Free
Flashlight
Facebook
Pandora Radio
Temple Run
Pinterest
Twitter
Skype
Top Paid Apps for iPad
Angry Birds Space HD
Where's My Water?
Pages
Draw Something
Notability
Angry Birds Star Wars HD
iPhoto
Minecraft
Where's My Perry?
Words With Friends HD
Top Free Apps for iPad
Skype for iPad
Temple Run
Facebook
Netflix
The Weather Channel® for iPad
Draw Something Free
Kindle
Pandora Radio
Angry Birds HD Free
Calculator Pro for iPad Free
Disclosure: As an Amazon Associate, I earn from qualifying purchases. The commission help keep the rest of my content free, so thank you!