While zip and 7zip formats are quite widely used for creating compressed archives, the RAR format is also one of the most commonly used format. However, the RAR format is native to the paid WinRAR application, whereas, 7Zip is available for free. Furthermore, most operating systems have a built-in zip archive creation (and unzipping) utility for supporting the ZIP format. This creates a dilemma for common users who do not wish to pay for the WinRAR application, but have to deal with RAR files every now and then, (e.g. in case of a downloaded application).
The Extractor is a simple tool that resolves this problem. This application enables batch extraction RAR and ZIP files. All files can be easily added to queue and extracted via simply drag and drop. While there are some other free applications that do support extraction of files belonging to the WinRAR format, their extraction time is quite slow. One such example is the UnRarIT tool. For the batch extraction of ZIP or RAR files, launch "The Extractor", drag/drop the compressed files over to its main interface and select Go option. This will result in their instant extraction.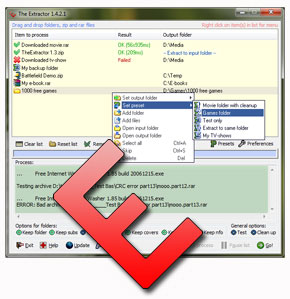 A good aspect of this application is that it provides the utility to pause or abort the extraction process via buttons present on the applications main interface. For those of you who may be wondering about the output folder of the extracted files, it must be noted that it is the same as the source folder. For example, if you have a RAR file named "Techwalls" present in folder "X", then the extracted content of the archive will be saved in the same folder, i.e. folder "X". After the files have been successfully extracted, you can add additional files or folder; access the input folder, reset the file queue and delete files present in the queue, from right-click menu options.
For the configuration of  advanced options, go to the Preferences section. The advanced options in this section can be used to password protect files, auto-close "The Extractor" after a process ends, integrate The Extractor to Windows shell and to view icons in Windows right-click menu. Adding The Extractor to Windows shell can help you instantly add archives to the application for their instant extraction.
On the whole, The Extractor is a good application for those users who do not wish to buy or deal with the annoyances associated with the trial version of the WinRAR application. It does however, lack the ability to create new archives (other than from the ZIP format), which seems like a downside. Furthermore, there is no support for the 7Zip file format. While it is understandable that the application cannot create WinRAR archives due to perhaps copyright and patent issues, it is our advise to the developer to provide a more comprehensive compressed archive creation support for other formats, such as 7ZIP, TAR, etc. The Extractor works on the following Windows operating systems:
· Windows XP
· Windows Vista
· Windows 7
Download The Extractor