In the ever-evolving world of technology, we often find ourselves at a crossroads between power and flexibility. Striking the perfect balance can be a daunting task, but sometimes innovation comes along to redefine the game. Enter Azulle's Byte4, a desktop mini PC that reimagines computing by seamlessly integrating three stellar add-on modules: Active Cooling, 4G LTE (AT&T Certified), and Power over Ethernet (POE).
Disclosure: This is a sponsored article; We were compensated to publish it on our website.
As a leading manufacturer of mini PCs and mini PC sticks, Azulle firmly believes that innovation should simplify our lives rather than complicate them. With that in mind, one of our flagship products, the Byte, embodies this philosophy in its modular design, allowing users to tailor their computing experience to their unique needs without the hassle of complicated setups.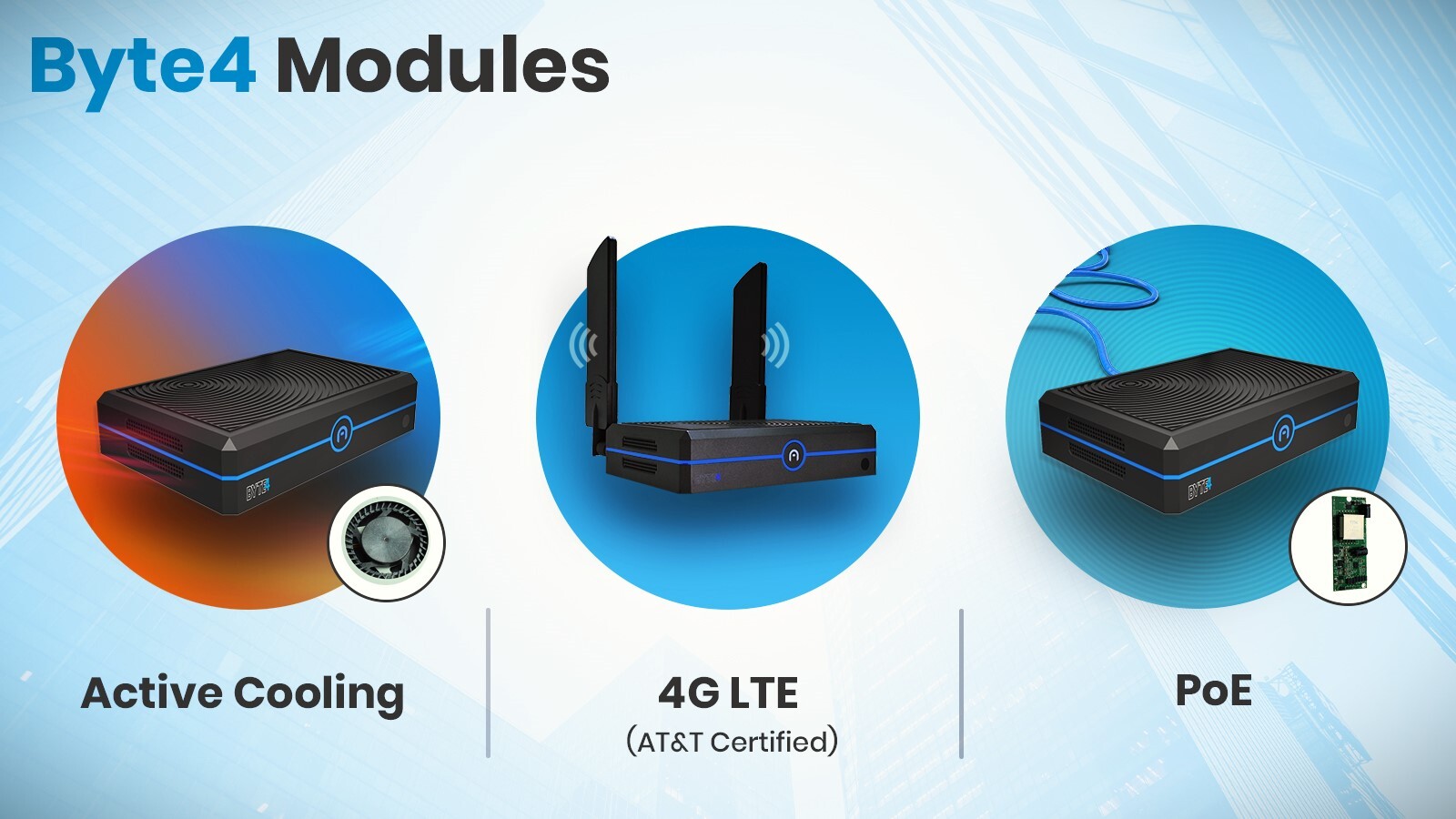 Active Cooling: A Shield Against the Heat
Traditional cooling solutions often come at the cost of space and noise. Unlike the conventional cooling mechanisms that merely whisper their presence, this module introduces a fan into the equation, silently dissipating heat even in the most unforgiving environments.
Engineered with a strategic design that scoffs at scorching temperatures, the Active Cooling module can endure the blistering heat of up to 130°F. It thrives where others falter, forging a path of reliability that is crucial in mission-critical scenarios such as outdoor digital signage, industrial kitchens, factories, and beyond. For businesses that demand hardware that's both robust and heat-resistant, the Active Cooling module is the unwavering ally they have longed for.
4G LTE (AT&T Certified): A Gateway to Uninterrupted Connectivity
In a world where connectivity is the lifeblood of modern businesses, the Byte4's 4G LTE module emerges as a vital lifeline. It does not merely provide faster, more reliable internet connectivity; it opens doors to wider coverage while safeguarding sensitive data with its built-in encryption. This module offers an always-on, cost-effective solution for primary and backup network connectivity, working even in remote locations or during power outages.
Picture a scenario where your primary network connection falters, threatening to disrupt your business operations. Here, the 4G LTE module steps in as a savior, ensuring that your business remains up and running, free from the constraints of downtime. It thrives in environments where traditional wired connections dare not venture and comes to the rescue when internet connectivity is scarce. Security cars, ambulances, and farming technology are some of the biggest use cases relying on the Byte4 with 4G LTE, allowing businesses to securely transfer sensitive data and share live vital information and real-time analysis and support.
From remote operations that demand constant vigilance to real-time monitoring that bridges vast distances, and in-vehicle networking that keeps you on track with remote GPS tracking, the 4G LTE module shines in various roles, weaving a web of connectivity that adapts to your ever-changing needs.
Power-over-Ethernet (PoE): Power and Data Through a Single Cable
The Byte4's Power over Ethernet (PoE) module is a game changer in the world of power and data transmission. By eliminating the need for multiple power outlets, the PoE module streamlines the deployment of uninterruptible power supplies, ensuring 24/7 operation. With a single network cable, the module enables the transmission of both data and power, transforming the very essence of network connectivity.
This flexible module, tailor-made for remote applications, serves as a cost-effective, easy-to-use solution in various domains. Imagine wireless access points that draw their power from the network itself, security equipment and cameras that stay vigilant without needing separate power sources, or door entry systems that seamlessly integrate into your security infrastructure. The PoE module's applications are as diverse as the industries it serves, from IoT innovations to video surveillance systems and retail kiosks to digital signage.
Simplify how your business is powered with easier installation, reduced clutter, and increased flexibility of device placement.
Unleash the Possibilities with the BYTE4 Exclusive Add-on Modules
In the grand narrative of computing, where adaptability meets innovation, the Byte4 mini PC weaves a story that empowers you to craft your ideal hardware. With its Active Cooling, 4G LTE (AT&T Certified), and PoE modules, it's more than a device; it's a canvas where customization and practicality unite, ensuring that your computing experience is uniquely yours, one module at a time.
Contact Azulle at [email protected] or visit Azulle.com for help choosing the right hardware solution for your business.
About Azulle
Azulle is a leading brand and manufacturer of mini PCs, dedicated to developing and introducing practical innovations for homes and businesses. The company provides customers with cutting-edge devices and premiere US-based customer service and technical support. All products are distinctly designed by a team of avid technology lovers and visionaries who are inspired by the needs of real people.
Disclosure: We might earn commission from qualifying purchases. The commission help keep the rest of my content free, so thank you!