2013 is the year when cloud storage showed its important. More and more people are now using various cloud services to back up their files and data. There are many services which even have auto upload feature i.e. whenever you add a new photo a video it is automatically backed at your online account.
We have Google Plus which automatically backups your Photos and videos. It does even have feature which allows you to backup all your photos/videos present in your device which haven't been uploaded. Dropbox also have similar feature.
Read also: How to Backup Instagram and Facebook photos to DropBox/Google Drive automatically
Is there a service specifically to back up screenshots? Yes, we do have an Application named ShotDrop allows you to do so. You can use this application and link it with your Dropbox account. After that whenever you take any screenshot it will be backed up automatically.
How to take a screenshot
This method differs from device to device. Samsung devices use combination of Power and Home Button to take screenshot. While some Samsung devices have sensors inbuilt, all you need to do is wave your hand over the screen and it's done. On the other hand, other Android devices including Nexus use combination of Power and Volume Down buttons.
Advantage over auto save feature
ShotDrop has advantage over the auto save feature offered by Google Plus, Dropbox and others. If a person wants to upload only the screenshots he/she takes and not his/her personal pictures then ShotDrop has a great advantage.
Downloads
You can download ShotDrop from these links. We have two versions of the application one paid and other free and there are some deal breaking differences between them.
In free version you are free to take as many screenshots you want until you reach 100. Afterwards application limits the number to screenshots to back up to five. In case you want to back up more screenshots then you can do that by buying the Pro version which comes for $0.99
Download ShotDrop from Google Play Store (Free Version): ShotDrop Free
Download ShotDrop from Google Play Store (Paid Version): ShotDrop Paid
How to auto upload screenshots to DropBox?
Download the application from the links above. Click on the application and you will be greeted by the following screenshot which asks you to link with Dropbox. If you have Dropbox account then it's great fill in your credentials otherwise go over to this link and create a account for yourself.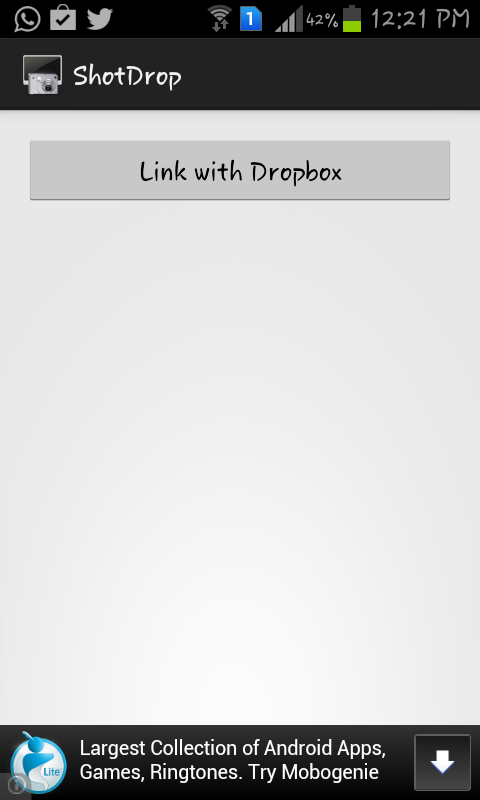 After that Dropbox will ask you to allow permission, grant them and your work is done.
Now whenever you will take a screenshot it will be automatically uploaded to your Dropbox account. Just as shown below.
Settings:
As you can see in the screenshot below that you can unlink you Dropbox account anytime you want and use another one. There is even option whether you want ShotDrop to run in background or not?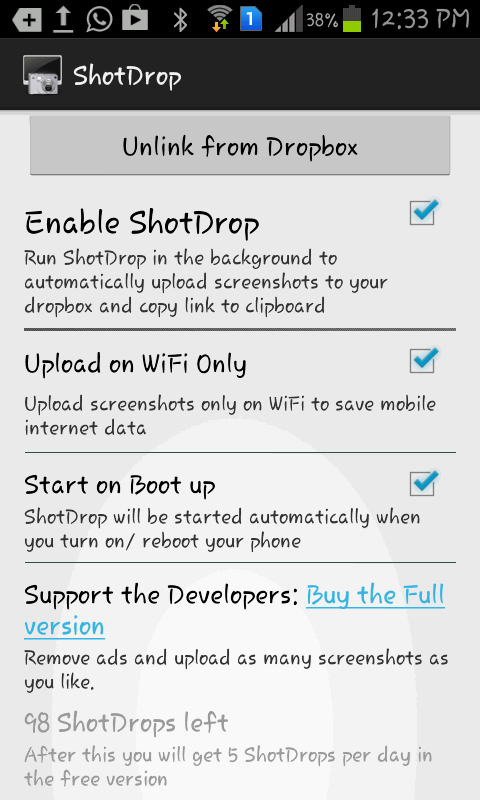 There is another setting by which you can allow screenshots to be backed up only when you are connected to a Wi-Fi connection. This will help you to save your mobile data which may incur data charges. In the last setting you can choose whether you want ShotDrop to run automatically after you have rebooted your device. If you facing any kind of difficulty at any step make sure to ask us in comments section below.
Disclosure: As an Amazon Associate, I earn from qualifying purchases. The commission help keep the rest of my content free, so thank you!