Ortur has been well-known in the industry of diode laser engraving and cutting technology. Last year, we checked out the Ortur Laser Master 2 Pro and were impressed by its outstanding and stable performance. The product was highly praised by many small manufacturing enterprises and studios, however, it is a high-end machine with an expensive price tag. The Aufero Laser 2 has been released for users on a lower budget who also doesn't want to sacrifice important features.
The Aufero Laser 2 is not the successor of the successful entry-level Aufero Laser 1 launched last year. They target different users as the Laser 2 is built for more advanced users. It is slightly more expensive but we appreciate the larger engraving size (390x390mm as compared to 180x180mm), faster engraving speed, and a more stable engraving effect. Another difference is that the Laser 1 comes pre-assembled while the Laser 2 needs to be assembled out of the box. The process takes around 20 minutes and you can follow the official guide from Ortur.
The Aufero Laser 2 comes in 3 versions with 3 different laser modules and their prices range from $269 to $369 during the promotion. For instance, the LU2-2 version has an original price tag of $329 but it is on sale for just $269. Moreover, they have gifts for the first orders of the day. Specifically, 1st-3rd orders get a free YRR 2.0 (a rotary roller for cylinder engraving) worth $89.99, and 4th-6th orders receive a Z-height lifting device worth $69.99. The promotion runs from now until February 10th, 2022. The LU2-2 version is good enough for beginners; If you need a laser module for better engraving or cutting, you should get the LU2-4-SF and LU2-4-LF with air assist.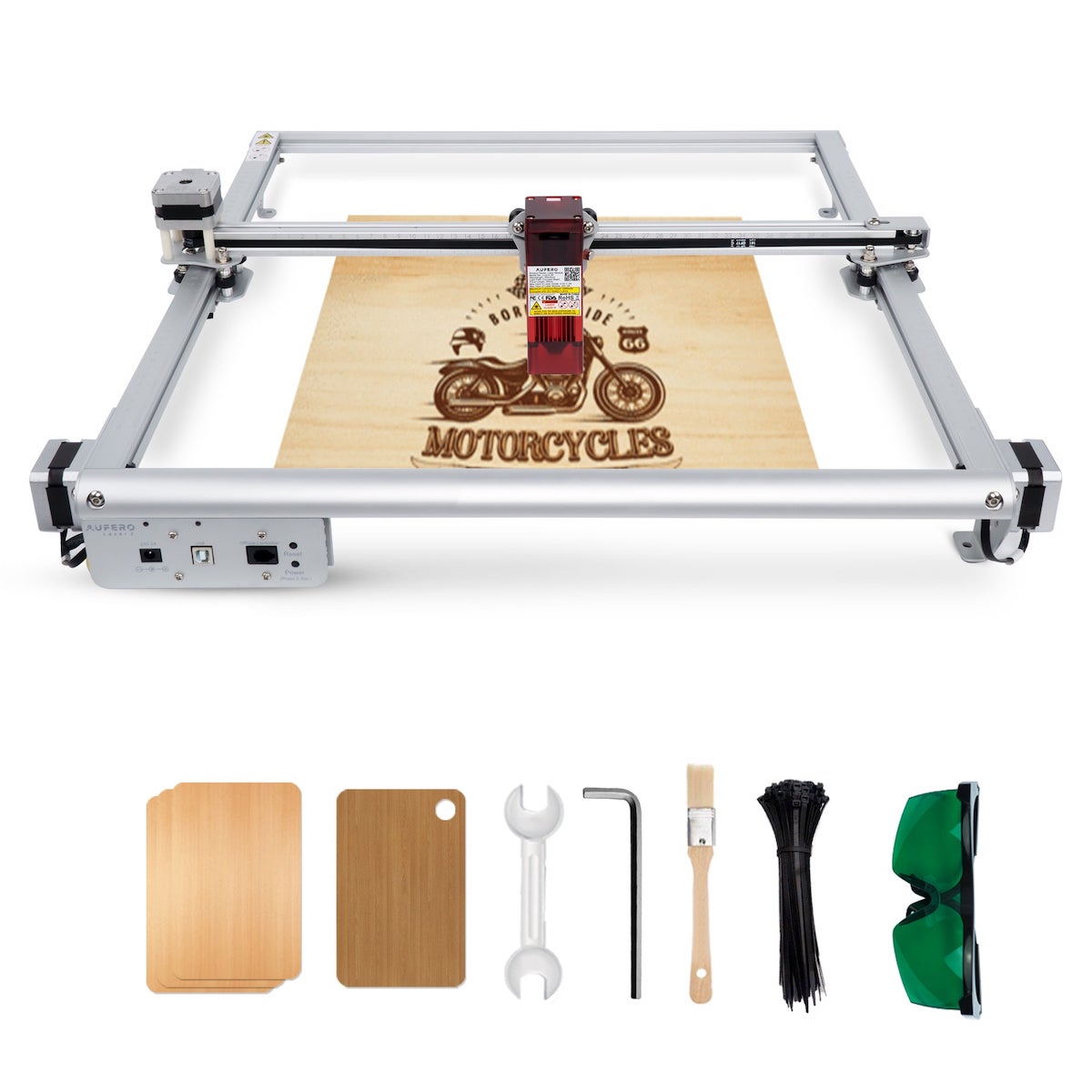 Specifications
Motherboard
OLM-PRO-V1.2 Motherboard, 32-Bit ESP32MCU
Safety Precautions
1. Active Position Protection
2. Exposure Duration Detection and Limitation
3. Laser Beam Safety Guard
4. 24V Power Delivery System
5. Power control system
Frame Materials
Aluminum, Acrylic
Motors
NEMA 17 Stepper Motors
Mechanical Precision
Y:12.5um, X:12.5um
Pixel Accuracy
Adjustable (Default: 300 pixels per inch, about 0.81um Pixel Accuracy)
Engraving Area
390mm x 390mm
Available Laser Modules
LU2-2 (Luminous Power: 1,000-1,600mw)
LU2-4-SF (Luminous Power: 4,500-5,500mw)
LU2-4-LF(Luminous Power: 4,500-5,500mw)
Wave Length
445±5nm
Focus
Fixed Focus
Default Focal Length
50mm
Control Mode
PWM
Power Rate
S0-S1,000
Engraving Speed
0-10,000MM/Min
Baud Rate
115200 – 921600 (Default: 115200)
Computer OS
Windows, macOS, Linux
Control Software
LaserGRBL (free), LightBurn (Paid)
Input Format
JPG, JPEG, PNG, BMP, SVG, etc.
Available Materials of Engraving
Wood Board, Paperboard, Black Acrylic, Leather, Food, Stainless Steel, Power Coated Metal, etc.
Available Materials of Cutting
Wood Board, Paperboard, Black Acrylic, Leather, Felt Cloth, Dark Color Plastic Sheet (Melt), etc.
Net weight
3 kg
Product size
582 x 580 x 140 mm
Input Voltage
110V-220V
Power Adapter Output
24V/2A
Operating Temp.
0℃-65℃
The new Ortur machine has a different design as compared to the Laser 1. It has low center of gravity X-axis structure, which can ensure the accuracy of engraving under extremely high-speed engraving speed; XY axis scale is convenient for users to place the engraved objects; modular assembly can be easy for novices to install the machine. The belt is easy to adjust and it is easy to maintain the machine.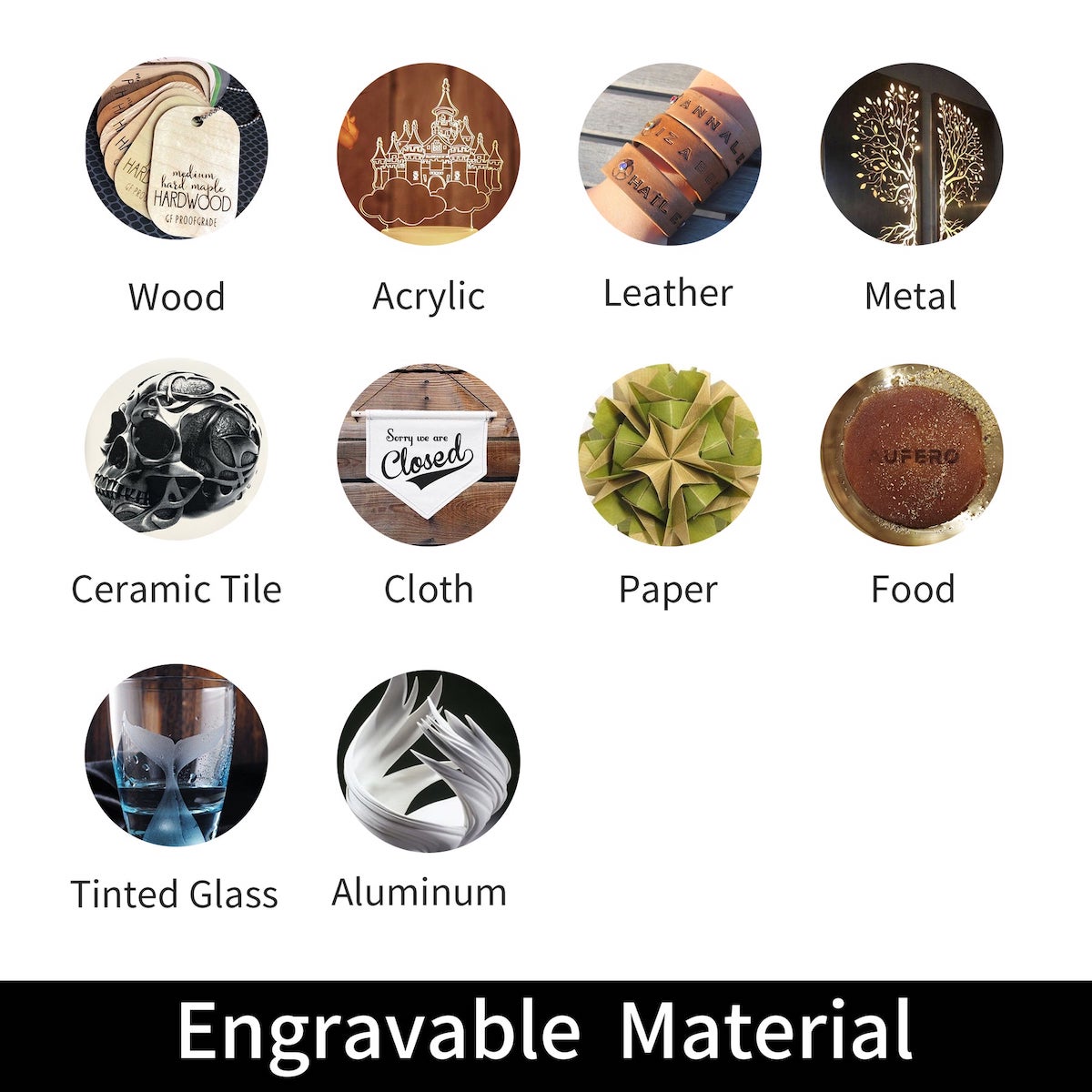 The LU2-2 features fixed focus, smaller luminous cavity, and smaller focal spot; It is suitable for engraving high-precision patterns on materials with low hardness, like phone case, leather, or wooden boards. The LU2-4-SF module offers short focal length, a smaller focal spot, and high laser energy density; This is great for carving harder materials like stainless steel, glass, stone, or ceramics. Lastly, the LU2-4-LF is ideal for cutting wooden board, leather, or acrylic.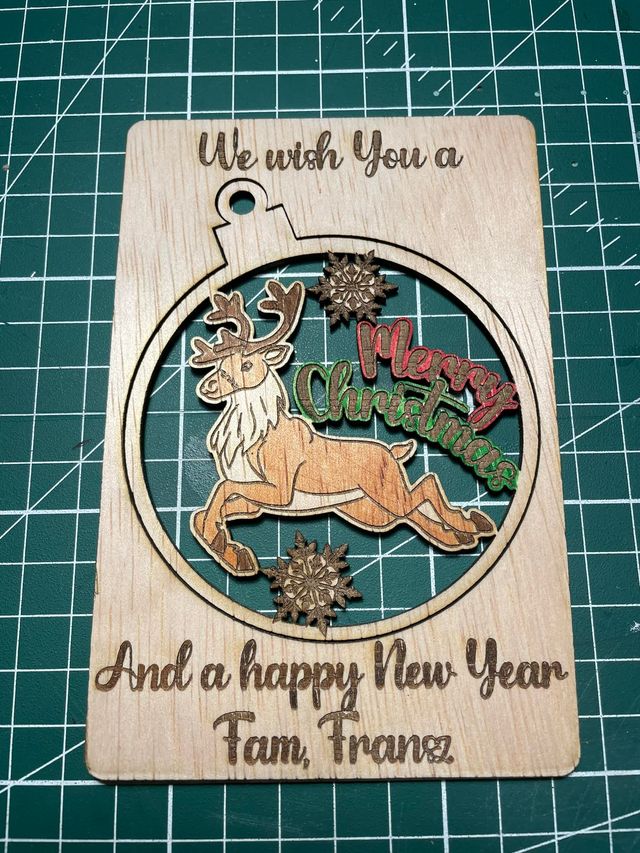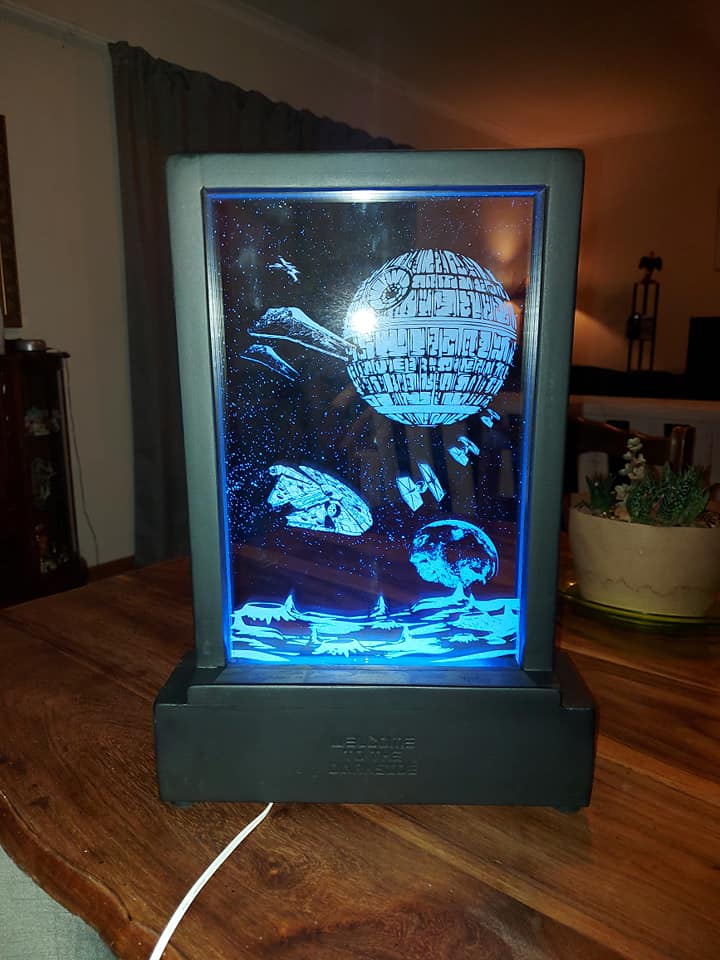 The Laser 2 is powered by OLM-PRO-V1.2 motherboard which provides smooth movement, fast speed, and high carving accuracy. The latest firmware also improves the grayscale engraving effect and execution efficiency. The maximum engraving speed can reach 15,000mm/min, and the common engraving speed is 10,000mm/min. The 9th-generation motherboard supports both Windows and macOS, moreover, users don't need to install any driver to use it. Another good news is that a dedicated app will be released soon; The operation is simpler with the new version of OOC2.0 offline control screen that will be launched in March, and it can be used without the computer.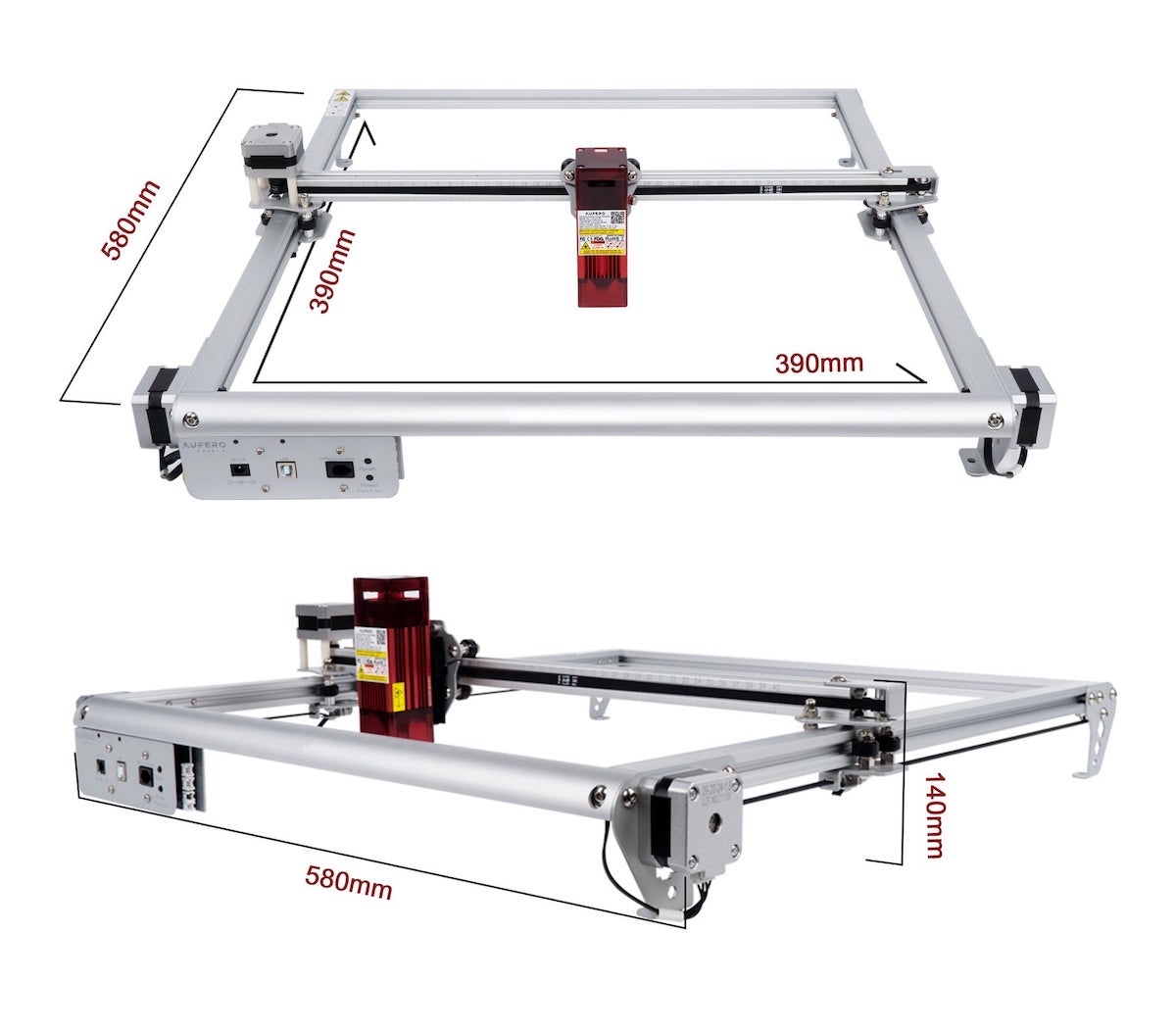 Another advantage of the Laser 2 is safety protections. The machine features a four-fold safety system:
Real-time position protection: It is equipped with a gravity sensor, the laser will stop immediately when the machine moves.
Hardware watchdog: If the machine and the host computer are disconnected, the laser will stop.
Exposure time is limited: If the XY axis of the machine does not move and the machine is emitting laser light, the laser will be turned off within a certain time limit.
Power supply safety management: If the input voltage is abnormal, the power supply to the laser module will be cut off.
Ortur managed to integrate its professional-grade features into this mid-range model. Its performance is comparable to other more expensive engraving machines. You can visit their webpage to find out more information of the Aufero Laser 2 engraving machine.
Disclosure: This is a sponsored post, we were compensated to publish this article on our website.
Disclosure: We might earn commission from qualifying purchases. The commission help keep the rest of my content free, so thank you!