If you are interested in the laser engraving industry, you probably already heard about the original Ortur Laser Master 2 Pro. It is ranked among the best laser cutting and engraving machines on the market as it is a versatile and effective machine at a low cost. The new Ortur Laser Master 2 Pro brings to the next level with a lot of improvements while the price is still reasonable for average users.
Specifications
Motherboard
OLM-MAXUP-V10 Motherboard, with 32Bits MCU
Firmware
OLF-V1.5 Firmware
Safety Precautions
1. Active Position Protection
2. Exposure Duration Detection and Limitation
3. Laser Beam Safety Guard
4. Flame Detector
5. Emergency Stop Button
Add-ons
1. Ortur Control Box (Offline Controller)
2. Adjustable Z-axis Lifting Device
Frame Materials
Aluminum + Powder Coated Steel
Motors
NEMA 17 Stepper Motors
Mechanical Precision
Y:12.5um, X:12.5um
Pixel Accuracy
Adjustable (Default: 300 pixels per inch, about 0.81um Pixel Accuracy)
Engraving Area
400mm x 400mm (15.75 x 15.75 inches)
Available Laser Modules
LU2-4 (2nd Generation FAC , Luminous Power: 4,500-5,000mw)
WaveLength
445±5nm
Focus
Fixed Focus
Default Focal Length
50mm
(from the heat sink to the object)
Control Mode
PWM
Power Rate
S0-S1,000
Engraving Speed
0-10,000MM/Min
Baud Rate
115200 – 921600 (Default: 115200)
Computer OS
Win XP, Win 7, Win 8, Win 10 (LaserGRBL)
Mac and Linux (LightBurn)
Control Softwares
LaserGRBL (free), LightBurn (Paid Software)
Input Format
JPG, JPEG, PNG, BMP, SVG, etc.
Available Materials of Engraving
Wood Board, Paperboard, Black Acrylic, Leather, Food, Stainless Steel, Powder Coated Metal, etc.
Available Materials of Cutting
Wood Board, Paperboard, Black Acrylic, Leather, Felt Cloth, Dark Color Plastic Sheet (Melt), etc.
Input Voltage
110V-220V
Power Adapter Output
24V/2A
Operating Temp.
-20℃-50℃
Features
The Master 2 and Master 2 Pro shares the same build area of 400 x 400 mm (15.75 x 15.75 inches) but their designs are different because the Pro version features laser shield protection and some more features. We appreciate that Ortur made the assembly process easy even for beginners. The machine comes almost assembled and you just need to attach some components. Ortur has a lot of documentations and videos to make the process easier for beginners, it would take around 1 hour to set up the machine and software. It has an all-metal modular construction (full-sheet metal and aluminum body), so it can sit stably during operation. It does not shake violently and therefore, won't affect the final product as well as components' service life.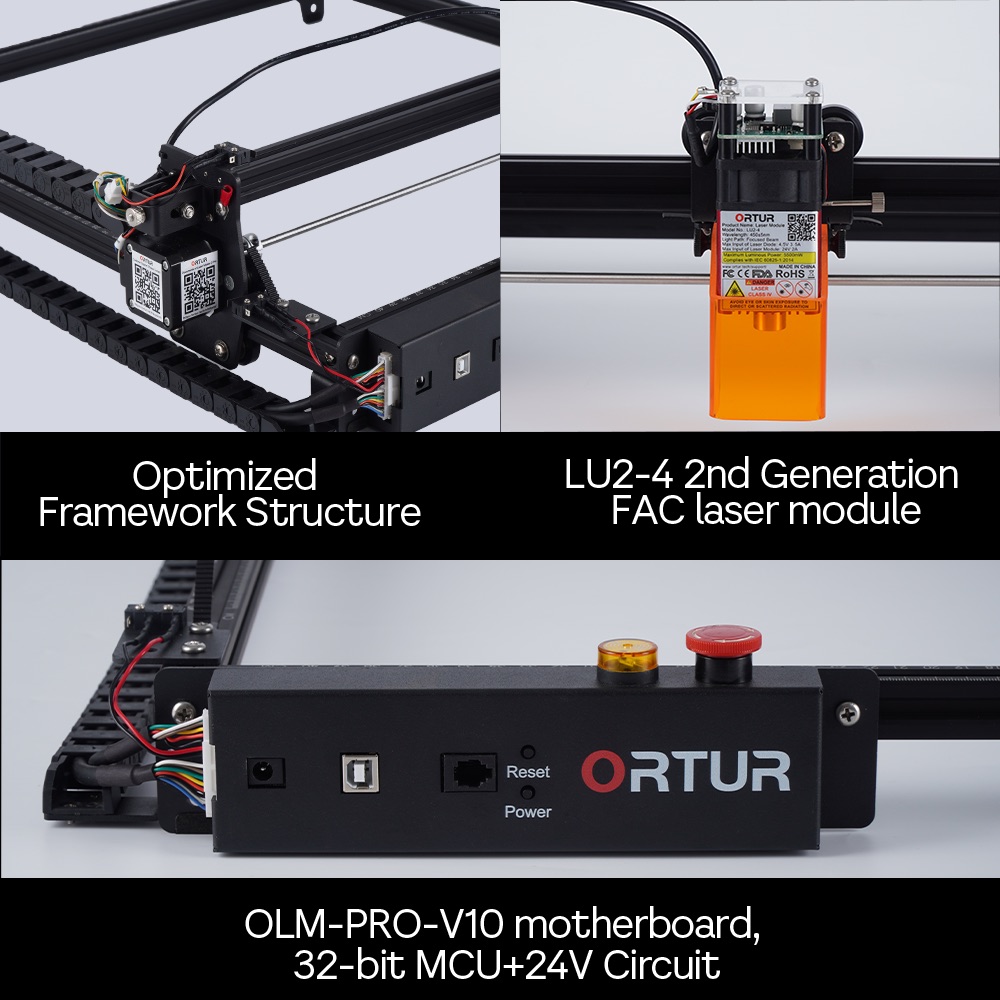 Notably, the Master 2 Pro features a laser protection shield which is made of the same material as the laser protection glasses. It is designed to protect our eyes as it would shield the high-brightness laser source and high-frequency flashing laser during engraving. Of course, protective glasses are still included inside the box. Another useful feature is the scale mark printed on the aluminum frame which makes position adjustment easier.
It can engrave twice as fast as the Laser Master 2 and about 3 times faster than similar products on the market. This is because Ortur engineer team optimized the motion algorithm to increase the maximum speed from 4,000mm/min to 10,000mm/min. It doesn't use the traditional USB to serial port with baud rate limited to 921,600; Instead, the MCU-native USB CDC interface on this machine supports a rate up to 2,000,000 which is helpful in reducing delays caused by command transmission. Some other factors contributing to the faster engraving speed are the high-power laser module and lightweight moving parts.
The machine does not only engrave faster but also more precisely, thanks to the advanced OLM-PRO-V10 3rd-gen motherboard with 32-bit MCU +24V Circuit. The laser module is also upgraded with an advanced high-power 2nd-gen FAC technology module providing more power options from 1W to 40W. Despite being a diode laser, it features 9mm cutting depth or even more; It is powerful enough for detailed cutting and engraving on a wide variety of materials like aluminum spray paint, anodized aluminum, black acrylic, bread, international chess, color paper, plywood, mirror, leatherette, phone cases, sprayed tiles, etc. The engraving quality is improved significantly with more natural grayscale gradient, thanks to the usage of 12-bit precision PWM control signal.
The machine is equipped with many safety features, so
Active Position Protection: It automatically stops when the machine is displaced or tilted.
Laser Beam Safety Guard: Laser stops automatically when the machine crashes.
Exposure Duration Detection: The machine turns off automatically when the motor is idle for a while.
Flame detector: Buzzer alarm would make sound when flame is detected.
Emergency Stop Button: Pressing the button would stop all operations immediately.
The Ortur Laser Master 2 Pro is improved in every aspect as compared to its predecessor and we won't be surprised if it continues to be among the best-selling engravers on the market. This machine might be more expensive but you can easily justify the price difference because it is more powerful, safer, and more reliable. In the US, you can buy the product from its website or AliExpress.
Disclosure: This is a sponsored post, we were compensated to publish this article on our website.
Disclosure: We might earn commission from qualifying purchases. The commission help keep the rest of my content free, so thank you!