You may often exchange important messages on your Smartphone. You may receive personal and special messages which you want to keep safely stored on your phone. However, it may happen that those messages get erased in an accident. You never know! So it is better for you to create a backup for all those important messages. This article discusses 4 of the best SMS backup applications available for your Android Smartphone.
1. SMS Backup+
This is indeed one of the best tools for backing up your sms and log entries on your Android Smartphone. It allows you to save your texts automatically with the help of the Auto backup feature. All you need to do is to modify the settings, and you do not have to bother about individually backing up your texts anymore. When you want to reinstate the SMS, simply click on the Restore option.
2. Go SMS Pro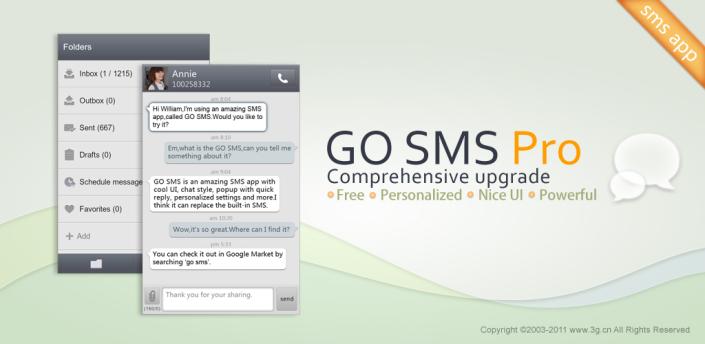 This service allows you to experience an easy way to text. It provides you with a user friendly and stylish interface which improves your texting experience. You can backup all your SMS and log entries and e-mail them to your account. You can assign a password if you have important and private content in your texts. The Go SMS Pro allows you to share and send files on your phone through 2G/3G/Wi-Fi via SMS service. It is an amazing application which also allows you to access the instant chat messaging feature.
3. VeryAndroid SMS Backup
This software allows you to backup all your important SMS texts onto your PC. This provides a secure way of achieving the objective. They store the texts in the form of .txt files or csv format on your PC. It also allows you to restore your texts from your old phone into your Android Smartphone. It is platform independent and can work on both iOS as well as Android. It is easy to install and provides a user friendly interface.
4. SMS Backup
As the name suggests this tool is used to create a backup for all your important SMS messages. It is very secure and you do not have to worry about losing your Android Smartphone texts ever again. This service is compatible with the Android operating system 1.5 and above. SMS backup sends all the backup data to your Gmail account and does not store them in the XML file format. In order to access this feature, enable IMAP on your Gmail preferences. This application also houses the automatic backup feature. A backup is created for any new text automatically.
Conclusion
With the help of these amazing SMS backup application you no longer have the fear of losing your important messages. You can create a backup easily and access them in a secure and safe manner.
Disclosure: As an Amazon Associate, I earn from qualifying purchases. The commission help keep the rest of my content free, so thank you!