In the world today the use of smartphone has increased tremendously and the trend is still on the rise. Smartphone surpassed the number of feature phone years ago. Most of the common smartphone Operating systems include Android, iOS from Apple Inc, Windows phone, Blackberry, Symbian and Tizen. However, among all these it android that is the leader in the market today. If most people use android running on smartphones it is very important and vital to ensure that the security of their smartphones is fully guaranteed. Threats and viruses, theft, hacking, abusive or irritating ads, and other kind are some of the issues behind android security matters.
There are numerous companies that develop applications to help users by providing and ensuring maximum security with their smartphones. Secunia is one such company. Smartphone security from Secunia is a solution which is reliable, free to download and run on your device, effective and very popular with Android users. To avoid vulnerabilities the personal software inspector runs in your smartphone, scans and identifies possible software updates with security issues, PSI for Android works seamlessly together with CSI patch a management for corporate users.
Advantages of Secunia Personal Software Inspector (Secunia PSI for Android)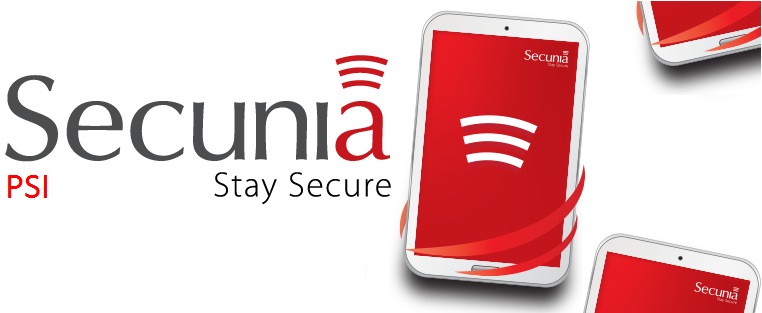 One thing that makes this software stand out of others is the integration with other security apps such as Anti-virus that are installed in your android smartphone. That means, you do not have to keep on uninstalling the antivirus app in your smart phone every time you need the services of the personal software inspector app.
The range at which the app scans is wide enough to cover all the apps downloaded from the main Google Play store, apps you install from other online sources and also those you transfer from your friends phones. This is important so that you do not make your smart phone prone to attacks and threats.
Secunia Personal Software Inspector (PSI) does the scanning quick enough to cover for those apps that have quick updates or even others that have the automatic update settings. So that you are fully secure, the app runs to avert any software update that poses a security threat to your smartphone. This Secunia app leaves your android system at 100% secure.
Scanning network connection especially for the employees and employers on BYOD (bring your own device to work) it is important to cement secure connections to company's network and avoid eventualities of attacks, threats, loss of vital information and unauthorized access with Android devices.
In addition to ensuring you have the most up to date software Secunia Personal Inspector eliminates the possibility of insecure updates in your smart phone. In as much as you like new software update, the security part of it is essential and can be considered a necessity for a good android smartphone.
Where to get the Smartphone security from Secunia
You can download the free Secunia personal software from the GooglePlay just like you do for other common apps. The other place is the Secunia website. However at the website the download button will redirect you to the Google play where you can get the app, install, run and seal your smartphone from vulnerabilities.
Disclosure: As an Amazon Associate, I earn from qualifying purchases. The commission help keep the rest of my content free, so thank you!