When you are looking for an eBook reader with e-ink display, it comes down to just a few choices from Amazon, Barnes & Noble or Kobo. My most recent e-reader is the Nook Simple Touch with GlowLight and I was quite happy with the decent device. I even thought that there couldn't be significant improvements in the industry until Amazon released its new flagship e-reader called Kindle Voyage with some promising features.
While you can easily buy most ebook readers for around $100, the Voyage has a premium price tag starting at $200. Does it really deserve the extra $100? Keep reading for my insightful review after using the device in the last 2 weeks.
Unboxing & Basic Guide
Design
Inside the box, there are just the Kindle Voyage and a USB cable, the power adapter is not included but you can charge the device with adapter of your smartphone or by just plugging it into your computer.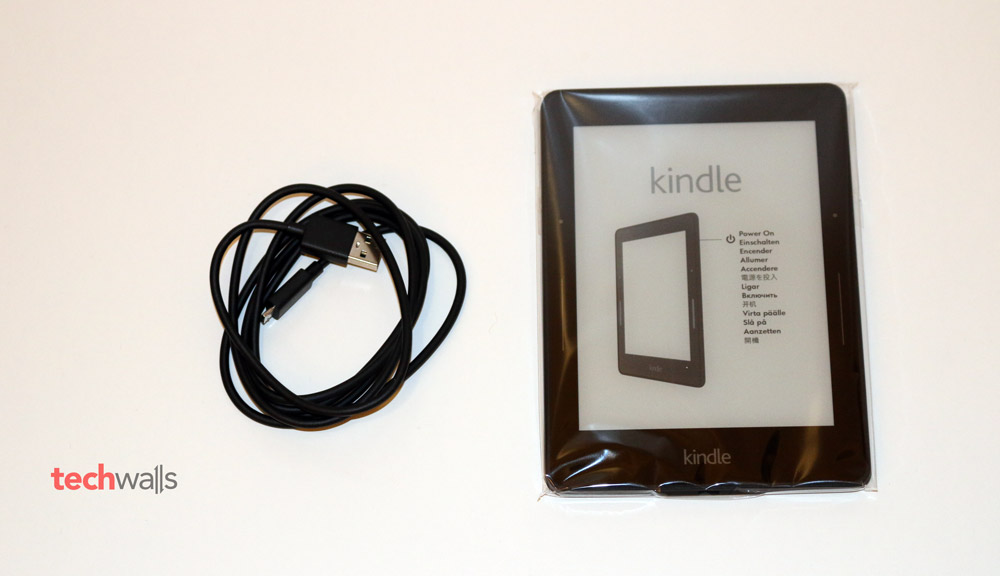 As compared to the Kindle Paperwhite, the Voyage is noticeable smaller, thinner and lighter. The Voyage measures 6.7″ x 4.6″ x 0.36″ and weighs 6.3 ounces while the Paperwhite's dimensions are 6.7″ x 4.6″ x 0.36″ and its weight is 7.3 ounces. This is the thinnest Kindle but the it is not just about the size. Unlike previous models with slightly recessed displays, the Voyage features a flush front display, which means the display and page-turning buttons stay on the same glass surface. To make the design even cleaner, those buttons on the bezel are actually capacitive buttons. So the buttons don't protrude from the surface and they will return a small haptic response when being pressed. The long bar will help you move to the next page while the small dot will return to the previous one.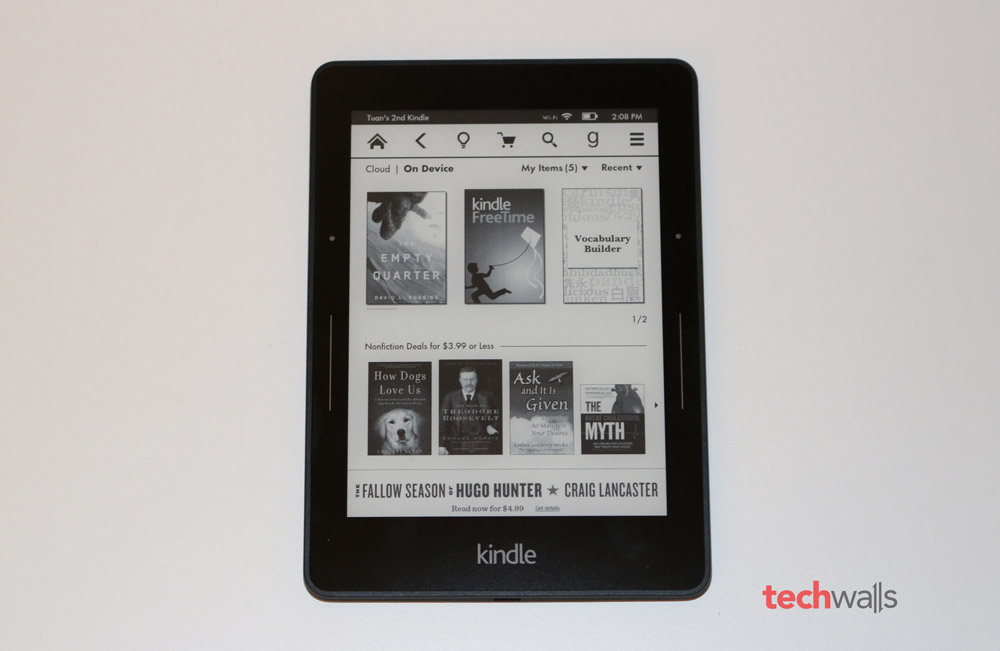 To streamline the design, Amazon also moved the Power button to the back where it could easily be reached by our index finger. The back of the device is made of magnesium which looks much more durable and sleeker.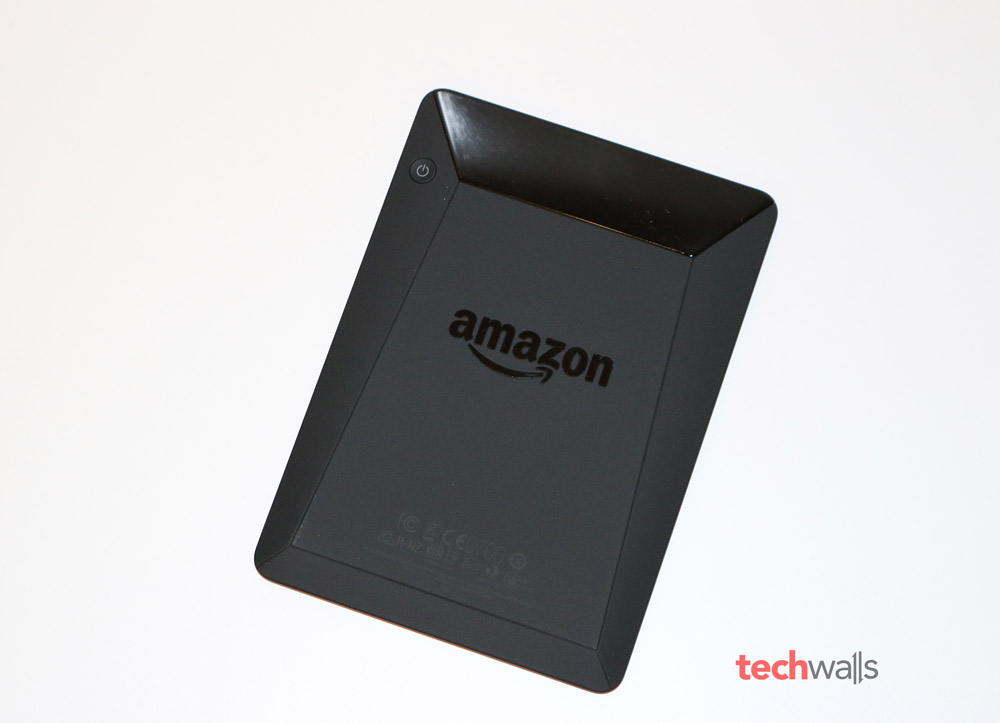 Display
The Voyage is still equipped with a 6-inch screen but its quality is dramatically improved. This is the screen with highest resolution on the market, the pixel density now reaches 300 ppi while other displays still stay at around 200 ppi. The screen is just perfect for outdoor and indoor reading experience, as well as night reading. The text looks incredibly sharp and this is a huge upgrade if you place the Voyage alongside other e-readers like Nook GlowLight or Kindle PaperWhite.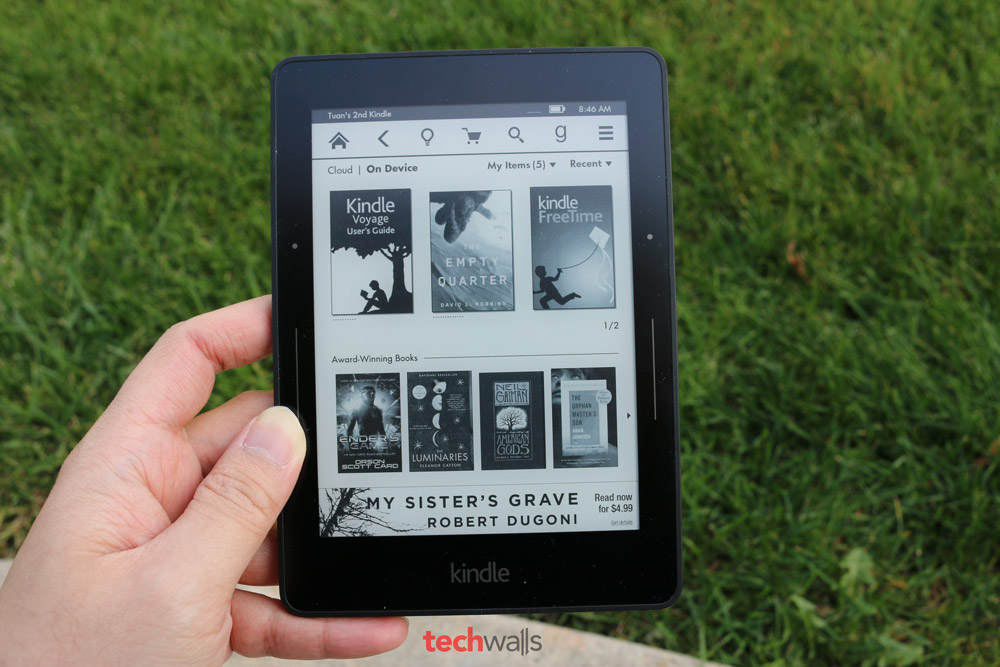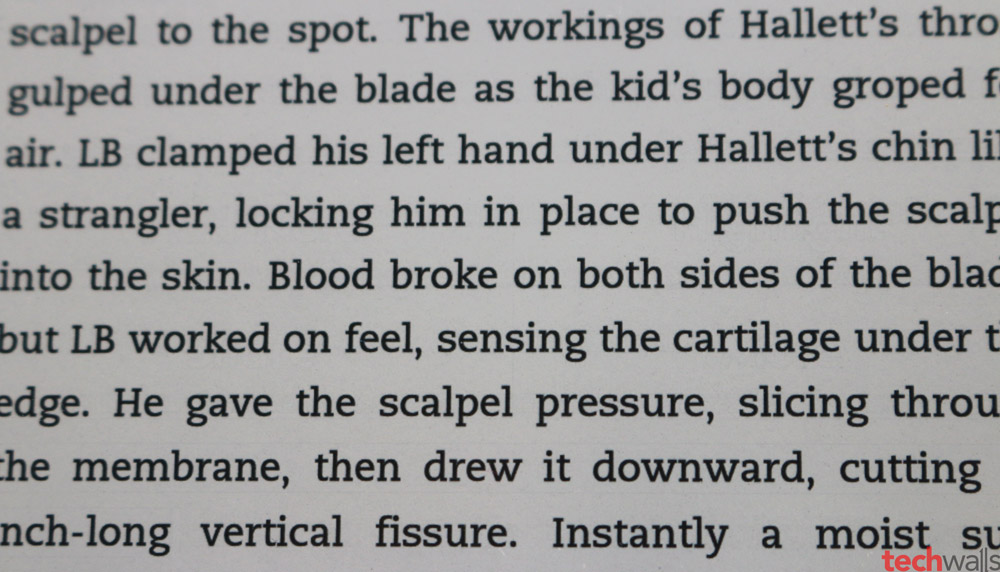 The front glass has matte finish to mimic the real paper and it's done a great job to reduce glare and fingerprints. Sometimes I even can't tell the difference between reading a physical book and reading on the Voyage, the bright screen with dark text provides almost the same experience. The screen still need to refresh itself after about 12 page turns but you will hardly notice text ghosting. You can check out the video below to see performance of the screen in different lighting conditions, absolutely you will be overwhelmed.
My only complaint is the adaptive front light. Is is supposed to automatically adjust brightness of the display to provide an optimal lighting, however, I had to turn this feature off because it always makes the screen very dark and I hardly could read the text. I often manually set the brightness level at about 15-20.
Content and User Experience
Amazon is simply the best in its eBook ecosystem and I believe they will keep dominating the North America's market for a long time. The Kindle Store has a great pricing strategy with a lot of daily and monthly deals on books. Moreover, if you have subscription to Amazon Prime or Kindle Unlimited, you can borrow and read many books at no additional cost. Apart from the Store, you can also copy books from other sources to this device, it supports some popular file types like Amazon's AZW and AZW3, TXT, DOC, DOCX, HTML, MOBI and PDF. Unfortunately, ePub files are not supported at the moment.
The Voyage is incorporated with some interesting features like Kindle FreeTime, Family Library, WordWise, Enhanced Search, About The Book, Goodreads and an experimental Web browser. They are not great selling points but they will provide a better experience using this device.
In terms of performance, this is a very responsive device. Turning between pages, moving between screens and typing on the virtual keyboard is fast and very acceptable for an e-ink display. However, it has a serious issue that makes many buyers upset. It seems like Amazon has some problems in controlling quality of this device, many buyers are upset with the Application Error which makes the device non-functional after waking up. You can read more about the Application Error in my another post here.
Update: The Application Error issue was fixed after I updated to the latest firmware released in late 2014.
Amazon claimed that the battery life on this device could reach 2 weeks with 30 minutes of daily reading at brightness level of 10 and Wi-Fi off. However, I often have to set the brightness at nearly 20 and turn on Wi-Fi all the time, therefore, it could last just about 1 week. It is not a superb battery life but it is still much better than smartphones and tablets out there.
Conclusion
Pros
Bright and clear display.
More compact and cleaner design.
Matte screen works great for indoor and outdoor environments.
Good performance and battery life.
Cons
The adaptive front light doesn't work as expected.
ePub format is still not supported.
Hefty price.
The Kindle Voyage's pricing starts at $199. I expected a fully functional device at this high price range but Amazon failed to deliver it. It seems like the Voyage was not ready in terms of software when it was released. This is an awesome e-reader when it works, fortunately, all the issues have been fixed. Therefore, I can recommend this product now. I can't recommend this product at the moment.
Disclosure: We might earn commission from qualifying purchases. The commission help keep the rest of my content free, so thank you!