The Amazon Kindle Fire has received a lot of buzz lately. The new device is quite affordable, more than three times less than the iPad. This has made many users conflicted over whether they should purchase an Amazon Kindle Fire or an Apple iPad 2. Today we decided to put both devices head to head. Read on to find out which device wins the battle.
Price
The obvious winner in this category is the Amazon Kindle Fire. The Kindle Fire is around $300 cheaper than the Apple iPad 2. This makes it an edge over not just the iPad 2, but also its competitors. Despite implementation of flash and better camera quality compared to the iPad 2, most iPad competitors usually don't focus on having price point as a competing point. Most competitors usually have their tablets priced at or even above the price of the iPad 2. This signals that even if the Kindle Fire doesn't get to the level of the iPad 2, it'll at least win over customers who would have considered one of the other competitors.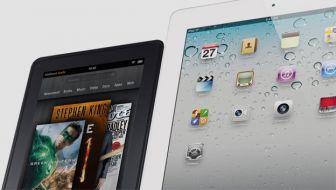 Storage
The iPad 2 wins on the subject of storage. The Amazon Kindle Fire only offers users with 8GB of storage. The iPad 2 notably has several options from 16GB to 32GB. However, one feature that gets forgotten is that Amazon has an ample amount of storage from its cloud system. This in return makes the storage capabilities a lot larger than the iPad 2.
Features
Along with storage, Amazon Kindle Fire lacks several features found in the iPad 2. The Amazon Kindle Fire doesn't have a camera. This may seem like a minor problem at first, but once you see the reach of the problem, you may find it even a deal breaker. Since the iPad 2 has a camera, it has the ability to have FaceTime and other video chatting services; the Kindle Fire couldn't do this. Also, you'll be stuck to surfing at home due to the fact that 3G capabilities aren't found on the Kindle Fire.
Conclusion
Then, you think, is the Kindle Fire really all that it's cracked up to be? Aside from price, you are giving up a camera, storage, 3G, a microphone and much more. Who is the Kindle Fire for? The device is for the individual who still wants the feel of an iPad without the price. You aren't necessarily loosing a ton of features with the Fire. You can still download apps, surf the web, have multimedia, and much more. The consumer looking for a great money saver or the parent wanting a tablet for her child will benefit greatly from the Kindle Fire.
Disclosure: We might earn commission from qualifying purchases. The commission help keep the rest of my content free, so thank you!