All Internet surfers must feel annoying when they visit a web page and have to struggle to find and read its content, Google is feeling the same way too. Matt Cutts, the head of webspam team at Google, stated about the upcoming change of Google search engine at the Pubcon conference a few days ago. All heavy ad websites will be penalized on search results.
Google is said to be experimenting the new algorithm, Google bots will be able to crawl websites and detect how much content is above the fold. So if you are placing 2 or 3 Adsense ads above the fold, you should make adjustments immediately and show off your content. At the conference, Matt asked publishers to think about the issue, how readers will feel distracting when they see your content obscured by ads. Therefore, the change is intended to improve readers' experience, but would it affect bloggers' earnings?
In my experience, I think the change will not decrease my revenue from Adsense. I often place just one ad above the fold because I experimented with 2-3 ads but it doesn't work. The Page CTR and RPM are even lower when there are more ads on the top. At the moment, you can see I am placing 3 Adsense ads on my page and it is understandable that the ad above the fold has the lowest CTR. People come to my site almost from search engines, so they often skip the first part and scroll down to look for the content.
The above-the-fold area is the top part that readers can see when loading a website and haven't take any action. The resolution of 1024×768 pixels is currently the most widely used screen size, so that means we should optimize and put more content above the 768th pixel. Sites that push content below the fold will be penalized on SERPs, this is an illustration of the wrong placement: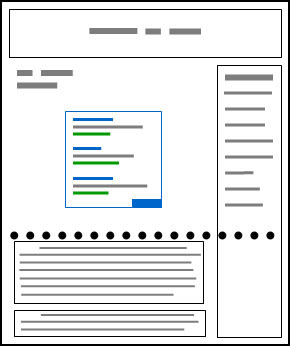 Google recommends us to focus on content and make our site easy to navigate. Readers will never come back to a site with aggressive ad placements, therefore it can affect your site's bounce rate, time on site, visits, etc. So, we should place at most one ad above the fold, take a look at the 2 illustrations: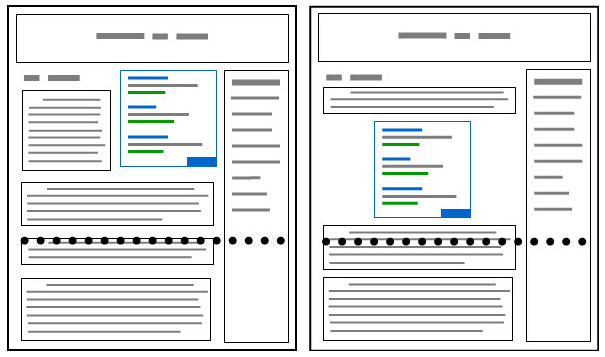 The new algorithm change is in experiment and probably it's been in effect for some websites already. As the change can affect SEO seriously, we absolutely don't want our sites to be degraded in search results. If you have too many ads above the fold, it is necessary to take action right now.
Disclosure: We might earn commission from qualifying purchases. The commission help keep the rest of my content free, so thank you!