Bloggers all around the world who enjoy writing on their sites also enjoy making money off of their blogs. Sure, we all know that Google Adsense is great, but how else can we turn our traffic into revenue? With these services I'm going to talk about, you can increase your blog's earning potential easily! Just remember: choose the programs that are right for your blog, and make sure that making money does not overtake your primary objective of giving readers quality content, or you will be though of as a spammer.
SocialSpark
SocialSpark is a program that I use on my geek culture blog, and it brings in some pretty substantial revenue. This program is great for blogs who focus on products, since it is essentially a way to get set up with advertisers looking for a sponsored post. Once you sign up and your site is approved by the SocialSpark team, which only requires that you have 2,000 page views per month, you can start getting Leads.
These Leads show which advertisers are interested in having you write a sponsored post – accepting a Lead does not automatically mean that you will get to write the post and get paid, but showing interest in a lead can give you an Opportunity. Opportunities come along a bit less often than Leads, and they are guaranteed – if you accept the Opp, then you get to write the post and get paid via PayPal. I've had advertisers pay me up to $100 for a single post, so this is a pretty lucrative program. You can set your own preferred rate in the settings, but, ultimately, advertisers will pay you what they want to pay you, or they will find someone else to write the post for them.
SocialSpark also has an Ads program through IZEA Media, but I have tried this, and I found that my blog works much better with Google Adsense. (These ads from IZEA are per impression, not per click.)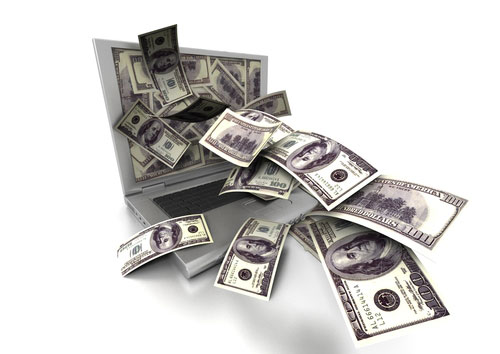 Skimlinks
Skimlinks is a service that has been getting great reviews, but I have not had a chance to personally try it out. What Skimlinks does is it goes through your content and changes existing links already in your posts into affiliate links, so that when people click on them, you get paid. This is awesome, because you know that all of the links you put into your blog are relevant, and the fact that you're getting paid is just a free bonus! Skimlinks also as a SkimWords feature, which is similar to Kontera, which I will discuss below.
Kontera
Kontera is a network that many blogs use, and it is fairly easy to be approved. (I have tried Kontera before on my blog.) This service will link words in your post to an advertiser's site, and you will get paid when people click on these links. Kontera was making some money for me, but my readers found it to be obtrusive, so I removed it from my site. A good idea would be to consider your blog, and then decide how many links to show per page in the settings: you can choose 1, 2, 3, etc.
eBay Partner Network
The eBay Partner Network, behind Google Adsense, is my biggest money-earner. This program is similar to Amazon's, but it pays per click instead of giving a certain percentage of a product sale. eBay's affiliate program is very successful on my site, but I have to warn you: it is very difficult to get accepted into the affiliate service. The only reason I was able to get in is because I have an established eBay seller's account that I used to use to run a small business, so I had a bit of clout among the eBay community.
Amazon Affiliate
Amazon Affiliate probably does not need much explanation – I would dare to guess that most of you have heard of this service. I, unfortunately, live in Illinois, so I cannot be in this program. (Thanks, Pat Quinn.) It was my single biggest earner, giving me more money on a monthly basis than even Google Adsense. If you have a product blog, Amazon's Affiliate Program is a MUST.
Disclosure: We might earn commission from qualifying purchases. The commission help keep the rest of my content free, so thank you!