When you earn enough interests from foreign bank accounts, you will need to report the earnings to IRS through the Form 8938 – Statement of specified foreign financial assets. For instance, if you are married and file a joint income tax return, you will need to report the interests if the aggregate value of your accounts is more than $50,000 on the last day of the tax year or more than $75,000 at any time during the year.
The form is pretty simple to file. If you have to report multiple foreign bank accounts, you will need to add continuation pages for additional accounts. This is easy when you file paper tax return because you can print those extra pages. However, it is a little confusing when you e-file with software like H&R Block. In this case, you fill in the information in the form 8938 as usual.
Check the attached continuation statements checkbox and enter information to other parts. For instance, I am reporting 5 foreign accounts here with the maximum value of $100,000, the interest I received in the year, then proceed to part V for detailed information of each account. The 1st account is reported on page 1 and 2. Page 3 is the first continuation statement and I'm reporting my 2nd account here. Write page 3 on the top right corner.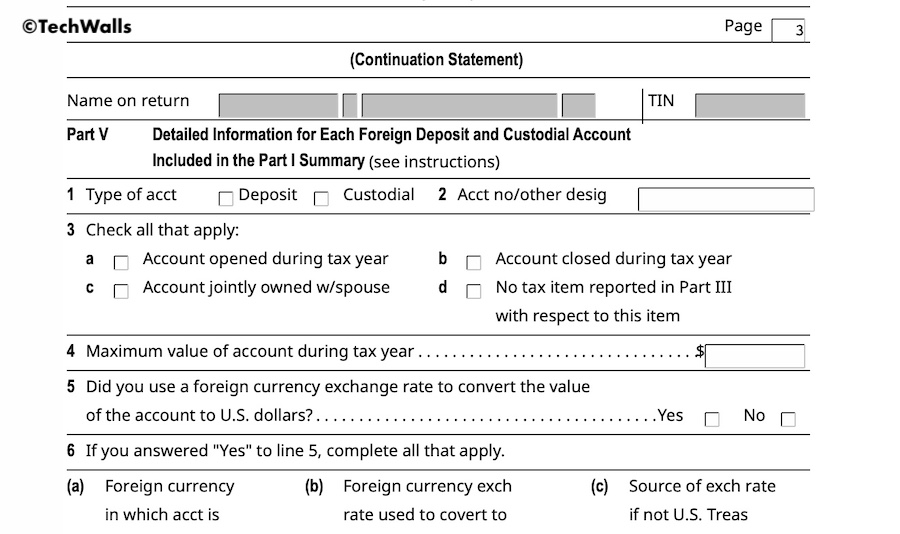 Now, to create the next continuation statement for the 3rd account, you click on New Copy button on top. The software is going to generate the entire Form 8938 but you can skip the 1st and 2nd page and go to page 3 for the next continuation statement. Write page 4 on the corner and fill in information.
To report the 4th and 5th account, you will do the same process by creating another copy and fill in information on page 3 only. Write page 5 and page 6 correspondingly on the corner. So, we are using 4 continuation statements in total, you can come back to the first copy of the form and write 4 as the number of continuation statements.
All done, now you can save the forms and they will be submitted along with your tax return. I used H&R Block Tax Software Premium to file my tax and the process should be the same for other editions and software.
Disclosure: We might earn commission from qualifying purchases. The commission help keep the rest of my content free, so thank you!