During the holidays, we eat, be merry, and aren't tied up with a ton of worries and promises. However, New Years is a whole different story.
This is a holiday where we hope to not only live up to the expectations of the previous year, but to make sure it is better than last year. We also stress ourselves with a resolution to a fix an ailment or problem of our lives. However, these resolutions become a stress due in part to poor planning and little support. Today, we will take a look at a couple of apps to help.
Quit Smoking
The resolution to quit smoking is one of the most common ones taken up by individuals during the New Year. However, it is also one of the most common and easiest to break. Due to how nicotine is an addictive substance, it isn't as easy to let go of smoking without withdrawing. The apps below are meant to help you through the process of quitting smoking.
MyQuit Coach – Partnered with Livestrong, this application understands that everyone quits an addiction differently by providing different individuals with different tracks leading them to success in quitting their habit of smoking. ($3.99)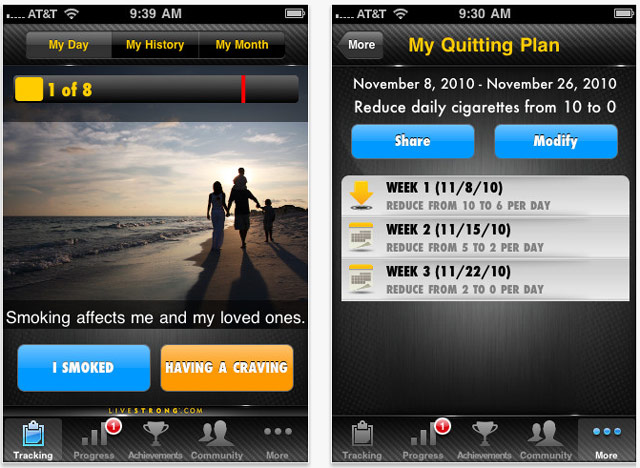 Quitter – The best way to notice how you are conquering an addiction is to see how quitting can help your wallets. With many states charging cigarettes at a premium, Quitter allows you to track your success in terms of days smoke-free and money saved from a smoke-free life. (Free)
GoalSponsors – The best way to accomplish a goal is with the help of lived ones. GoalSponsor allows you to achieve your goals with the help of either your friends (free) or through hiring a virtual motivator (a fee). The application is free to upload, check it out today. (Free)
Lose Weight and Get Healthy
The second most common resolution is to loose weight. Being that you are about four or five months from swimsuit season after the New Years, this is a popular resolution to take up. However, the focus always seems to be on the numbers rather than the fact you can't see – getting healthy. The apps below will include exercise and calorie counting apps, but will also include apps for living a healthy lifestyle.
Lose It! – Focused truly on your whole weightless process, Lose It! helps you get through your health related resolution, Lose It! does so by getting the individuals the ability to track weight and other state and have it compared to other individuals using Lose It!. (Free).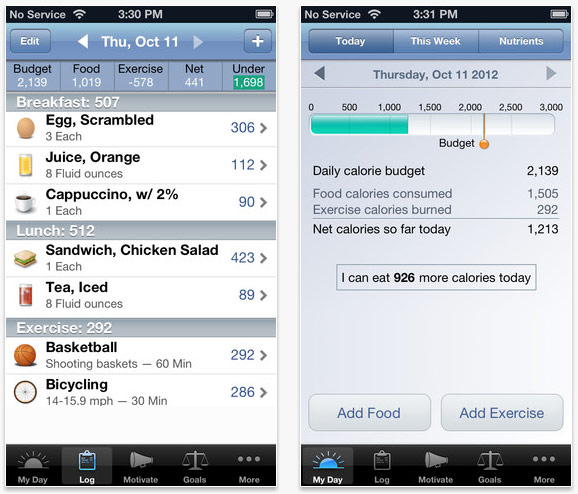 RunKeeper Pro – Staying active is essential for what ever route you go, focusing on staying healthy or focusing on losing weight. RunKeeper Pro allows you to keep track of the number of miles that you have ran or walked. You can also get an estimate of the amount of calories burned, duration of your run, and how far you went. ($9.99)
DailyBurn – This application allows you to keep track of your healthy lifestyle. It doesn't stay focused on healthy eating or staying active, the application does both. You can track your nutrition goals and your weight loss goals. Plus, what you are eating can be easily added to the application by taking a shot of the UPC code, making keeping the app well used much easier to do.
Become More Worldly
The world is become smaller and smaller each day, through better communication, trading, and interaction between cultures through immigration, travel, and just friendships and relationships. Whether it's for work or just personal development, if you want to stay above the curve, then at least knowing aspects of a foreign language is a worthy resolution to make, at the most, world travel. Below, we have apps to assist you in either endeavor you may take as apart of your resolution.
Word Lens – Get around like a native with Word Lens. The application works by allowing you to put the phone near a sign that may be in another language. From there, the image shown will automatically change the language to the one you are requesting and will make this translation shown on the screen. It looks the magic, but magic comes at a cost of $4.99 per language pack.
Basic Spanish for Dummies – Learn the basics for your next trip to a Spanish speaking country with Basic Spanish for Dummies. The application goes over simple words and greetings you will make use of a lot during your trip. The application has a wonderful interface and will go great to alleviate you from awkward situations where you may be lost in translation. ($0.99).
Disclosure: We might earn commission from qualifying purchases. The commission help keep the rest of my content free, so thank you!