With our hectic lives continuously getting busier and busier, cleaning our homes can often get put to the bottom of our list of priorities. Although cleaning can seem like a bit of a chore, it still remains one of the most important things for us to do; it makes our home more hygienic, safer and a more pleasant and aesthetically pleasing place to live.
Your home is probably already full of gadgets, be it a top of the range television or a fast new tablet, but have you ever thought about investing in gadgets that actually clean your home for you?
Here are 7 of our favourite cleaning gadgets available today: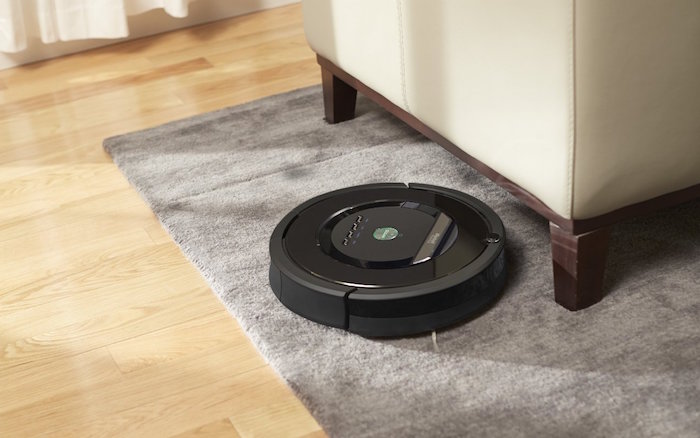 The Roomba is a vacuum cleaning robot that moves and cleans its way around a room using sensor technology. You can also schedule the robot to vacuum the house while you're away or at work. The cheapest model is priced at $250 and its suction will clean pet hair and other fibres, whereas the more expensive models like iRobot Roomba 880 will set you back $600 but will probably do a better job than you could ever do manually!
2. iRobot Braava
Meet Roomba's twin: Braava. Braava works in the same way as the vacuum cleaning robot, but it is a Floor Mopping Robot. It uses a cleaning cloth or the Reservoir Pad with a Pro-Clean microfiber cloth to pick up dirt, hair and dust from hard floors. The most high-end model at the moment is the iRobot Braava 380t.
3. Winbot
OK, so it's another robot, but this one can (almost) defy gravity! The Winbot works on well on windows, mirrors, or just about any glass surface as long as it's framed. The Winbot also measures the size of the window it's placed on, and works out the most efficient cleaning route – while you just sit back and relax!
4. Hurricane Canless Air System
Not many of us own or have experience with compressed air, but it is a really fantastic cleaning product. It can be used to remove dust and debris from difficult to reach areas, such as small gaps or our computer keyboards. A can of compressed air typically contains approximately 30 seconds worth of air, but the Hurricane Canless Air System can blast air for over 15 minutes! Better yet, it is rechargeable and refills itself from the very air around us.
5. Broan Waste Compactor
We often get quite shocked and surprised at just how fast our kitchen bin fills up – it's usually down to large items such as milk bottles or pizza boxes taking up a lot of space. The Broan Waste Compactor is a great solution and is able to compact this waste to up to one fourteenth of its original size! It's far from an ugly gadget either, and its size and dimensions mean it's a perfect match for your existing kitchen units – you can even attach a wooden door panel to ensure it integrates and matches the rest of your kitchen.
6. Violife UV Sanitizer
Did you know that it's actually more hygienic to touch a toilet seat than it is to touch your smartphone? That is quite a worrying statistic when you think about it! Whenever we touch our phone (which is probably every single minute of every single day!) we transfer the germs and bacteria from everything else we have been touching beforehand. By placing your phone, earphones, or whatever else will fit in the Violife UV Sanitizer, the ultraviolet rays kill off any bacteria and leave you with a perfectly clean and hygienic phone.
7. Plug Hub
While not necessarily a gadget per se, the Plug Hub it helps to keep our other gadgets looking neat and tidy! Regardless of how clean a home you may have, messy and tangled wires always make the house look a bit untidy. The Plug Hub provides the perfect solution to organising and hiding all your wires, and the black box setup can either stand on the floor or be mounted to a wall.
Disclosure: As an Amazon Associate, I earn from qualifying purchases. The commission help keep the rest of my content free, so thank you!