This Friday a company named Corning introduced their first 3D shaped Gorilla Glass, now Corning has been out there for quite a while and working with Apple and providing them with Gorilla Glass.
From 3D it does not mean that the screen will have more dimensional viewing angles than a normal screen, but it actually meanthat they are able to produce curved 3D Gorilla Glass screen without reducing or increasing the width of the screen or changing the property of the glass itself. Gorilla Glass is known for its tough screens and scratch resistance as well so it was important from Corning to come up with a Gorilla Glass that had all its properties intact and still have the property to be curved.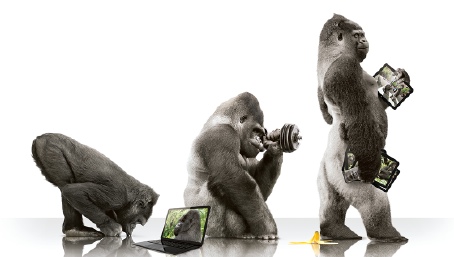 Corning is currently working with a Taiwan company called G-Tech and because of that they can come up with 3D Gorilla Glassfaster than ever. General Manager James R Steiner over at Corning said that they can come up with a 3D Gorilla Glass in Asia now without sending parts to different factories which will also reduce manufacturing time and they will be able to fill the required demand of 3D Gorilla Glass. A lot of companies are showing interest towards putting curved glasses on their smartphones and we recently saw one by LG called the LG G Flex which uses a curved screen. Other than that we have also heard rumors about Apple and Samsung using curved screen in their next gen smartphones.
All the screens used on iPhones, iPads and iPods are manufactured by Corning for Apple and we can all see how good they are at it, but with this new technology Corning has its motivation towards smart watches now, the kind that can be curved around you wrist like a band and with rumors of Apple working on a smart watch we might also see 3D Gorilla Glass used in it.
Corning said "More than half of the top 10 smartphone manufacturers already market devices that incorporate cover glass with subtle curves," so there are no worries about the demand of their 3D Gorilla Glass.
Disclosure: As an Amazon Associate, I earn from qualifying purchases. The commission help keep the rest of my content free, so thank you!