Want to be a serious Youtuber? Looking for a video editor for Mac? With iPhone cameras taking videos of incredible quality, it would be a shame to leave all those short films in the corner of your iOS video library.
If you want to improve them, you can certainly usevideo editor apps like iMovie, Clips, Filmmaker Pro…, but why do it on a small screen when you have a MacBook or an iMac?
If the cost of editing software for YouTube is holding you back, fear not. We have selected the best YouTube video editing applications for Mac, some are free, which will meet the needs of all (budding) producers and directors.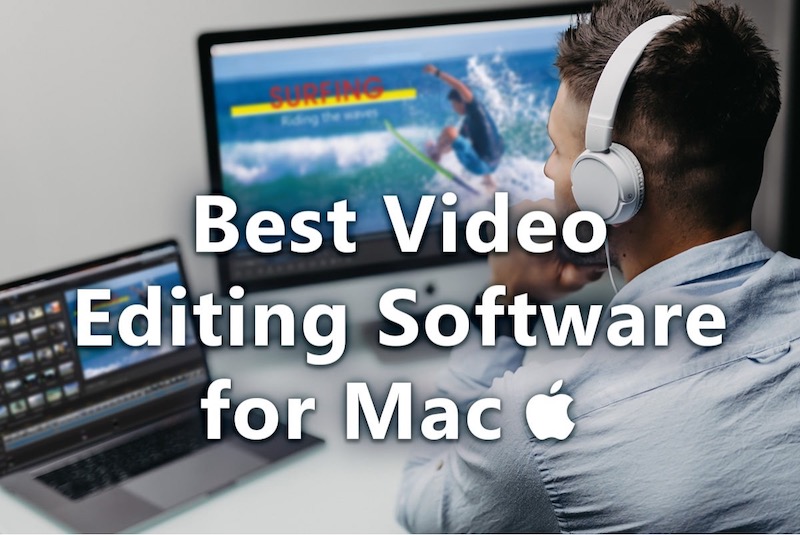 1. Filmora X for Mac
There are a number of video editing software that fall between iMovie and Premiere Elements. Wondershare's Filmora X for Mac is a prime example, aimed at the iMovie user looking for a little more maneuverability. Filmora is quite easy to use, import (and upload) your video, audio and photo files from your hard drive, camera, Photos library or iTunes, but also from your Facebook, Flickr or Instagram accounts. Once imported, they can be added to the timeline with a simple drag and drop. You'll also appreciate the ability to customize your text and animation, correct for shaking effects, and add slow motion effects, for example.
In addition to those basic editing operations, the new version of Filmora X V10.2 has some very easy-to-use but professioanl functions, such as, Motion Tracking, Keyframing, Audio Ducking, Auto Reframe, HEVC format import, etc. All in all, Filmora for Mac is a program that covers most video editing bases, with some advanced editing features at the same time. You can download this software from Mac Store to have a try.
2. iMovie
Apple's iMovie is good for those new to video editing. It is powerful software and designed in such a way that creating special effects is a snap. The best thing about iMovie is that it's completely free to download from the App Store (macOS / iOS)! iMovie is regularly updated to keep pace with changing iOS cameras and video formats. Today's iPhones shoot in 4K, so iMovie is compatible with this resolution, but also with the HEVC format, to compress your videos.
iMovie's interface is not submerged in controls, so you can focus on editing your recordings. Also, thanks to the iMovie library, you can organize your videos in the same way as on your iPhone. In addition to importing content from your iPhone, iPad, but also audio tracks, it is also possible to do so from various cameras or your hard drive. And, once your video is created, export it to your iOS.
3. Adobe Premiere Elements 2021
Adobe Premiere Elements has some advantages over iMovie, in that you can import your files in many more formats. Unfortunately, the process is not that simple … With Adobe Premiere Elements, you have three working methods, each corresponding to different levels of editing.
Quick mode lets you trim clips, rearrange clips, add titles, music, transitions, and record narration. Add more shots as you go and adjust, for example, the audio of the different clips in the timeline. Using tutorials, Guided mode takes you step by step in editing your videos. It shows you where the transitions are and how to adjust your clips, which can be quite useful for a beginner. Expert mode will let you fully explore what Premiere Elements has to offer. You will be able to add additional layers, independently edit the audio and video parts of the same clip, in order to create split edits.
4. Lightworks
After its initial release in 1989, Lightworks was used for many successful feature films (Pulp Fiction, LA Confidential, King's Speech, The Wolf of Wall Street, Shutter Island, Almighty Bruce …), television series as well as commercials.
Since its acquisition by EditShare, Lightworks has been available in open source, and is considered the most affordable professional-level video editor. Additionally, it is available as a free download for Mac, Windows, and Linux environments. You will have the choice between a free 7-day license, to be activated upon registration and installation of the program, and the Lightworks Pro plan.
5. DaVinci Resolve
Like Lightworks, DaVinci Resolve is a household name in the film production world. Since its acquisition by Blackmagic Design, very sophisticated features have been added to it. DaVinci Resolve is available in two versions: DaVinci Resolve which is completely free and DaVinci Resolve Studio which costs 259 €.
If you decide to use DaVinci, you might as well be warned, you may be overwhelmed when you open it for the first time. Here, no user guide and a somewhat intimidating interface. However, the editing processes are identical to most competitive software. It features powerful organizational tools such as Power Bins or Smart Bins. Editing on the timeline is quick and easy. Thanks to its dual timeline, navigate your edits in no time at all, and the smart edits option will automatically synchronize clips, without you moving a finger.
Disclosure: As an Amazon Associate, I earn from qualifying purchases. The commission help keep the rest of my content free, so thank you!