Yamaha offers a range of amplifiers that have become a cornerstone in the audio equipment industry. One prominent feature of many Yamaha amplifiers is the "Pure Direct" mode, a unique feature designed to deliver the cleanest and most detailed sound possible. This article will delve into the specifics of the Pure Direct feature, its benefits, and when to use it.
What is the Pure Direct Feature?
The Pure Direct feature on Yamaha amplifiers is an audio circuitry design aimed at minimizing distortion and maximizing sound fidelity. When engaged, this feature bypasses unnecessary circuitry and signal processing in the amplifier, resulting in a more direct signal path from the source to the speakers.
In traditional amplifier designs, the audio signal often goes through various stages, such as tone control (Bass, Treble), balance or DSP (Digital Signal Processing), before it reaches the speakers. While these features can be beneficial for fine-tuning the sound or compensating for room acoustics, they can also introduce subtle forms of distortion or noise, potentially degrading the overall sound quality. Yamaha's Pure Direct feature is designed to overcome this problem.
How Does Pure Direct Work?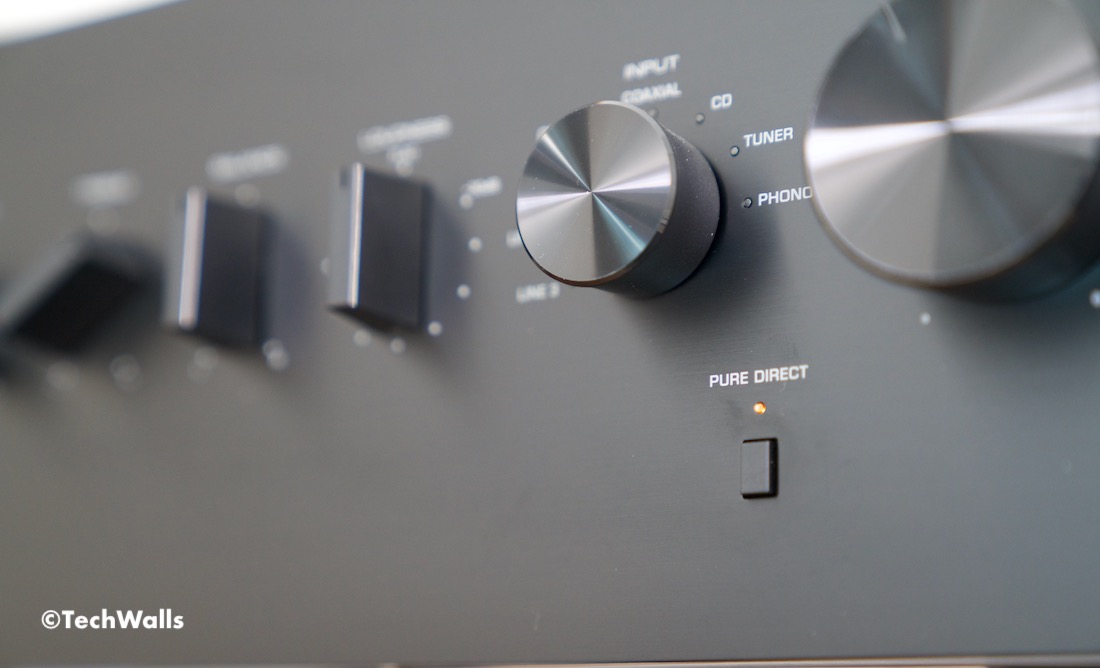 When you activate the Pure Direct mode on a Yamaha amplifier, the audio signal bypasses several components in the signal chain, including the tone control circuits, balance control, and any additional DSP. In some models, even the digital display is turned off to eliminate any potential electronic interference. The result is a 'purer', less tampered signal path that better preserves the original audio quality. A Yamaha specialist said that the Pure Direct mode is an analog-only pathway from analog input (via the RCA jacks) to output and all digital circuitry is bypassed.
The primary benefit of Pure Direct mode is the enhancement of sound quality. By eliminating potential sources of distortion or interference, the feature ensures that the audio output is as close to the original source as possible. This might result in clearer, more detailed sound, especially noticeable when listening to high-quality audio sources.
This feature is particularly beneficial for audiophiles or music enthusiasts who value an authentic listening experience. It allows listeners to hear music as the artist intended, with all the nuances and subtleties that can sometimes be lost in traditional amplifier designs.
When to Use Pure Direct Mode
Pure Direct mode is best used when listening to high-quality audio sources, such as CDs, vinyl records, or high-resolution digital audio files. These sources have the detail and dynamic range that can benefit most from the Pure Direct feature.
However, it's worth noting that Pure Direct mode bypasses any tone, balance or DSP controls. This means that if you usually rely on these features to tailor the sound to your liking, or to compensate for your room's acoustics, you might find the sound less to your taste when using Pure Direct mode.
Notice that when you engage the Pure Direct mode, the loudness control is disabled as well, so the volume can be increased by up to 30dB. You should always check the volume knob before switching to Pure Direct mode.
I use this feature regularly on my Yamaha A-S501 Integrated Stereo Amplifier and figure out this is a nice feature for audiophiles as it provides an enhanced, unadulterated listening experience. By bypassing unnecessary circuitry and potential sources of distortion, it allows the amplifier to deliver the cleanest and most detailed sound possible.
Disclosure: We might earn commission from qualifying purchases. The commission help keep the rest of my content free, so thank you!