While almost all Bluetooth speakers look pretty much the same in the shape of a rectangle box or a cylinder, Xoopar chooses a unique approach with their products. Let's check out the Xoopar X5 BOY STEREO.
Unboxing Video
Design & Features
The Xoopar X5 looks so different to all of my previous Bluetooth speakers. If you look at the box, you might think that this is a mini figure. It looks really cute and you even can move the arms.
The driver of the speaker is placed inside the toy's head. It is also very interesting that there is a built-in LED light and it will make the whole body glow beautifully. You can set the light in a steady on or pulsing mode.
On the back of the speaker, you can find a microSD card slot, a miro-USB charging port, a 3.5mm audio jack, play/pause, next/previous or volume up/down buttons, and the light button.
If you have two Xoopar speakers, you even can pair them together and make a stereo setup.
The battery life of the Xoopar is just average. I use it at a moderate volume level with lighting in pulsing mode, and it could last around 4 hours.
Audio Quality
The Xoopar X5 sounds much better than I imagined. Despite the small size, it can play music pretty loud with little distortion. The bass is not deep but it is not boomy either; The lower mids are very well presented, so you totally can feel the bass.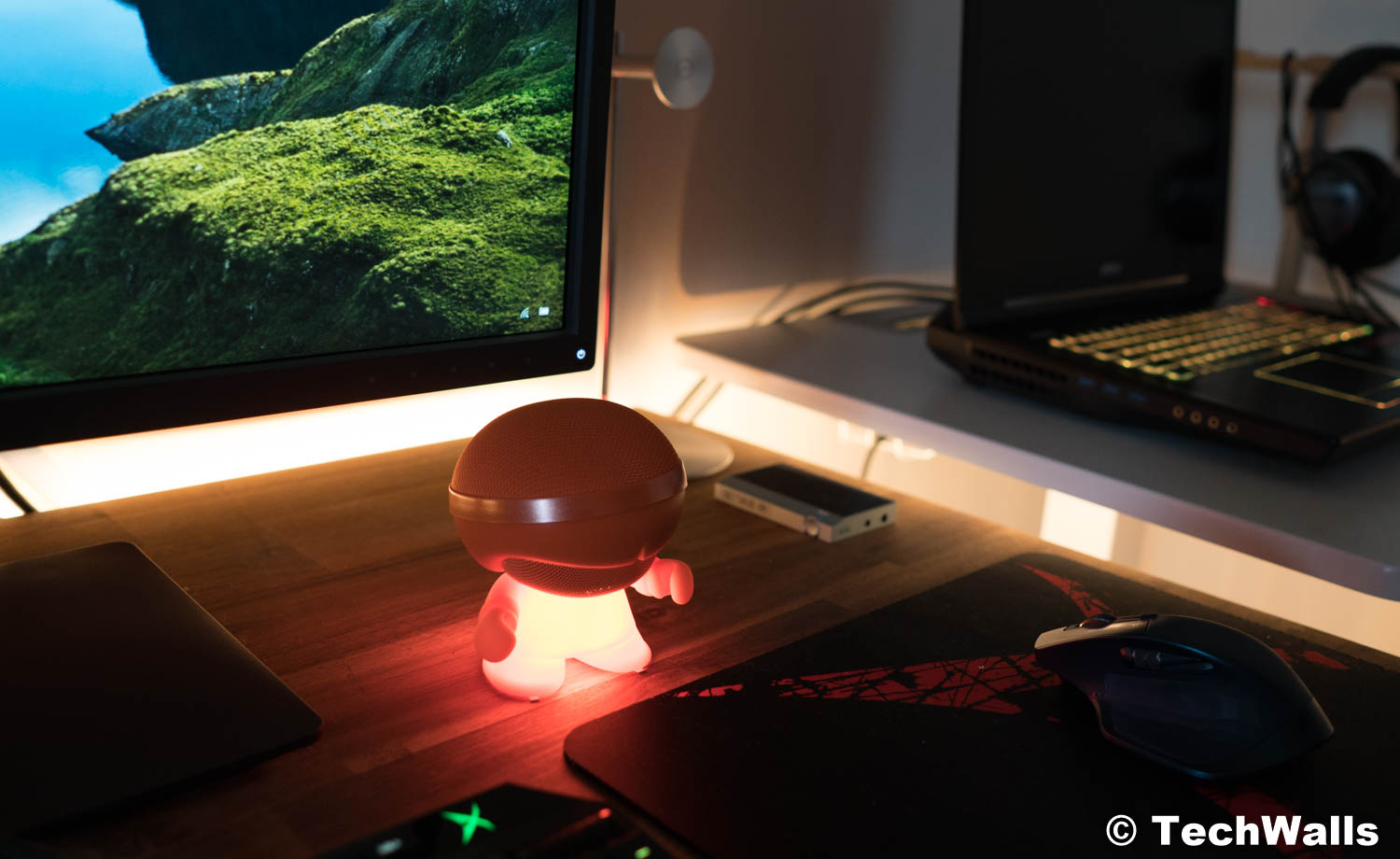 The mids are quite energetic and they help you hear vocals clearly. However, the speaker has the same limitations as other compact Bluetooth speakers. The mids still sound harsh, especially when you crank up the volume. The treble is adequate, it is clear enough while not being too bright to make our ears uncomfortable.
The sound of the Xoopar is somewhat similar to my Google Home Mini.
Conclusion
Pros
Unique design
Good sound for the size
Cons
The Xoopar X5 is a nice Bluetooth speaker for kids. It has a cute design and sounds good enough. You can insert a microSD card so that your kids can enjoy music without touching smartphones.
TechWalls Rating
Design & Features - 8
Audio Quality - 7
7.5
Good
A cute yet overpriced Bluetooth speaker.
Disclosure: As an Amazon Associate, I earn from qualifying purchases. The commission help keep the rest of my content free, so thank you!