WWDC, or the Worldwide Developers Conference is the annual conference held in California that allows Apple to make public the new software, features, and even gadgets that they have set for release for the rest of the year of the coming year. This is the highlight of Apple's calendar and is consistently held in June.
Monday, June 2nd, Apple kicked off the conference by announcing a couple of new software, including iOS 8 and Mac OS X Yosemite, along with a smart home service known as HomeKit. Today, we will focus our attentions on iOS 8. We will talk about what the software will include, when you can get your hands on it, and what we like and dislike about it.
Notification Center and Spotlight
With iOS 8, you can now respond to certain notifications without having top exit out of the application that you are currently in at the moment. This is a great way for individuals to not miss a step in using iOS 8 because they received a test message. In Notification Center, you are able to see recently contacted individuals at the very top of the screen. This makes it easy to access them in a snap. All you have to do is double tap their contact bubble.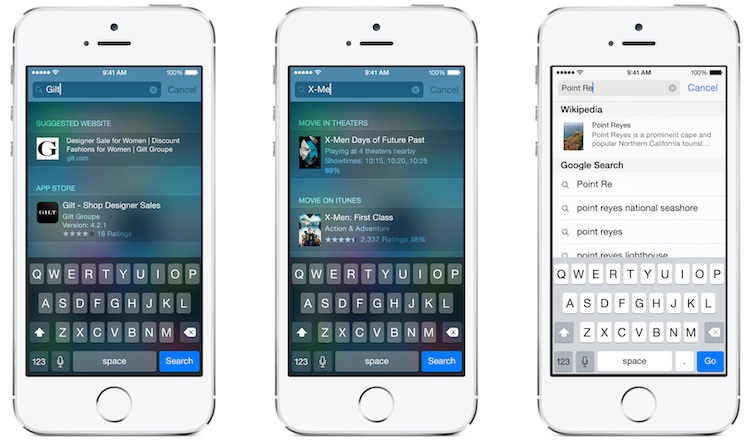 Spotlight is more advanced and now comes with the ability for individuals to receive Wikipedia and web search results along with their search results of contacts, emails, messages, and applications. This makes Spotlight more useful, an aspect of iOS that I only made use of sparingly. With the integration of certain apps, including maps for example, you are able to find restaurants and other locations near by. Type in a trending topic, you get the latest news reports. A track name, app, or book brings up their respective store results for you to purchase in no time.
Siri
Siri has expanded her capabilities just a step more. Now, using the voice assistant, you can activate Siri to identify songs with the new Shazam partnership. Even activating Siri is different in iOS 8. Instead of pressing and holding the home button, or even bringing the device close to your face, you can now activate Siri hands-free by simply saying "Hey, Siri". She's always there, always listening, and always at the ready to perform a task for you.
Messaging and Keyboard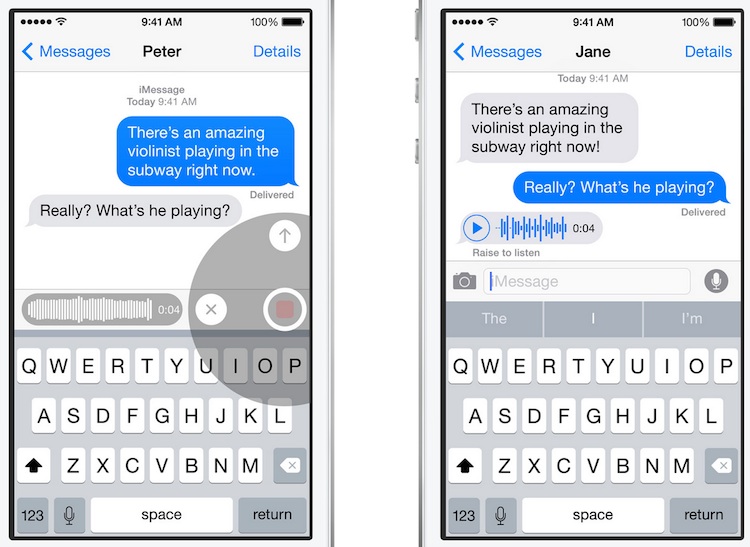 The saying goes, the best salesman can sell ice to an Eskimo. Some are saying that this could be the case with the latest Messaging feature. MMS has been around for ages, and iPhone users since iOS 3, including voice memos. Now, iOS 8 hopes to change the face and approach to bringing voice to messages. By pressing and holding the microphone icon on the right and record what you'd like. Once sent, the listener can raise their iPhone to their face to listen, along with the option of pressing the play button. Video can be sent at the same speed using a similar method.
Group messaging is redesigned in iOS 8. Attachments are well organized. Along with being able to name conversations, delete specific individuals out of the group, activate do not disturb to specific conversations, and even leave the entire conversation yourself. You can send or request location sharing. For privacy issues, you can share for an hour, the rest of the day, or until cancelled. This is a great option for everyone from friends trying to meet up to parents looking to keep an eye on their children.
Similar to Android, you can now have your keyboard think ahead of you with word suggestions. What sets Apple apart is that the suggested words aren't given when you begin typing the word. They show up before you move on, based on what Apple has learned by your typing style in the past. The is best explained in the photo above.
Suggestions are given based on the individual you are speaking to, the context of their previously sent message (whether or not it was a question you were asked, for example), and the context of where the message is taking place (email, iMessage, etc). Now, keyboards are programmable, so third-party developers only have their imagination and programming constructs in designing and creating keyboards.
iCloud Drive and Photos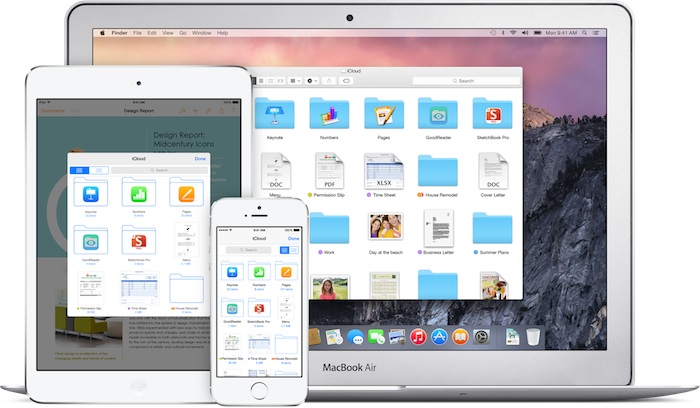 Documents and files saved into iCloud is now accessible on any device with iCloud programs using iCloud Device. This allows you to work on documents from one device to mother seamlessly. The iCloud Drive folder is available in Finder on your Mac OS X Yosemite computer or in your file manager for your PC. All changes are applied to all connected device as well.
With the iCloud Photo Library, all photos are available on connected devices as well saved in iCloud securely. Just like with documents in iCloud Drive, edits to photos in the iCloud Photo Library are applied to all connected devices as well. The smart search option in photos makes finding an old photo based on location, album name, and more easier than ever. Finally, the new photos allows you to be more creative with both more built-in editing tools and the ability to use those from third-party developers. Time-lapse feature os iOS 8 is also a new addition.
Family Sharing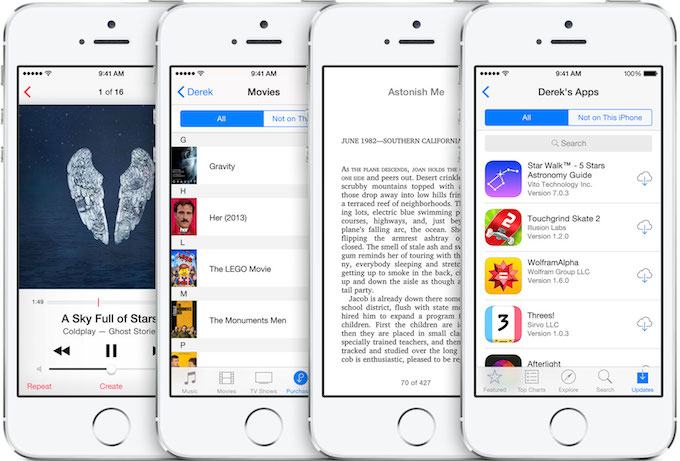 With Family sharing, you can add six pre-approved users to download the iTunes and App Store purchases of other connected users. iBooks are also included. Parental controls can be added for the connected accounts of children and you can even share photos and have joint calendars. In conjunction with Find My Friends and Find My iPhone, location is sent and the status of devices  are all viewable.
HealthKit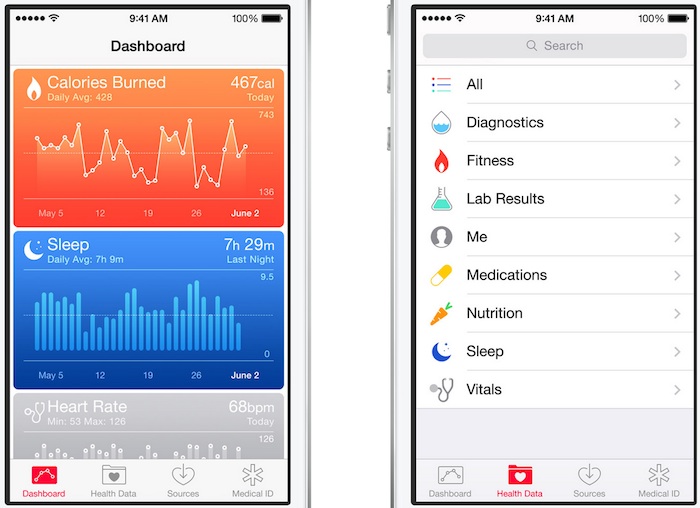 If you use health and fitness applications, information is now able to be sent to a platform on iOS 8 known as HealthKit. From calories burned daily to weight tracking, HealthKit receives the information and organizes it into a viewable format that puts your hard work and health progress in perspective. Apple and the MayoClinic are working together to make this feature applicable in doctors offices and emergency rooms, to make health information sharable in a snap.
iOS 8 will be available in the fall. What is your favourite aspect of iOS 8? For me personally, it is the freedom developers have in some of the aspects of iOS 8 that we will use everyday, not simply in applications. They have gotten behind the red rope and can influence the experience of everything from photos to the keyboard. I'm also loving the family share and messaging aspects of iOS 8. iOS and OS X are working together in more seamless ways; more about this in our OS X Yosemite roundup. Let us know in the comments below what you love about iOS 8.
Disclosure: We might earn commission from qualifying purchases. The commission help keep the rest of my content free, so thank you!