Nintendo's latest gaming console Wii U hasn't done quite well when it comes to sales and more so when it comes to proving its mettle in performance against the likes of Microsoft's Xbox 360 and Sony's PlayStation 3. The general belief that Wii U doesn't perform well is strengthened following a revelation from DICE Technical Director Johan Andersson that Wii U isn't powerful enough to run Frostbite 3 which is the Battlefield 4 engine.
Andersson tweeted "FB3 has never been running on WiiU. We did some tests with not too promising results with FB2 & chose not to go down that path." This clearly indicates that DICE didn't go ahead with testing of Frostbite 3 after not so promising results of Frostbite 2. The tweet from Andersson was in response to a reader's concern that the newly announced Star Wars games will not be available on Wii U.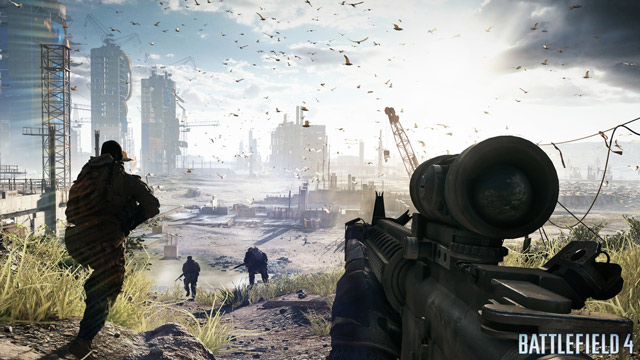 The statement from Andersson follows those made by Patrick Bach of DICE in an interview with Eurogamer where he admitted that even though the company could make a Wii U, it wasn't interested in investing "development time" to the system. Bach also revealed that Wii U wasn't the focus of DICE at the moment.
One thing that definitely wouldn't go down well with Nintendo as well as Wii U fans is that the gaming engine behind Battlefield 3 – Frostbite 2 was perfectly running fine on both Xbox 360 as well as PlayStation 3 but the results of FB2 tests were "not too promising" on Wii U.
This is rather surprising because the inability to perform well in FB2 tests would mean that Wii U will probably not be able to run more powerful games that will be released in near future. DICE's Frostbite 3 saga follows that of EA's decision of not releasing Madden NFL for Wii U this year and Epic's decision of not offering official Wii U support for Unreal Engine 4.
Three gaming companies – all of them creators of some of the most popular titles in gaming history, deciding not to release titles for the Wii U, should ring alarm bells over at Nintendo as this means that focus is not an issue but performance of the gaming console is under question. Epic Games did clarify that it may be offering scaled down versions of its games for Wii U, but scaled down indicates that the gaming hardware is definitely not able to handle the high graphics requirements of its engine.
Similar was the case for Wii U's predecessor where game developers didn't port their popular titles for the Wii as the console was neither powerful enough nor were the unorthodox controllers of the console apt for playing these titles.
All in all Wii U's future when it comes to gaining latest gaming titles from world's top game developers is looking gloomy. Couple this with not so impressive sales figures and Nintendo has an uphill task of proving to game developers that there is indeed an audience of games developed for Wii U.
Disclosure: We might earn commission from qualifying purchases. The commission help keep the rest of my content free, so thank you!