In our fast-paced modern world, finding time for rest and relaxation can be a challenge. Yet, the importance of regular massage therapy for optimal health and wellbeing is undeniable. If a professional massage or an expensive massage chair isn't within your reach, the WELOV Leg Massager and Shiatsu Foot Massage Machine could be the perfect alternatives for you. These innovative home wellness products offer professional-grade massage experiences right at your fingertips. Designed with sophistication and user convenience in mind, they deliver a comprehensive, luxurious massage at a fraction of the cost. Whether you're looking to alleviate foot discomfort after a long day or seeking a solution for persistent leg discomfort, these WELOV products are set to revolutionize your at-home relaxation routine.
Disclosure: We received the massagers directly from the manufacturer as a courtesy for review purposes. However, the review is intended to provide honest, unbiased insights about the product, based on personal experiences and observations.
WELOV Shiatsu Foot Massage Machine
With the goal of alleviating tired feet and enhancing overall wellbeing, the WELOV Foot Massage Machine positions itself as a powerful contender in the home wellness market. Equipped with features designed to replicate a professional massage, this product invites relaxation and rejuvenation right at your feet.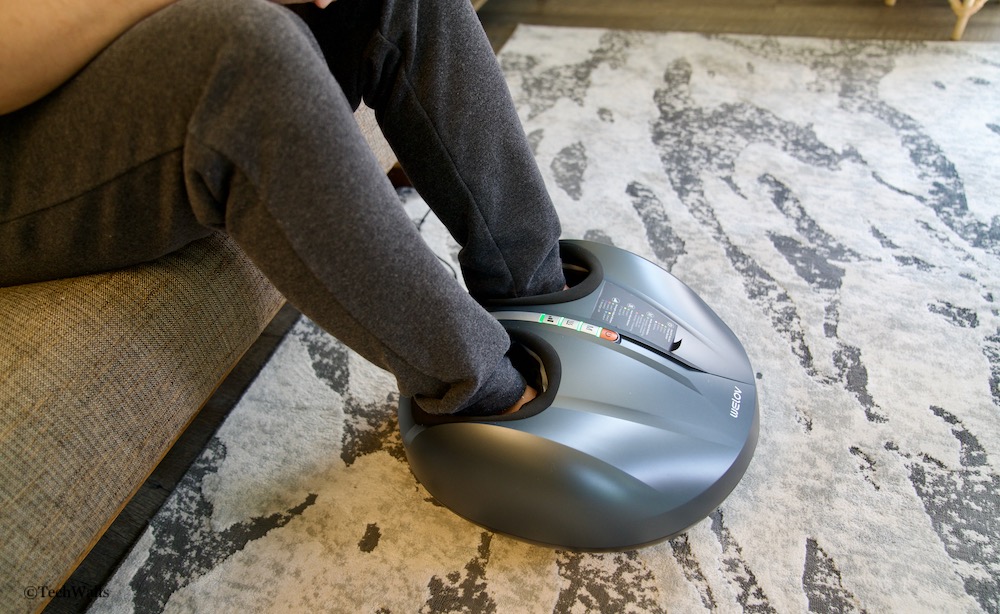 Professional Shiatsu Foot Massager
The WELOV machine's modern design matches its advanced features. With a luxurious appearance and remote control function, operating the foot massager becomes an effortless endeavor. The product fits seamlessly in various settings, be it at the office or at home. The WELOV Foot Massage Machine boasts a generous foot space, accommodating up to men's foot size 12 (US) or women's size 13 (US). The zippered foot covers are breathable and can be removed for cleaning, ensuring the device stays hygienic for all users, making it suitable for family use.
The device incorporates an intricate design that mirrors the sophisticated techniques of a professional shiatsu massage. Equipped with ergonomically designed rollers and airbags, the device mimics the sensations of a human touch, providing an authentic massage experience. The device caters to a wide range of massage needs, featuring 5 air compression intensities that can easily be adjusted based on user preference. This allows it to effectively address plantar fasciitis, neuropathy, diabetics, chronic pain, muscle tension, and other foot-related discomforts. The makers recommend starting from a low intensity to find the best fit for your comfort and relaxation.
Multiple Massage Mode Settings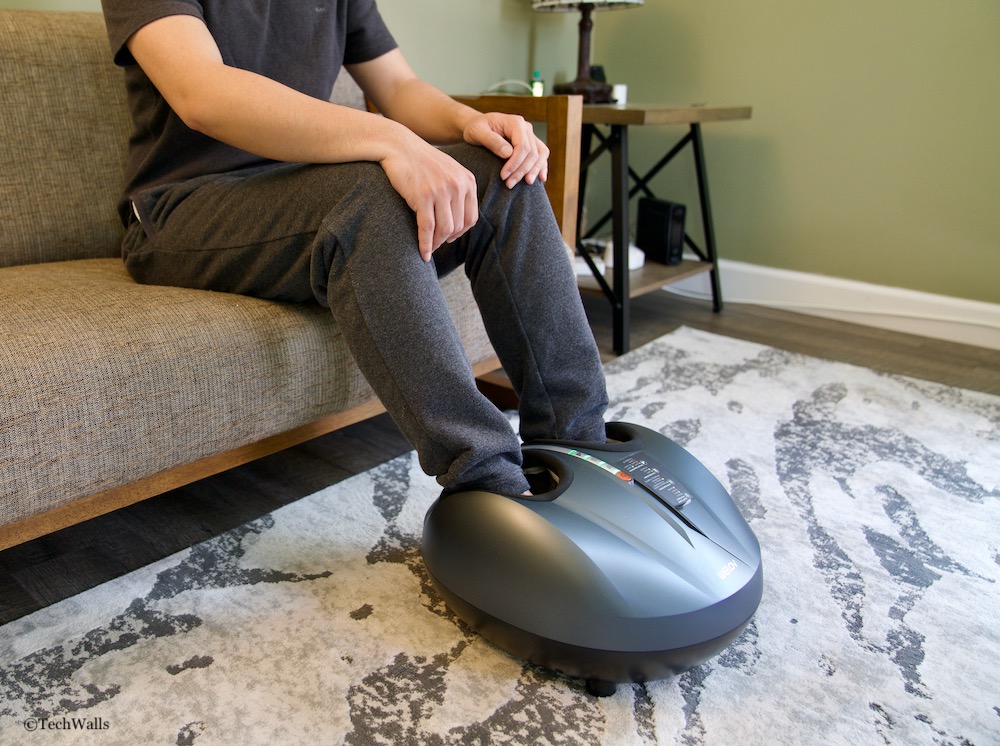 The variety of massage modes is one of the product's stand-out features. With deep kneading, rolling, heating, and air compression, the WELOV Foot Massage Machine provides a holistic massage experience that addresses various areas of concern. Its unique shiatsu technique particularly targets and alleviates plantar fasciitis and other forms of foot pain.
Optional Heating Function & Timer
Adding to its impressive roster of features is the adjustable heating function. Offering two levels of warmth, the massage machine not only eases muscle tension but also promotes blood circulation, making it an ideal companion during colder months. A built-in timer feature, with three settings – 20, 30, and 40 minutes – ensures you won't overdo your massage session, effectively prioritizing safety alongside relaxation.
WELOV Leg Massager
Promising an immersive massage experience, the WELOV Leg Massager stands as a remarkable addition to the realm of home wellness. This 4-in-1 leg massager is designed to bring relief to a spectrum of leg-related discomforts while prioritizing user convenience and comfort.
Foot and Leg Air Compression Massager
The massager features a hand controller with an LCD display for an intuitive user interface, and it operates quietly, allowing you to multitask while using it. Adjustable velcro ensures the massager can fit most US users, with a maximum calf size of 24 inches, thigh size of up to 32.5 inches (with two extensions included), and foot size up to US Men's Size 11. Soft, skin-friendly material wraps the entire leg, further enhancing the overall massage experience. It takes me just about 1-2 minutes to wrap the massager around my legs and it is ready to use.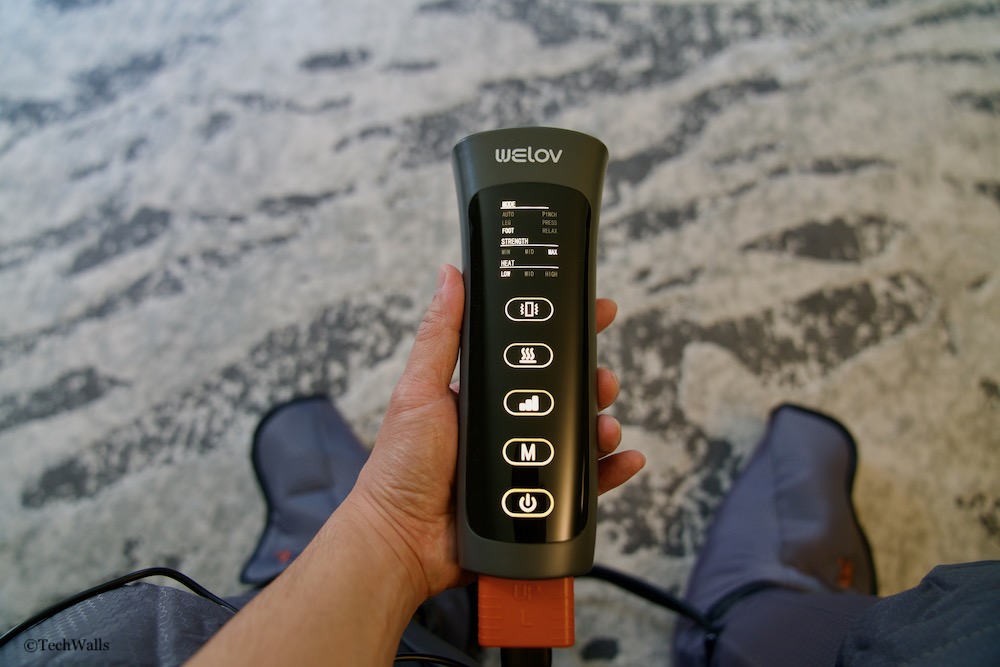 The WELOV Leg Massager effectively applies air compression therapy and heating therapy to the feet, calves, thighs, and knees, catering to a range of needs. It provides relief from leg pain, leg cramps, restless leg syndrome, and Edema. This massager also works quietly, making it perfect for a restful session at home or a revitalizing break at the office.
Leg Compression Massager for Circulation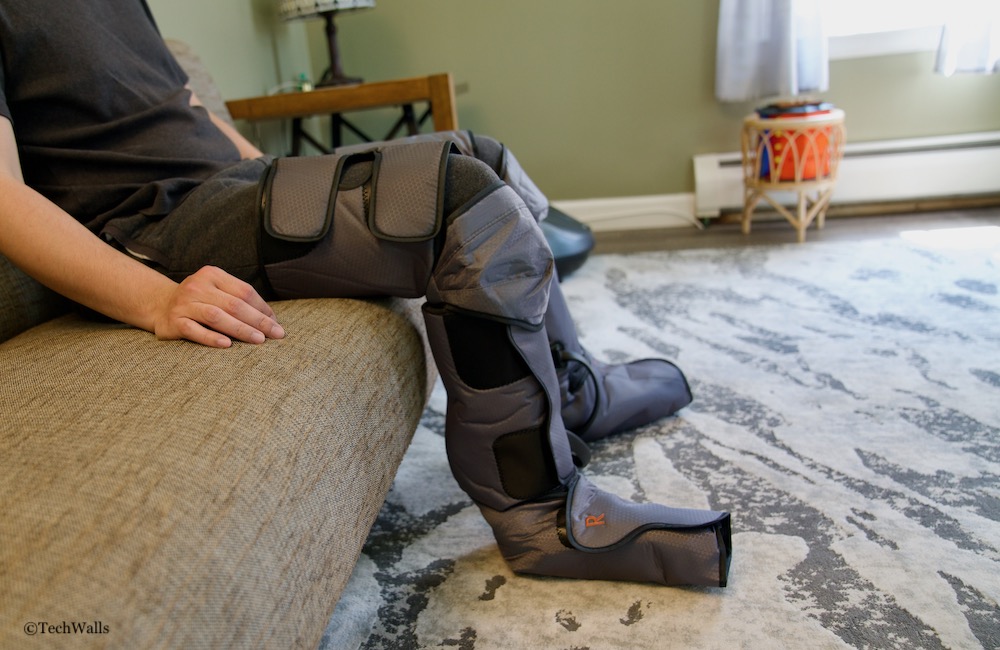 This product boasts three unique vibration modes exclusive to WELOV that can stimulate muscle burning and promote blood circulation. Three levels of heating functions provide soothing warmth to the legs, helping to relieve cramping, swelling, edema, and restless leg syndrome. Airbags within the device are equipped with unique massage settings that mimic kneading and stroking of tissues, offering a comprehensive massage for your legs.
More Abundant Massage Experience
The WELOV Leg Massager offers an experience akin to hand kneading and pressing. With six massage modes and three pressure intensities, the device can be adjusted to suit a range of massage needs, from a gentle relaxation to a strong, professional-level massage. For user safety, a 30-minute auto-off function is included, ensuring you won't overuse the massager even if you drift off to sleep.
Combining technological innovation with user-friendly design, the WELOV Massagers offer a versatile and comprehensive solution for those seeking relief from various leg discomforts. They are ideal additions to any home wellness routine, catering to a multitude of needs with its versatile massage modes and customizable settings, offering professional-level relief in the comfort of your own space.
Disclosure: We might earn commission from qualifying purchases. The commission help keep the rest of my content free, so thank you!