Since the inception of computing, the education system has undergone various technological advancements that have revolutionized the learning process. VR technology has an impact even on essay writing services which today are quite widespread among students.
When I request a writer to write this essay for me, I look back to the journey that the industry has taken and how it has revolutionized learning. Virtual Reality is taking this quest to a new level by providing a fascinating, futuristic and immersive educational experience that learners enjoy whilst learning. Stakeholders in education, individuals and organizations have worked together to produce new innovative ways to improve the education system. Students enjoy the learning experience through virtual reality and the hands-on activities virtualized help them understand the subjects better.
Virtual Reality Apps
Many tech companies and individuals have ventured into developing software to aid in deploying this new technology in the field. Various apps with diverse functions have been developed and availed through Apple store, Windows Store and Android store to help students learn using their VR kits. It is a step that shows the prospective growth companies and tech enthusiasts have noted in educational VR and they have delved to develop the capacity to support it. Though the initial baby steps might be bumpy in implementing this technology to the educational sector, it offers a revolutionary way to learn and interact. It aids in tapping the creative and innovative minds of children to offer an immersive and fascinating learning experience through these kits and software developed to serve different purposes.
VR opportunities in education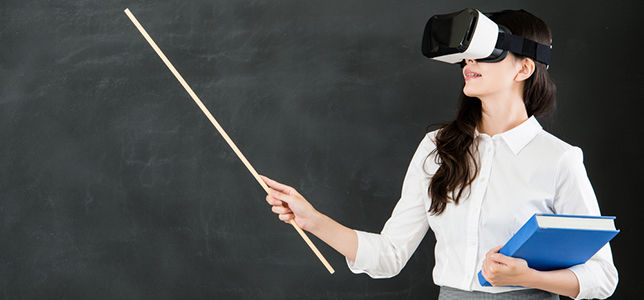 Virtual reality technology in schools offers unprecedented opportunities to learners and teachers. Slow learning students can revamp their curiosity and attitude towards their subjects by virtual reality. It captivates their mind and brings a new perspective to the learning experience enabling them to absorb more information from the technology. Teachers harnessing the power of the new virtual technology also have expressed contentment in the manner it eases their content delivery especially for science and art based subjects. Not only does the technology break the monotony of classroom experience, but also offers a new way to learn and engage the students in the learning process. Students understand better the subjects and create a better mapping of the information in their brains while forming mental pictures of the information that aids their memorability and application of the concepts learned.
This technology has an embedded ripple effect to the learners. It exhilarates their mood and excitement of trying out new technology that redefines their understanding of education and learning. Thus, they psychologically improve in attention and attitude to education. It also improves their communication styles as they often help and teach each other how to use the VR kits.  They also learn other practical skills like public speaking in a virtualized environment which help their self-esteem. Since apps and educational curriculum is at baby steps, there is not enough technology especially software to serve every subject and educational need of students. However, more development and resources have been directed to this venture to develop the capacity and system to support the technology as it permeates the educational system. Curriculum, apps and more interactive hardware and software components for this technology is actively being produced and tested to enhance the experience and expand the capabilities of this technology in the education sector.
VR challenges in education sector
There are few challenges in this quest to incorporate virtual reality in education. First of all, it is relatively expensive to acquire these virtual reality kits. Thus, it is becoming expensive for the stakeholders in the education system especially the financiers to adequately fund the adoption and utility of this technology. Maintaining VR kits in good working conditions especially when working with children is a challenge as they can easily be broken. The technology is not very advanced and it is characterized with many uncertainties and bugs in their software. This adds the cost of maintaining the technology and steering it to deliver effective results in the education system.
Disadvantages of VR in education sector
There are several disadvantages of using this technology in the classroom though they seem to underweight its advantages. Other than cost, virtual reality kits have unintended social consequences that can affect learners. Some students might get addicted to the technology and start exhibiting antisocial behavior. Their experience in virtual reality might overshadow their understanding of the real world, especially to younger students thus neglecting traditional education system for the virtualized one. This is quite dangerous especially due to the fact that this technology has limited literature on its long-term effects. Secondly, there are many advantages of the traditional learning system over virtual technology. It will also require a lot of resources to maintain these kits and train the teachers on the best ways to introduce them in their teaching plans. More research ought to be done to establish ways of integrating this technology into the classroom and provide guidance on how best to utilize the technology for the best results.
Wrapping it up
Concisely, virtual reality technology is in its baby steps but it is undeniable that it offers a great opportunity to the education system. It, however, must be carefully adopted and deployed as it lacks adequate documentation of its safe use and how it can best aid in education. Since it is continually being developed, it is likely to revolutionize the classroom in the foreseeable future. Thus, the stakeholder in the education ought to take drastic measures and help integrate it into the education system to harness the opportunities it presents to learners and teachers.
Disclosure: We might earn commission from qualifying purchases. The commission help keep the rest of my content free, so thank you!