We are witnessing more closures of movie theaters than ever, not just because of the pandemic but also because home entertainment systems become more affordable. Now we don't need to spend thousands to get a big screen and a surround sound system. Capable projectors used to be expensive and out of reach for most average consumers, however, there are a lot of good-quality projectors so that we can enjoy movies on the big screen at home. In this review, we are checking out the new Vankyo Performance V700W.
Unboxing & Demo
Features & Video Quality
Similar to other projectors, the Vankyo comes with basic accessories like the remote control, an HDMI cable, and a power cord. I'm quite impressed with its eco-friendly packaging materials like soy ink and eggshell inner tray. This is my first projector that includes a fabric screen in the box. The screen's size is 120 inches and it is really helpful if you want to achieve the best picture quality out of the product. It provides a smooth white surface but make sure to iron it out before first use.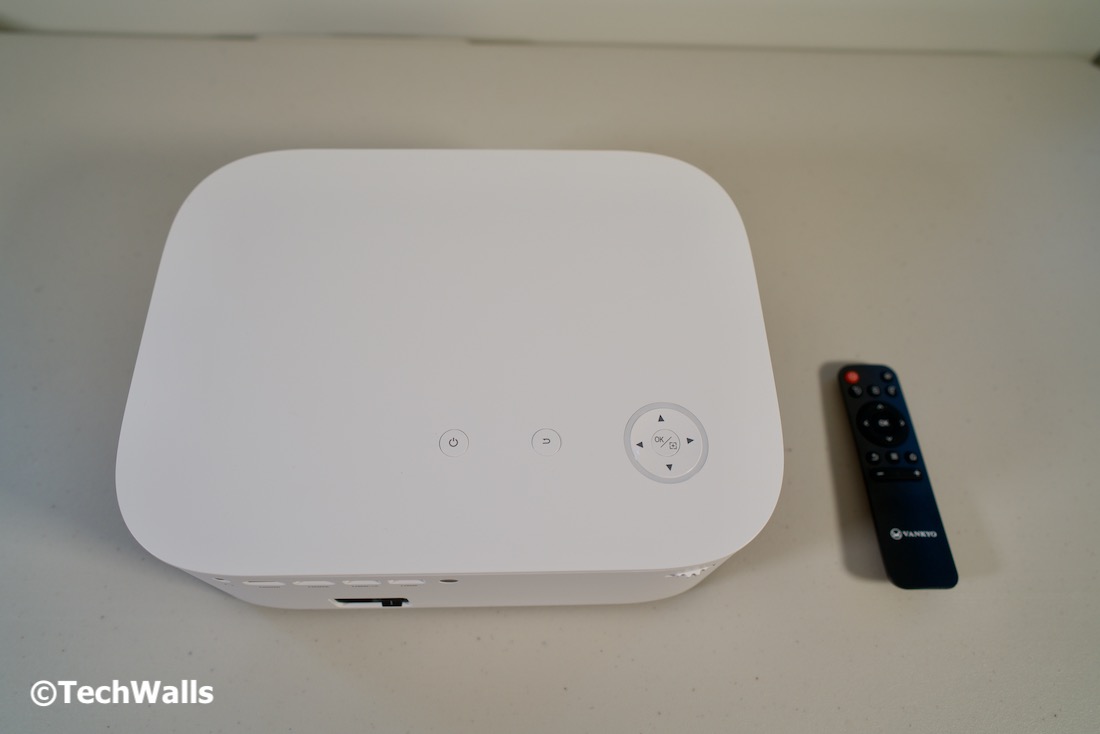 The Performance V700W requires no complicated setup. It is ready to use out of the box; I just connected it to my laptop using the HDMI cable and the display is immediately transferred to the big screen. There are 2 HDMI ports on the back, along with a headphones port and two USB ports. You can play content from the HDMI or USB ports, or you can also mirror content from your phones with the 5G/2.4G Dual Band Wi-Fi mirroring feature. The best video source is, of course, the HDMI and I can easily plug in a TV box or my laptop to the projector.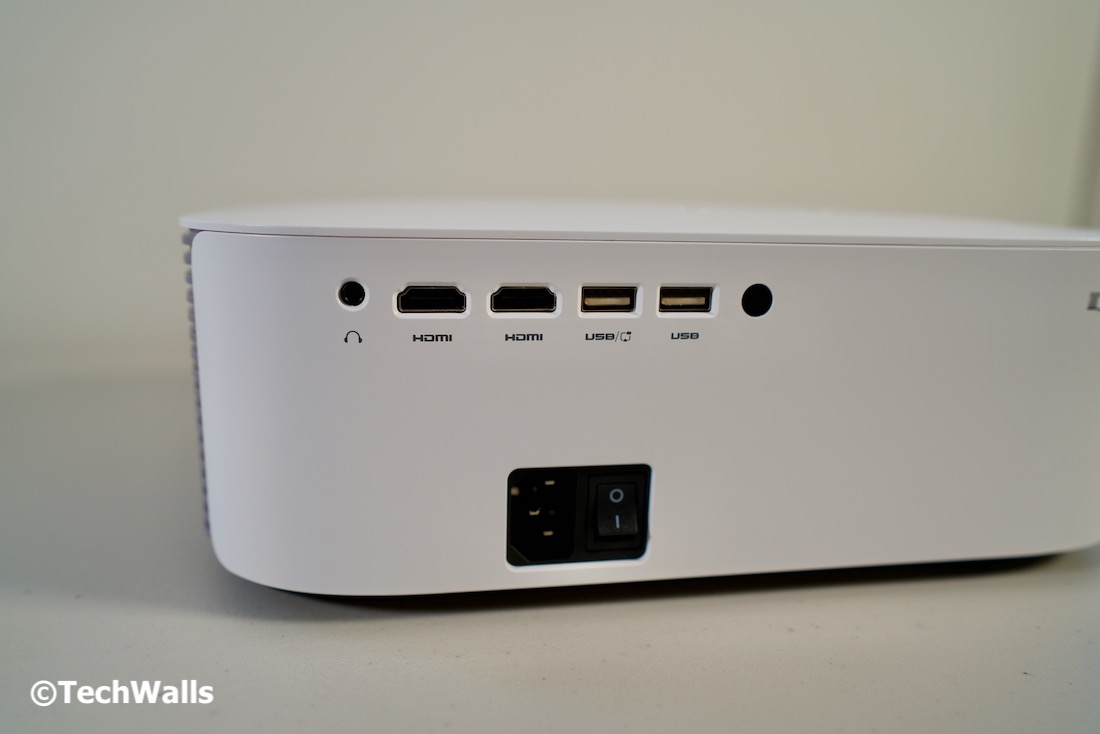 Notably, the projector includes a thumbwheel for keystone correction but there is no wheel to adjust focus. Instead, you can use the remote control for seamless focus control as well as zoom in/out. The V700W is equipped with dual 5W/4ohm Bidirectional Bluetooth 5.1 Dolby Audio speakers for 360-degree sound (authorized by Dolby), but I highly recommend using an external speaker system for the best movie experience.
You can project content to a screen from 38″ to 224″ and you will be surprised with the clarity, brightness, and color of the projector. I projected to the 120-inch screen and the image is incredibly sharp. I did not expect this quality from such an affordable product. A few years ago, I had to pay around $500 to get the same video quality; This Vankyo Performance V700W costs less than $300 and the price could drop further when it is available at more retail stores.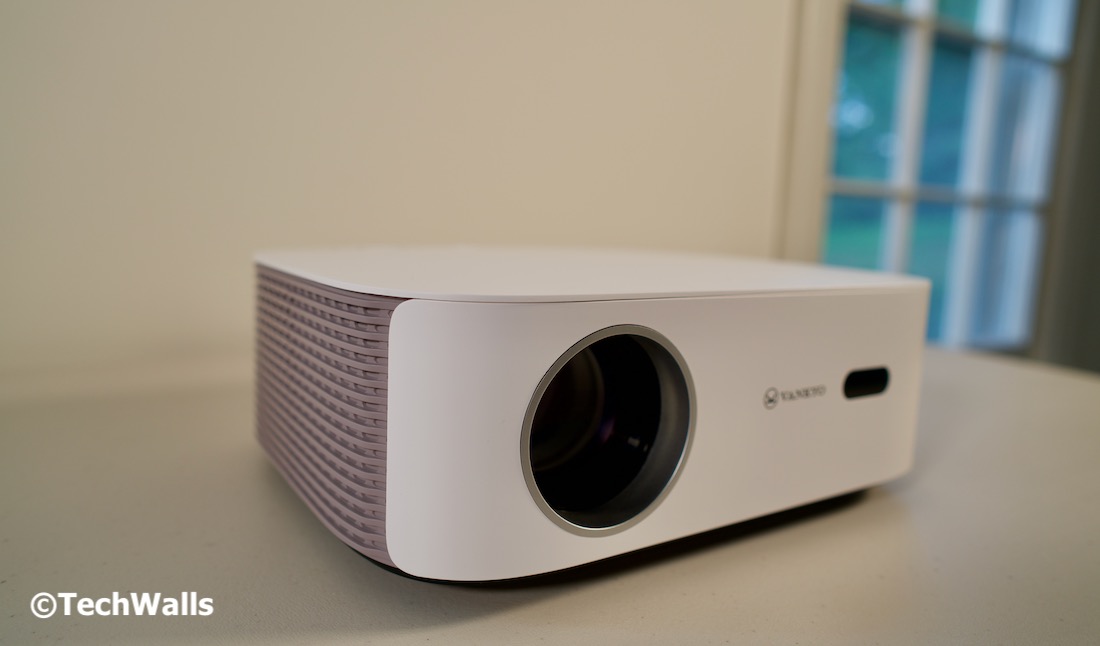 Of course, the image quality can't be compared to TVs but we are paying a fraction of the price for such a big screen. Moreover, when guests or neighbors come around, I can totally bring it outdoors for a movie night. The projector features admirable specs with 1080p native resolution, 1000:1 contrast ratio, and 420 ANSI brightness lumens. I tested some budget projectors earlier and almost all of them have blurry corners which become more visible when projecting to a big screen. This V700W surprisingly doesn't have this problem when I projected to an 80-inch screen and the corners just get slightly blurry on the 120-inch screen.
Overall, there is nothing to complain about the Vankyo projector. It is among the best-quality full-HD projectors I've tested and it is priced reasonably. If you shop around, you can even get it for less than $250. We at TechWalls totally recommend the product.
Disclosure: We received the product in exchange for the review. We spent time testing it to make sure the review is honest and unbiased.
Disclosure: We might earn commission from qualifying purchases. The commission help keep the rest of my content free, so thank you!