Data quality is critical when today most of the businesses are using data to improve their staffing. Business and IT solutions have to work in harmony with each other for you to get the optimal kind of results. It is difficult to reconcile them when you are dealing with data while trying to keep up with the advances made in data management and data access.
It is for this reason that you will need to make sure you have found ways that will work for you and help achieve the perfect balance between IT solutions and business management.
The Solution That Will Harmonize Advancement in IT Solutions and Business
No doubt you have heard of cloud computing and the way that the cloud technology has taken strides. It is the best way to use pooled resources in making data secure and easily accessible and no need to even backup your data when in cloud. It is essentially the new kid on the block who is still trying to fit in.
That will put you in an awkward position if you are using on-site servers for data management and data access. They are not exactly hip and their capabilities are limited when compared to the cloud. So, the questions come in. Which to pick, Cloud or On-Site Servers?
The questions stop being hard when you realize that you can have the best of both worlds. It could take some work but with data overload on local servers on-site, you will need to put in some work to introduce the Hybrid Cloud.
That is the solution that you have been looking for. Hybrid cloud is when you have both. It is a situation where you have your cake and eat it too. And yes, there is an extra cost to this.
Despite the cost and other problems that have been surfacing, it is being successfully marketed to businesses as 'the future'. That much is undeniable. That is why I think you need to know the details on this and what you can do to approach this new type of data management and access.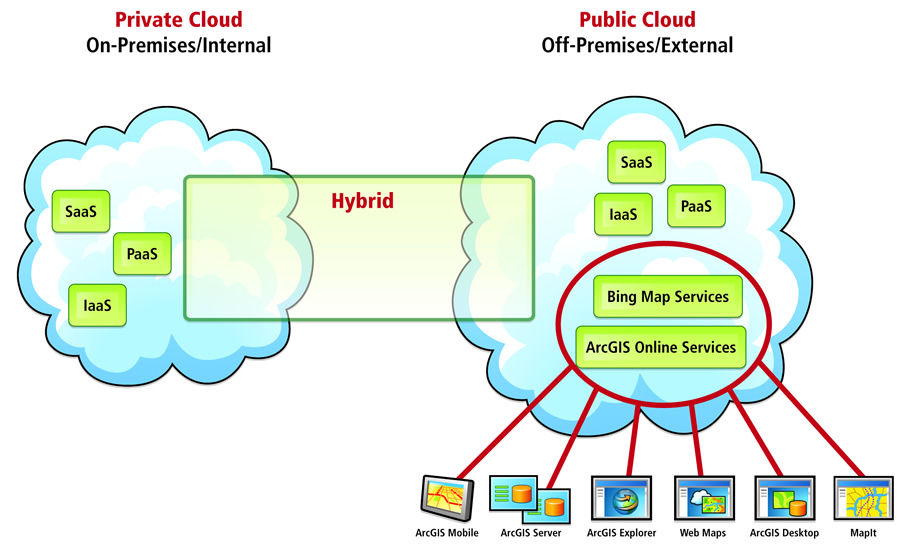 What Hybrid Cloud Is
The hybrid cloud consists of a private cloud that is maintained on-site with the rest of the servers and then attached to the public cloud infrastructure, applications, and services. These are all consumed on an 'as-needed' basis.
Be blending the private cloud, the public cloud and the on-site servers, you get to have a combination that is not only fail-safe but fast, convenient and the architectural flexibility that most people struggle to get using just servers.
So, hybrid cloud is not only the best way to do business but also the future, it would be wise if you were to get there as a business as this would make it easy to manage every component that you have.
Understanding the Hybrid Cloud
We have three mains forms of cloud computing and they are private, public and hybrid which you can use in the business market model. Knowing which ones you need to choose is the challenge that you will be tackling.
We are going to put much of the focus on the hybrid cloud. We need to know all the sides that this coin has.
With each of the above-mentioned cloud computing models, you will find that each has its own advantages to offer and some cons to deal with. Hybrid tends to offer a balance that is much needed in the allocation of data, applications and computing resources.
All this happens in either dedicated cloud or to a third-party public cloud pool. Creating the balance between the demands of infrastructure and business which tend to differ most of the time.
The Best Features of a Hybrid Cloud
It is easy to overlook something when you do not have the complete picture on it and when you listen to the rumors of a limited expertise base in the cloud computing niche. However, what is better than seeing why the grass is greener on the cloud side?
So, here are some of the reasons that have been cited as reasons for changing the model that you have so that it fits into the future.
1. Architectural Flexibility and Agile Operations
The things about a business that will make it easy for you to operate will include the fact that it has to be flexible and agile and that means you can shift in between the information with ease. This kind of flexibility makes it easy for workers to gain access instantaneously and securely.
By adopting a hybrid approach, you will put the information that is public in the public cloud and keep the information that is private like the customer logins in the private cloud and that is how you will get to have the best of it all and without any more loopholes to jump.
With the public cloud, you have economies of scale and that is how you will be able to save money and keep the security that you need to be the best of what you want to be. The most sensitive information can be kept on the on-site servers which are offline for extra security.
2. Security Enhancement
All businesses have things that are for personnel only and every company is subject to espionage. That is the reason why you cannot be hacked. You may end up losing so much. It is for this reason that you will need to secure data and segment it into levels.
With the hybrid cloud, you can do this by allowing access using codes that work on certain parts of the cloud for certain people. Think of it in the form of the much-used trope of CIA security clearance level. You can have that and much more with the cloud.
It is much harder to hack into anything that is in the cloud. It may not be impossible but it is extremely difficult that it acts as a deterrent.
3. Compliance with Laws
You might be asking, 'auditors don't like multi-tenancy and in fact, they need me to have dedicated IT solution infrastructure. Will I get that when I have the cloud?' Yes, you will. That is the short answer.
With the hybrid cloud, you have the best kind of network security that blends cloud and the dedicated hardware that you use. It meets the requirements and will host all the infrastructure you want seamlessly.
4. Control Is Easy
Let us say that you have a server that is shared. It may not be that easy to segment this into parts that are closed off to some and open to others. It is for this reason that you need to make sure you have a way to sustain multi-tenancy and still have the logical and physical segmentation.
This will give you the customization options of data being accessible to some and not to others depending on security clearances and authorizations. Running programs independent of each other while sharing the same resource pool is also able to give you the maximum control.
5. The Best of Both Worlds
We have seen that having the best of both worlds is basically paramount in this case. That is where we are headed at this point. Getting there in time ensures that you can take care of the learning curve as early as possible.
Seamless integration of the networks that you have and the access that is given to each employee will need them to learn the new architecture. That is a cost you will include.
Not factoring in the time taken, you will have to ensure that you have considerable resources to get the platforms ready to use. They are not that hard. The real work is done by cloud computing experts. All you need to do is specify what you want.
In Conclusion
Do not get left behind because the graphs clearly show people going full cloud, which is not very recommended for now because of the shortcomings that come with relying on a technology that hasn't been perfected.
Do not fret though because cars haven't been perfected either but we use them. They should be hovering by now but they don't. The same goes for cloud technology, it works just fine but having the hybrid framework ensures that you cover all the bases.
You need this, get it.
Disclosure: We might earn commission from qualifying purchases. The commission help keep the rest of my content free, so thank you!