The recent slew of cyber attacks that did not even spare encryption technologies from their wrath brings to mind Unisys' network traffic protection tool that could have prevented them: Stealth. As the name suggests, the appliance works to hide private, two-way communications from hackers and eavesdroppers.
Stealth was developed in 2005 by Unisys to support the U.S. Defense Department's efforts to boost network security. What's unique about this tool is that even man-in-the-middle attacks and keylogger exploits have never been known to have successfully breached and compromised its security. It is really a wonder then why it did not gain much traction in a technology landscape constantly besieged by cyber threats and malicious attacks.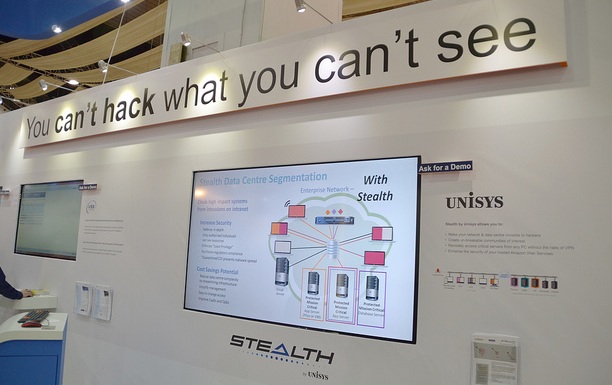 The commercial sector has gained access to Stealth a few years ago when Unisys opened the appliance to the public, which has long been in dire need for a advanced security systems to protect their network from snoopers. Stealth shields network infrastructure in four layers, which comprise an AES256 encryption for each packet and three different security protocols for certain users to run.
These groups of users communicate with each other through computers that exchange information in a highly secure environment to prevent traffic interception by third-party groups. For example, you want to communicate with two business customers, but the two of them will never be able to view each other's network traffic. That is so because Stealth runs a packet driver that hides the communication line from eavesdroppers over the Web.
At the very basic level Stealth works as an added layer to your existing network security. Even the walking dead Windows XP can still be secured by shielding its applications with Stealth and select the users who can have access to the network, practically excluding the unauthorized from participating. That is especially helpful in cases where attackers attempt to penetrate private exchange of communications.
After implementing the Stealth appliance in your network servers, you may observe that two computers previously seen exchanging communications have ceased the interaction. It is an indication that the communication channel is now being hidden from outsiders. The only real problem with this is when power is shut down during outages, in which case a backup supply is necessary.
Then there is the issue of escalated privilege, or increased administrative rights for users, which must be monitored because anyone who has access to the tool might decide to alter the security settings of the feature, thus exposing your network to attackers.
Disclosure: As an Amazon Associate, I earn from qualifying purchases. The commission help keep the rest of my content free, so thank you!