As smart home technology continues to get more and more popular, it can be challenging to figure out which products on the market best fit your family's needs. To help you decide which route to go, there are a few questions you should ask yourself while doing your research. For example, what type of technology do you want to automate? How do you want to control these devices? How will each device integrate with one another? If you're ready to take the jump into a fully automated smart home system, then you may want to consider Honeywell connected home solutions.
Connected home, connected lifestyle: Honeywell connected home solutions
Honeywell connected home solutions help you protect what matters most from anywhere in the world. Whether you want to check in on your pet while you're at work, need to unlock the door for a serviceman while you're on vacation or simply want increased security for your home, this smart home system can give you total peace of mind day and night.
Integration
One of the main reasons customers love the products from Honeywell is that they integrate with other smart devices and services from most popular brands like Amazon, Apple, and Google. This means you don't have to start over if you've already begun incorporating a few smart devices. It's also easy to add additional smart products to your home in the future.
Partnering with a smart home installation company can also help ensure that you are properly set up for your current and future needs. After all, there's nothing worse than buying a fancy new piece of technology only to find out it doesn't work seamlessly with your current set up. A professional can help you ensure that your Honeywell devices are connected, running efficiently, and work with your lights, speaker and more.
Connected products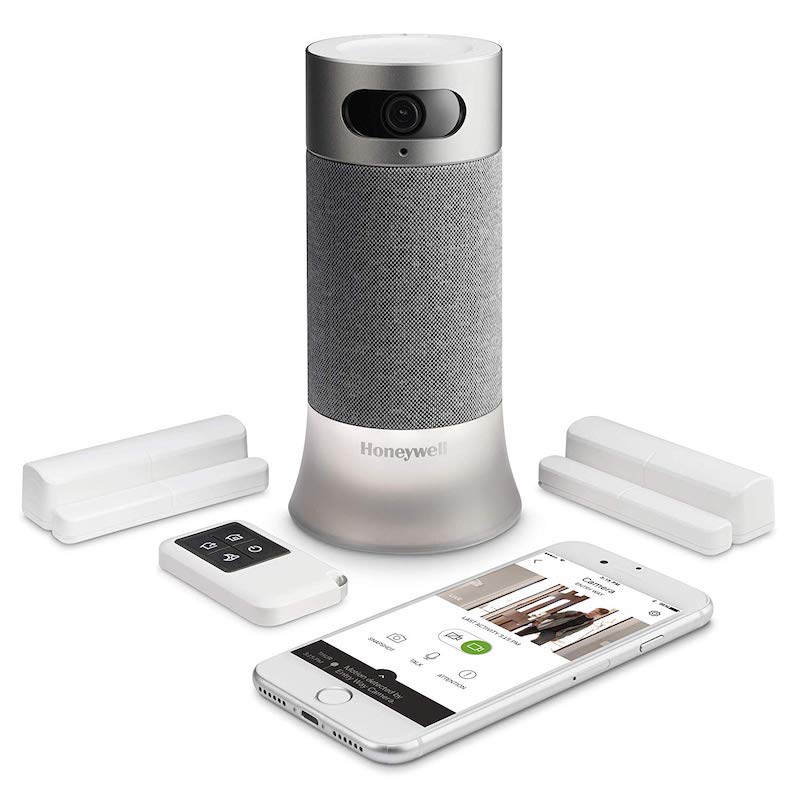 The Honeywell family also offers a whole host of smart hardware including smart thermostats, security systems, cameras, motion detectors, water leak detectors, doorbells, and locks. This means you can experience total comfort and safety in every area of the house, inside and out.
Total security systems allow you to protect your home from invasion, while water leak detectors ensure that your valuables and property don't suffer from devastating damage. Smart thermostats make sure that the environment is always comfortable and runs as efficiently as possible. And, of course, doorbells and locks allow you to control who is coming in and going out of your home. That means you no longer need a spare key for the babysitter or housekeeper.
The best part is, with the Honeywell Home app, each one of these systems is designed to integrate with one another. For example, you can program your smart home to automatically lock your doors when you set the alarm at night.
Single point of contact
As previously mentioned, at the heart of Honeywell's smart home technology is a single app that controls a variety of devices. This one app becomes your go-to for controlling your smart home devices from anywhere in the world. Why does this matter? Because having to open one app to turn on the lights, another one to adjust the thermostat, and yet another to disarm the security system, isn't very smart at all.
The Honeywell Home app allows you to control each of your smart devices within a single point of contact. Or, simply program custom scenes to simultaneously adjust multiple devices with the touch of a button. You can also set up these scenes to work with voice assistants. For example, ask Alexa to turn on "Good Night Scene" to turn off the lights, lock the doors, set the alarm, and turn down the thermostat. A smarter home is now just an app away.
Pro-security application
Many customers first start installing smart home technology to make their homes safer. With Honeywell connected home solutions, your house is covered from the inside out. Inside, smart security cameras and motion detectors can tell you when there is unexpected movement or even when the baby wakes up from their nap. Outside, smart doorbells monitor what's happening at the front door. Security sensors for doors and windows can also tell you if something is accidentally left open, or if someone tries to enter unexpectedly.
Of course, having a security system and managing your home security are also two different things. The Honeywell Home app allows you to tune in and see what's happening at home whether you're across the street or across the world. There is also the option to connect your devices to local authorities who will monitor your home 24/7 for unwanted activity. That means when you need it, help will already be on the way.
Professional support & assistance
Have questions? Need help getting started? Honeywell is here for you. They offer a variety of ways to reach out to their support staff including email, phone, live chat, and via Twitter. They even take their support one step further by providing a list of recommended professional technicians in your area to help you install your devices and professionally monitor them to ensure your smart home is always online. If you're still stuck, there are user guides and helpful tips on their website.
When you choose Honeywell connected home solutions, you don't have to figure it all out on your own. You have a partner in your smart home journey.
Connecting your home
If you're ready to get started with a smarter home, then Honeywell connected home solutions is a great next step. Because it allows you to control your home from top to bottom, you can enjoy total peace of mind from anywhere in the world. A smart home means that you can always make sure your home is safe, secure, and only an app away.
Get started with Honeywell connected home solutions today.
Summaries:
If you're ready to take the jump into a fully automated smart home system, then you may want to consider Honeywell connected home solutions. Learn more about how this technology allows you to keep a pulse on your home, no matter where you are in the world.
Want a safer, smarter, and more convenient home? Check out Honeywell connected home solutions. With a variety of smart devices including thermostats, security systems, and leak detection, you can experience comfort and safety from anywhere in your home.
Honeywell connected home solutions allow you to monitor what's happening at home from anywhere in the world. With a single app, you can control your security system, thermostat, locks, and more. Learn more about this smarter home set up.
Disclosure: We might earn commission from qualifying purchases. The commission help keep the rest of my content free, so thank you!