Twitter has officially announced a new feature for its iOS, Android and web clients called Mute. It comes as a very welcome addition to the Twitter experience. It gives users the ability to select and turn off the posts of any user they follow, without unfollowing them. This feature is uni-directional only meaning only you will know that you have muted a person without them knowing about it.
After you have set a user on mute, then their tweets or retweets will not appear in your Timeline. Also you will not be notified of their activity via any push message on any of your device. However, the muted user will be able to see your messages and reply or favorite them anytime they like.
You can activate the mute feature by touching or clicking the More link on any individual tweet. Or you can mute someone from the gear icon of their Twitter profile page. This feature will be available starting today, first it will be available on the Twitter website and in the next few weeks updates for respective apps on each operating system can be downloaded.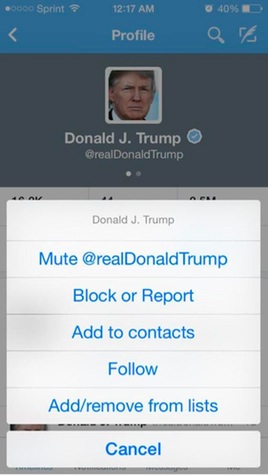 Many of us use Twitter from the default apps and on the website. But, many third-parts clients and apps exist for the platform too. Many of these apps have provided this same Mute functionality for a while. Take a look at Tweetbot, for instance, it has this feature in its both native web client and iOS application. It also has many other features like tweet scheduling and you can mute hashtags or keywords as well as users, too. It makes it easy to stop dealing with those annoying Twitter chat groups and events that take place, without necessarily burning your network to the ground at the same time. Now, we are secretly hoping that Twitter introduces the option to mute #hastags too.
Disclosure: As an Amazon Associate, I earn from qualifying purchases. The commission help keep the rest of my content free, so thank you!