The Internet can be a fantastic resource for learning, shopping, playing games, and communicating with friends. On the other hand, there are predators, identity thieves, and others who can try to attack your kids online. To be secure online, it's vital for you and your kids to be aware of these threats. Many kids believe they understand how to stay safe online. However, they may not always consider the implications of their actions, leading them to disclose too much personal information. Predators and cyberbullies often target kids. 
If you're a parent, this is an issue since there are some websites and applications that are graphic, frightening, and unlawful that you don't want your kids to see. A reliable parental control app can assist you filter the websites or Apps for kids' online safety, track cell phone location in real-time, or manage their screen time . If you can't figure out the best phone tracking app for your kids, then keep reading this article because we have the best solution to cater to all your needs:
Part 1: Best Solution to Keep Kids Safe Online and Track their Location
Are you looking for the best phone tracking app? Gone are the days when keeping your kids safe and productive was as simple as installing a basic location tracker on their phone. Modern children utilize a wide range of internet-connected gadgets, and cell phone location trackers must keep up with them. Before you choose a cell phone location tracker, ensure it works with all of the devices in your home. The best and most popular cell phone location tracker in this regard is Wondershare FamiSafe.

It is one of the finest apps for real-time tracking kids' phone whereabouts, setting geographical limits (geofences), monitoring and disabling family locator apps, web content filter, and controlling remote screen time. FamiSafe allows you to keep track of your loved ones. If you want to ensure your child made it to morning dance practice without being interrupted, you can use your phone or your home or workplace computer to conduct a fast location check. Real-time location tracking and Geo-fencing allow you to see their current position with street addresses and landmarks. You can also designate a safe zone and receive real-time notifications when they leave and enter it.
Part 2: How to Use FamiSafe to Track Live Location?
If you want to know how to track a cell phone with FamiSafe, then follow these steps:
Step 1: Download
Download the FamiSafe app available on Google Play Store or App Store. Install it on your devices by following the on-screen instructions.
Step 2: Register
After installing the FamiSafe app on the parent's phone and Famisafe Jr on the children's devices, use your email address or third-party accounts to register on FamiSafe. Use your account credentials to sign in to your kid's device and activate the FamiSafe app.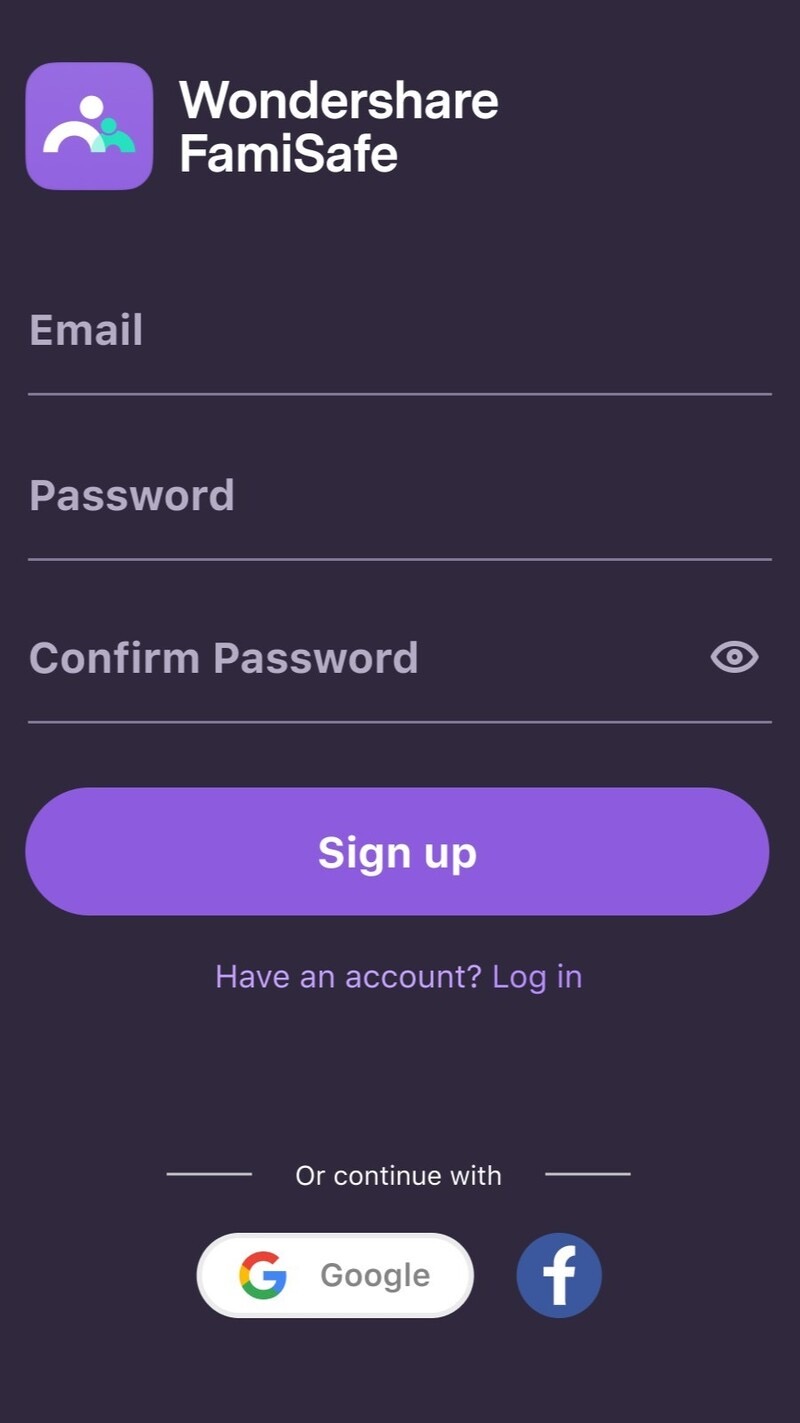 Step 3: Track Live Location
After pairing to your kid's device, you can access the main dashboard. Click on the real-time location option to track cell phone location for free in real-time. You can also set a geofence and view location history from here.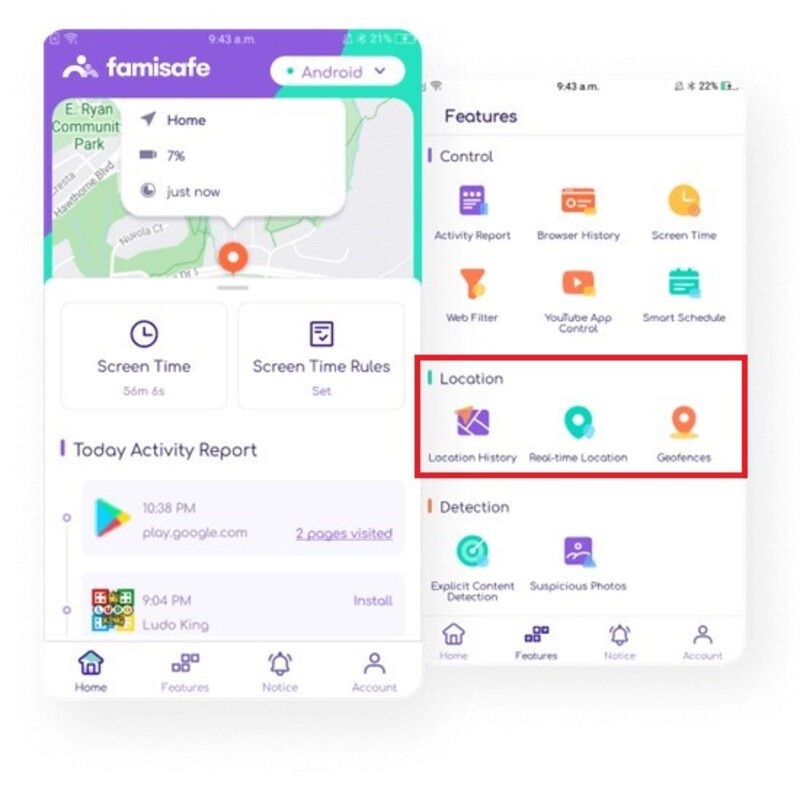 Part 3: Key Features of FamiSafe
1. Real-Time Location Tracking
FamiSafe allows you to track cell phone location of your kid. You don't have to phone or text them frequently to stay updated on their whereabouts. A single glance at this real-time phone tracker can reveal your child's exact position at any given moment.
2. Location History
FamiSafe is a free phone tracker that keeps track of the locations your kids have visited. This real-time locator can also assist you in better comprehending your child's actions and interests.
3. Geofencing
You can set up a geofence with this free location tracker, and it will notify you as soon as your child comes or departs. This app ensures that your child does not deviate from their routine and informs you if your kids reach a potentially dangerous zone that you have already identified.
4. Screen Time
You can limit screen time on iPhone or Android, and get a thorough report on how much screen time your child spends every day, week, or month. The data also reveals when your children are most engaged on their phones during the day.
5. App Blocker
You can also ban individual unsafe applications, or those you fear would make your children unproductive, in addition to specific websites. Aside from that, you'll be able to view a complete list of all the apps your kids regularly use with this real-time tracking app.
6. Social Media Monitoring
With this free GPS phone tracker, you can set up automated notifications to notify you when the app identifies questionable words on your children's social media profiles.
7. Web Filter
FamiSafe is the best phone tracking app that can block access to risky websites and receive warnings when your child attempts to view them using FamiSafe Web Filter. Adult content, crime, death, gaming, drugs, gambling, religion, shopping, unethical content, etc., are just some of the categories you can add to the filter. You can also add an exception to any of these categories.
8. Activity Report
FamiSafe keeps track of some of the most critical activities your children engage in and that you should be aware of. This will help you to understand how your children spend their days.
Part 4: Compatibility and Pricing
FamiSafe is compatible with Android, macOS, iOS, and Windows. The monthly plan of FamiSafe costs $10.99 per month and protects up to 5 devices, the quarterly plan costs $20.99 per quarter and protects up to 10 devices, and the yearly plan costs $60.99 per year and protects up to 10 devices.
Part 5: Conclusion
Today's kids are growing up in a cyber-centric society. It's hard to avoid exposing kids to the internet and the threats of the online world. However, it is possible to keep children safe and secure while teaching them how to be safe online. If you want to track cell phone location for free and monitor your kid's online activities, we highly recommend using FamiSafe. It is a popular parenting tool that encourages parents to watch their children online without invading their privacy. It is simple to install by removing the requirement to root or jailbreak a device. FamiSafe has impressive features like real-time location tracking, web filtering, app blocking, and activity report, making it the safest and most reliable parental control app in the market.
Disclosure: This is a sponsored post; We were compensated to publish it on our website.
Disclosure: We might earn commission from qualifying purchases. The commission help keep the rest of my content free, so thank you!