If you are a content creator, you probably work a lot with image and video processing applications like Photoshop, Lightroom, Premier, or Final Cut Pro. That is a painful experience for novice and professional users because the processes require a lot of mouse and keyboard manipulation, including numerous key shortcuts to remember. I often edit videos with Final Cut Pro and I didn't know I could speed up the workflow with an accessory like the TourBox Elite Bluetooth Editing Controller.
Disclosure: We received the controller in exchange for the review. Our experienced reviewers perform thorough research and testing of different products to make your purchase decision easier.
TourBox Tech actually released the original TourBox back in 2018 and the TourBox Elite is the next-gen controller. As compared to the TourBox NEO, the Elite has some major upgrades including dual-channel Bluetooth 5.1 connection, tactile feedback, button integration, and more color options. The project is raising fund on KickStarter and it is already backed by nearly 2,000 people with over $400,000 pledged. The Elite will have the retail price of $268 but if you back the project now, you can receive 34% off with estimated delivery in February 2022. The smoke-black translucent color looks really cool but it is more expensive as well. The Elite I received for this review comes in white color.
The Elite controller is made for digital content creators like photographers, artists, graphic designers, or video editors. It works on Windows and macOS; Once you install the TourBox Console to set up the Elite, you will be able to use it with popular apps like Adobe Photoshop, Illustrator, Premiere, Lightroom, Capture One, After Effects, Final Cut Pro, DaVinci Resolve, etc.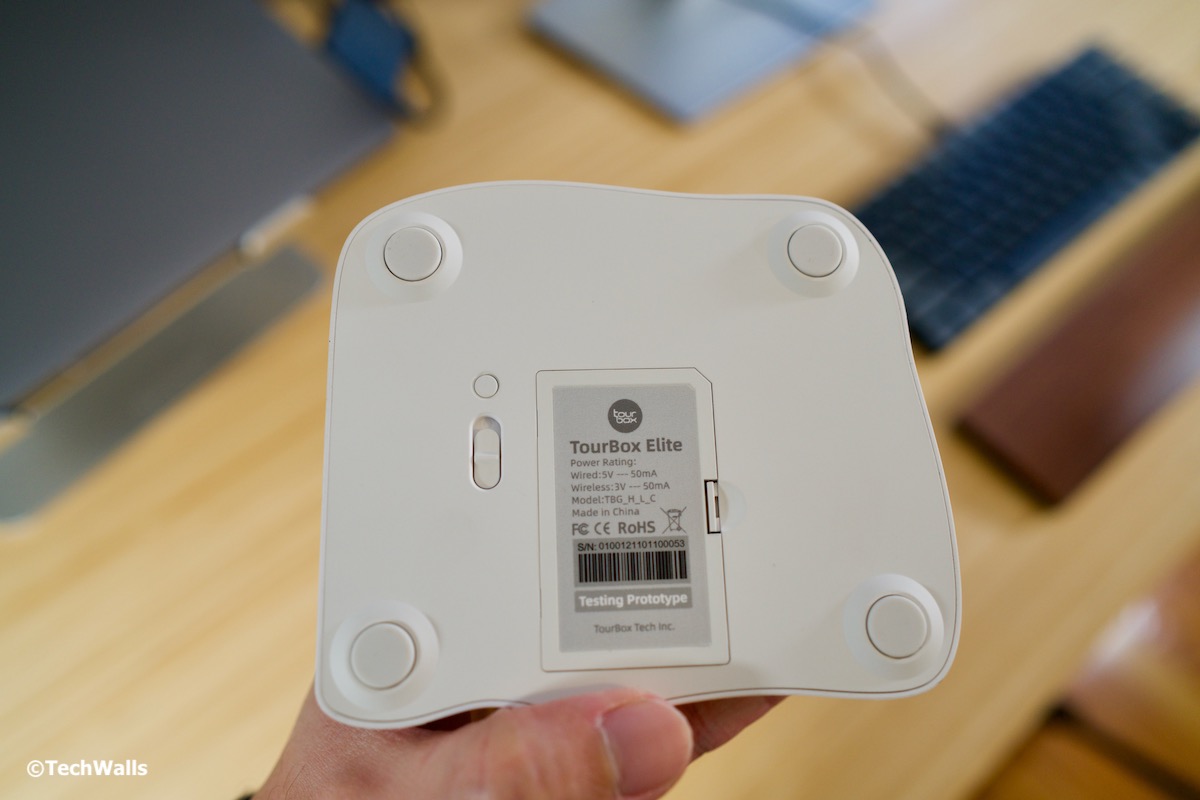 Inside the box, the controller comes with a USB-C cable, carrying pouches, and 2 AA batteries. You can connect the controller to your computer via Bluetooth or cable. I prefer the Bluetooth connection as it makes my workstation look cleaner. Besides, the wireless connection is consistent and responsive enough, so I don't see any significant delay when interacting with the controller. I've used the Elite for about 2 weeks and haven't had to replace batteries yet. According to TourBox Tech, 2 AA batteries could last up to 2 months, thanks to Bluetooth Low-Energy operation. At this time, I can't find out any way to check the battery level.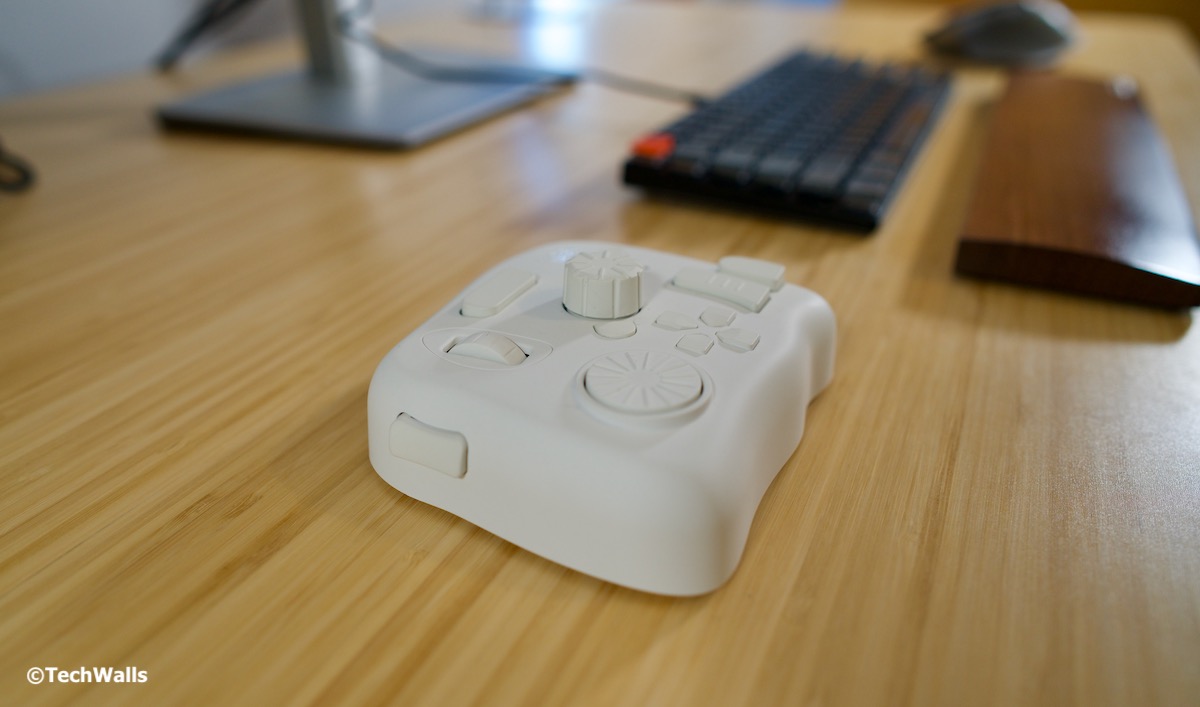 The product is made of plastic but it feels quite heavy and solid (weighing nearly 1 lbs); Therefore, the unit doesn't move around during my usage, even when I press button on the side.
Setting up the controller from scratch might be overwhelming for most average users because you will have to look for all shortcuts of a specific app to assign them to the Elite controller. Fortunately, you can download more presets from other users and start creating your own preset from there. I downloaded a preset for the Final Cut Pro app and didn't have to adjust anything because all the controls fit my needs perfectly. In case you forget function of a button, you can always press on the Tour button to look it up. Besides, there is a D-pad HUD so you can assign some heavily-used tools and get access to them quickly; The HUD will always show on your display.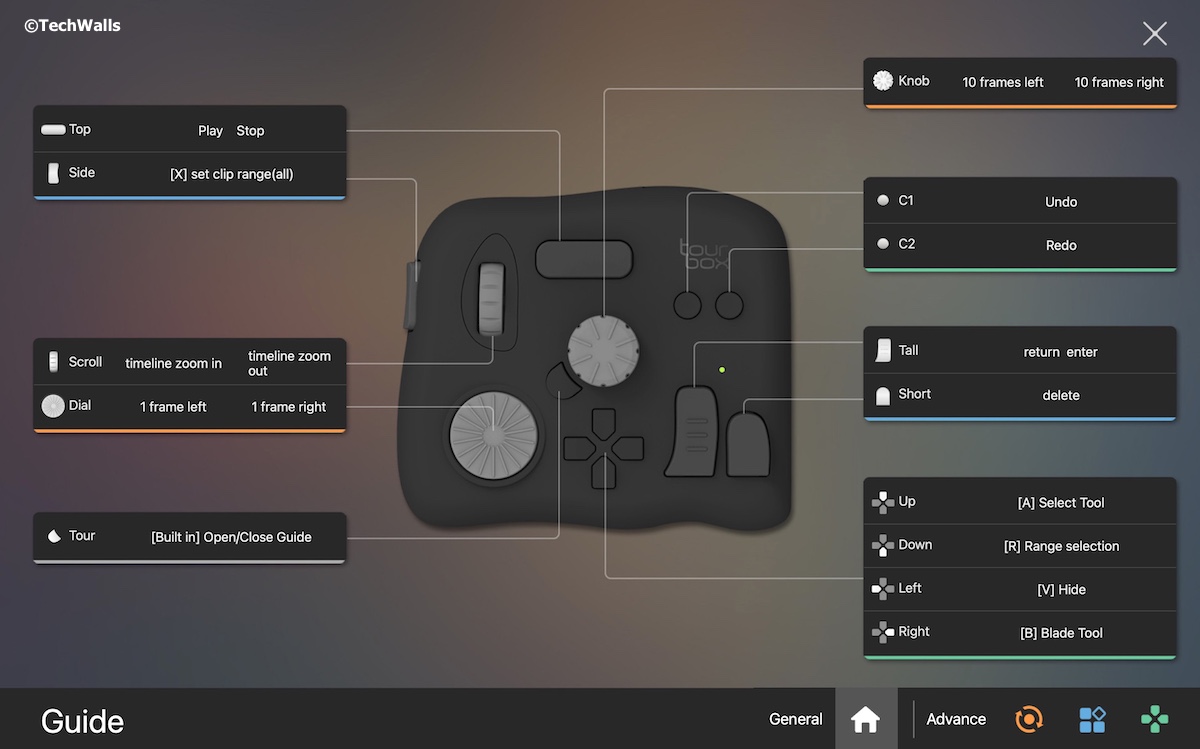 The TourBox Console features presets auto switch which is very helpful when you use the controller with different applications. For instance, when you open Photoshop, you will have presets for the photo-editing software and when you open Final Cut Pro, its presets will be switched on automatically.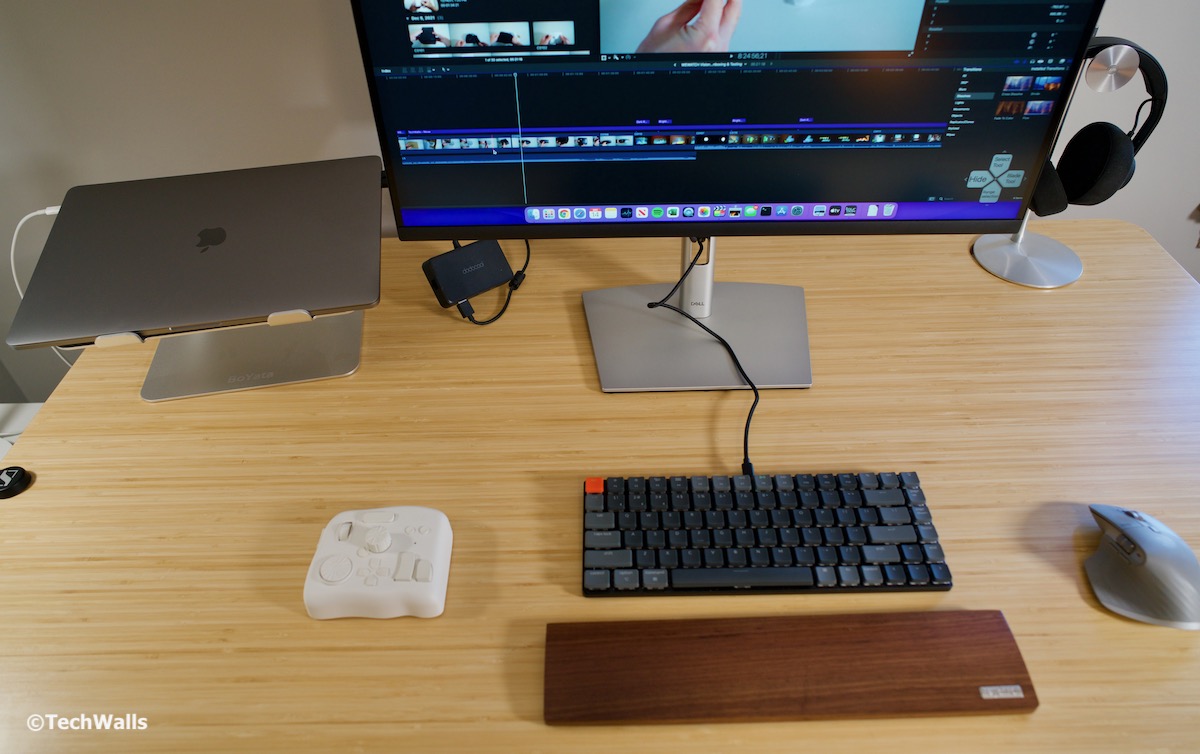 I edited some videos using the TourBox Elite and was totally satisfied with the experience. During the process, I no longer have to press a bunch of shortcuts on my keyboard. Instead, I could move the keyboard away and do the whole editing with just the controller and my mouse. The Elite's interface is obviously much more intuitive with scroll wheels, dials, and buttons. Using the scroll wheel to zoom in/out and turning dials to scroll through timelines or grade color is so satisfying, especially with haptic feedback. You can adjust the speed and vibration of the dials to your preferred level of force.
Another notable feature of Elite is macro. You can set up macros with just a few clicks; Each macro is a set of actions like keyboard shortcuts, mouse action, delay, text input, file/app opening. I myself don't use macros but many people would find them useful for repetitive tasks.
In conclusion, the TourBox Elite is a great device for any content creator out there because it helps accelerate the workflow in an intuitive way. I love the haptic feedback, customizable controls, and wide compatibility. Now I can totally get rid of my keyboard and all those key shortcuts when using editing apps. Only that advantage is worth purchasing the Elite in my opinion. The price point of just $178 is a no-brainer, so you should back this Kickstarter project soon if you're interested in the product.
Disclosure: We might earn commission from qualifying purchases. The commission help keep the rest of my content free, so thank you!