Thermal cameras used to be incredibly bulky, incredibly expensive, and incredibly complicated to use. Thanks to the innovative guys at Therm-App that's no longer the issue.
Now you can very simply turn your Android phone into a thermal camera in just a few moments.
How does it work
The Therm-App is a modular device that can clip right onto an Android mobile device and will transform it into a powerful, high resolution thermal imaging camera. You can use it to take pictures, record videos and even live stream with it. The Therm-App software required to use the camera is available from Google Play for free and is constantly updated with new features by the Therm-App team.
The powerful thermal sensor has a high pixel resolution of 384 x 288 and offers both night vision and thermal imaging, offering the full picture in Hot White / Hot Black / Iron /Rainbow / Psy / Vivid color palettes. With it, you will be able to visualize the temperature distribution of everything around you.
What can I use it for?
The Therm-App thermal camera can be used for many different applications, both inside your home and outside.
Home inspection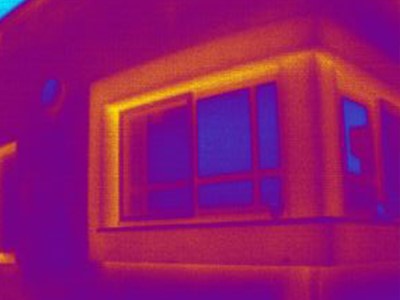 A very easy way to save money on bills is to ensure your house is properly insulated, which will significantly reduce heat loss while lowering your heating bills or air conditioning power consumption. You will want to make sure your windows and doors are properly proofed against draughts, and your walls are properly insulated.
Industrial and mechanical inspection
Predictive maintenance is crucial to keeping anything mechanical in top condition and to avoid costly repairs which could have been prevented. This tool can be used for a variety of applications including car motor inspection, leaking pipes, and locating anomalies.
Electrical inspection
Make sure your primary power source is working as intended, as well as low voltage installations; faulty electrical outlets, wiring, fuse panels and wall sockets.
For veterinary, farming and pet control
The cameras low profile helps reduce stress when used with for diagnosing injuries, and can be used to help identify many different ailments such as muscle atrophy, joint inflammation and even tumors.
Nighttime wildlife observation
If you're a bit of a night owl yourself and love to see nature in action, you will be in for a treat with the night vision mode on the Therm-App camera. You can make your very own documentaries, picture albums, or simply sit back and watch the animal world go by.
Share images and videos quickly and easily
Use your smartphone to instantly share images and videos quickly by email or by uploading to DropBox.
The only limit is your imagination.
Conclusion
By leveraging the modern smartphones high quality, high definition and responsive touchscreens, Therm-App is able to provide an amazing user experience. The device is compact, lightweight, and offers great image quality. It's incredibly user friendly, has low power consumption and is mountable directly onto your mobile phone. You will need to make sure your Android phone supports USB OTG, and if you have an iPhone, sorry this one's not for you!
Disclosure: We might earn commission from qualifying purchases. The commission help keep the rest of my content free, so thank you!