When seeking to purchase a new ladder, it's essential to factor in the tasks you aim to accomplish, the environment you'll be working in, and safety and durability considerations. The Little Giant Ladders Leveler M22 entered the market with a plethora of features suggesting a revolutionary outdoor ladder experience. Having used it across various projects and settings, here's a detailed exploration of the ladder's merits and potential limitations.
Advantages
Safety First: The Leveler M22 doesn't skimp on safety. It proudly meets or surpasses all OSHA and ANSI standards. With a load-bearing capacity of 300 lbs. in all configurations, and even the ability to support 300 lbs. on both sides in its A-frame setup, the ladder instills confidence during use.
Versatility: One ladder, multiple uses. Whether you need an A-frame, an extension, a staircase setup, a 90-degree angle, or a trestle-and-plank scaffolding system, the Leveler M22 morphs with ease. The Rapid Lock adjusters further expedite these transformations, making the process both intuitive and efficient.
Ample Reach: The ladder promises a commendable 22-foot reach in its extension position, considering a 5 ft 6 in individual with a vertical reach of 12 inches. This height is often more than sufficient for most household chores.
Durability Assured: The ladder's robustness is evident from its Type 1A rating, supporting up to 300 lbs. This durability metric, combined with its adherence to OSHA and ANSI standards, signifies a long-lasting and trustworthy product.
Leveling Legs & Height: Traditional ladders tend to falter when faced with the unpredictabilities of outdoor terrains, especially uneven ones. The Leveler M22 takes this challenge head-on with ratchet leg levelers. These provide over 7 inches of adjustment, offering an unparalleled adaptability to uneven grounds and staircases. On irregular surfaces, you have the flexibility to extend either one side or both to varying extents, ensuring the ladder remains balanced and level. To revert the leveling feet to their original position, simply lift the orange toggle situated adjacent to the feet, and they'll promptly retract.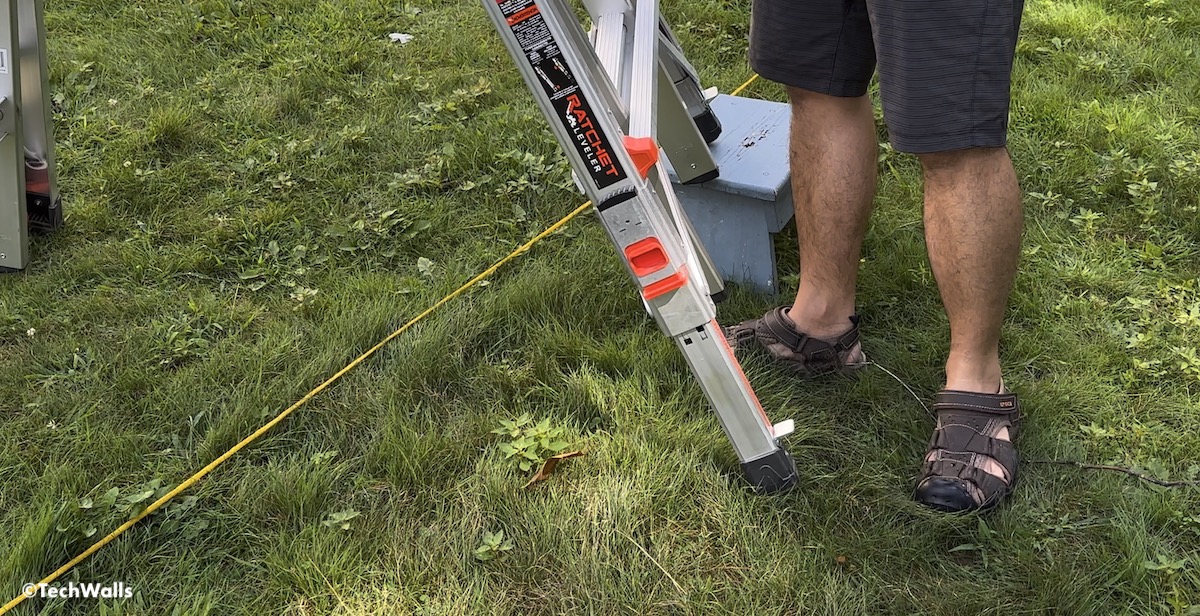 Limitations
The Weight Issue: The Leveler M22 is undoubtedly a heavyweight contender, tipping the scales at 44 lbs. While its integrated Tip & Glide wheels help a lot in moving the ladder across terrains, the weight becomes conspicuous, especially when lifting or setting up in certain configurations.
Stability: Despite its claim of a 22-foot reach, the actual height attainable was closer to 19 feet. This proved a tad disappointing during tasks like gutter cleaning for higher floors. I couldn't lean it on the gutter and of course, not a single rung above the gutter to guarantee safety. Moreover, it feels a bit unstable, especially at the locks in the mid frame. I don't think the locks will break but it is also not safe enough to climb too high. Stability became a concern at these maximum heights, particularly around the mid-frame locks.
Setup Nuances: The ladder's top-heavy design necessitates caution and often an additional pair of hands during setup, especially when extended to its full height. You will always need to lean the front feet on the wall when you prop it up or lower it down. This could pose challenges for those working solo or without assistance.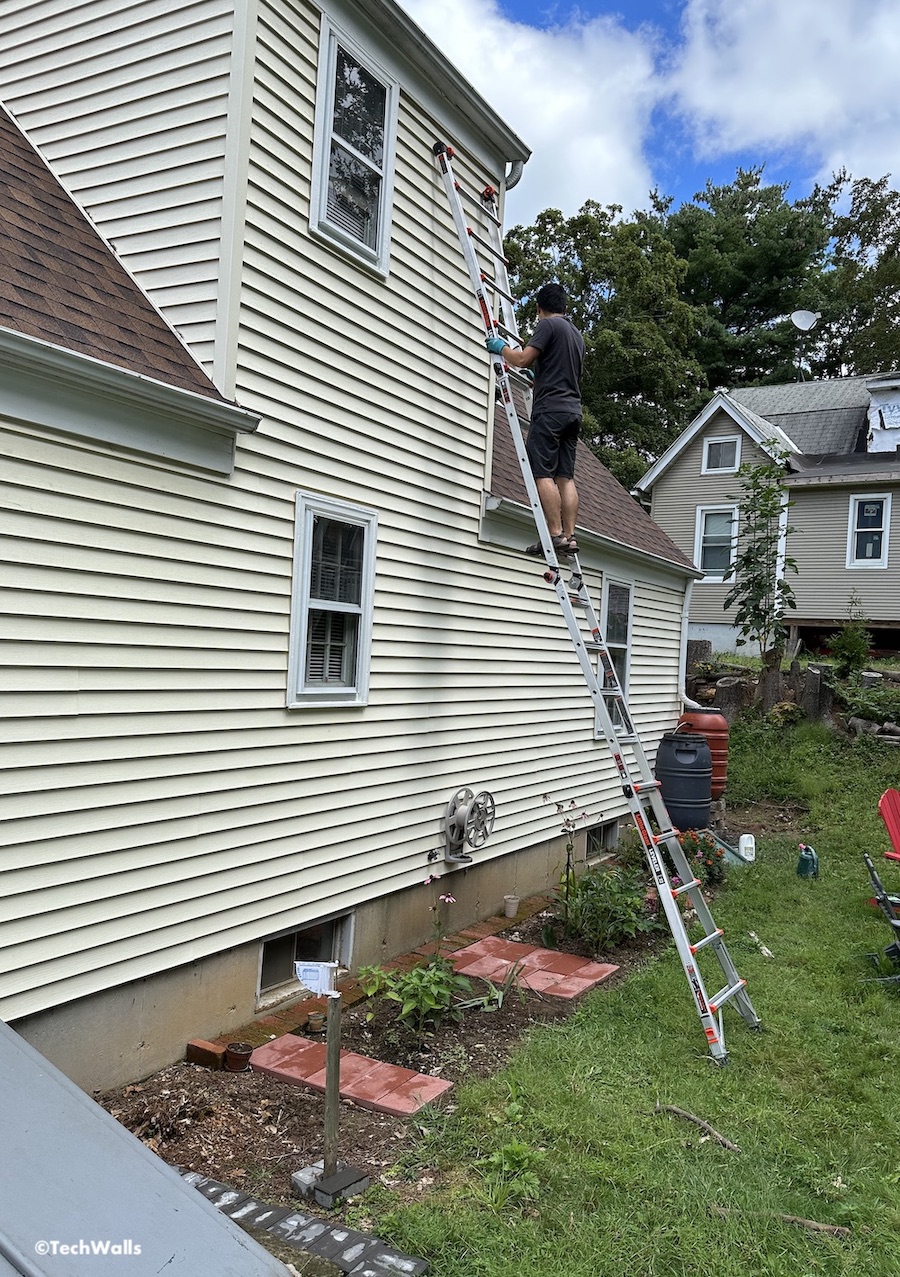 Final Thoughts
The Little Giant Leveler M22 is undeniably an innovative tool, packed with features that make it versatile and adaptable. Its design considerations, especially for outdoor use, render it a valuable asset for diverse tasks.
However, it's crucial to align expectations with its actual deliverables. Its weight and the intricacies in setting it up can sometimes overshadow its merits. For more straightforward tasks, especially solo endeavors, a smaller version like the M17 might be a more suitable choice. For tasks demanding greater heights, it might be worth considering a dedicated extension ladder that's lighter and potentially more stable.
Disclosure: We might earn commission from qualifying purchases. The commission help keep the rest of my content free, so thank you!