New car tech is advancing faster than automakers expected it to. That's why even low-end models now include an entire array of gadgetry that often seems out of place in economy cars. That's generally good news for consumers who get the benefits of new-age technology no matter what cars they buy. But it's even better news for manufacturers who now have valid reasons to up prices on even the most bare-bones makes and models like the Nissan Versa and Hyundai Accent.
Car tech for 2020 can do just about anything. Passengers in a fully connected, technically well-equipped vehicle have the power to monitor speed, assess engine problems, engage collision-avoidance capabilities, check tire pressure and more. In fact, they can turn their cars into virtual moving offices. Remote access to office computer systems allow a passenger (we're assuming the driver is busy watching the road) to answer work emails, monitor the performance of Linux servers and attend video conferences from the comfort of the back seat.
Exit Warning
Have you ever accidentally given the door to a bicyclist? Or maybe you've been on the receiving end of that dangerous, painful encounter. Worry no more. Exit warning systems stay engaged for a few minutes after your car is turned off to warn you of approaching cyclists and pedestrians. This is a good example of a tech solution that delivers an immediate benefit. The cost is negligible and the elimination of potential hazard is huge.
Lane Departure Alert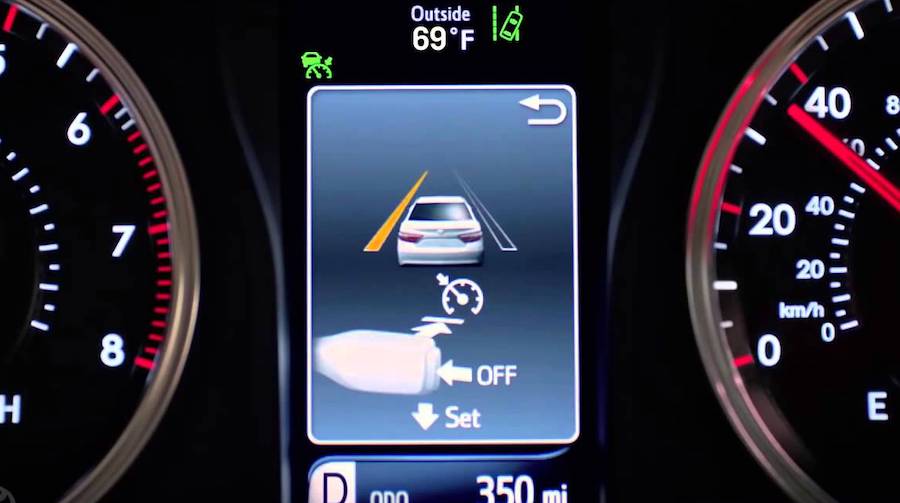 Statistics show that the majority of traffic accidents are caused by drivers who are in the process of switching lanes, either with or without a signal. Lane departure alert solves this problem almost completely. Depending on the manufacturer, a car will emit a light or buzzing sound, or both, to tell you that your car is changing lanes. This is the time to either get back into your original lane or put your signal on and tell other drivers that you are switching.
Automatic Braking
Automatic braking is based on technology that senses the presence of other cars, people or large objects. It was quite controversial when it first came onto the market several years ago, but consumers have come to love it for its simplicity and sheer ability to save lives. Some data already shows that car owners who try it never want to drive without it again. Dealers claim that it's the most asked-about technology on modern cars.
All-Around Cameras
Backup cameras, once the darling of car enthusiasts everywhere, have given way to all-around cameras. Also called 360-degree vision, these complete views offer drivers 100 percent visibility. Some short-term studies have demonstrated that cars equipped with 360-degree cameras have fewer accidents. Industry gurus speculate that within just three years, all new cars will come with all-around cameras as standard features.
Theft Tracking for Stolen Vehicles
Theft-deterrence has made huge strides in recent years. Many new models come standard with tracking devices that allow police, or owners, to find a missing vehicle. Considering that more than 750,000 cars will be stolen this year, theft-tracking seems to be the right technology at the right time.
Disclosure: As an Amazon Associate, I earn from qualifying purchases. The commission help keep the rest of my content free, so thank you!