I am not a professional photographer and that's why I don't review cameras on TechWalls, even though I've used more than 4 cameras in the last year. However, probably I will try my best to bring you guys more camera reviews. The inspiration comes from a very interesting product, Sun and Cloud camera.
Notice that this is just a 3MP camera, so don't expect it will deliver the same quality as your high-end Canon, Nikon cameras or even cameras of your Android or iPhone. So, what is special about this device?
This is the world's first self-sustainable camera. That means you could power the camera without using electric outlet. Apart from the traditional charging method, you can use the solar panel on top or the hand crank to charge the camera. Check out the video below to see all 3 charging methods.
In terms of design, the Sun & Cloud camera looks very simple and incredibly lightweight. I can't believe it could sport most components of a camera, including lenses, LED flash and LCD screen. There is a switch to turn on the LED flash even when you don't use the camera. This feature could be helpful and we could use the device as a flashlight when there is no power. One thing I don't like is the buttons don't have any explanation nearby, so you will have to remember their functions.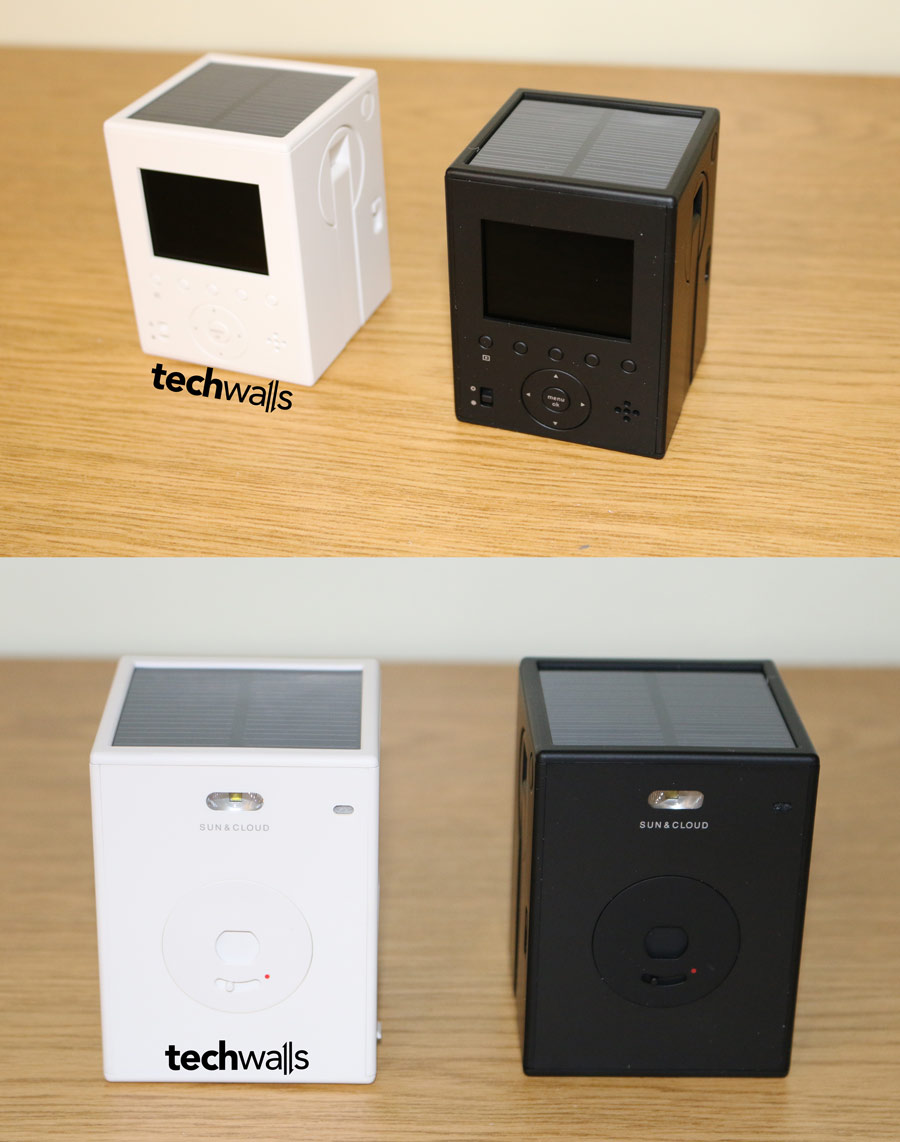 You can put a MicroSD card (up to 2GB) or MicroSDHC(up to 16GB) to start using the camera. Its 3-Megapixel CMOS sensor supports ISO of up to 800, actually you can choose either ISO100 or ISO800. However, the images are too dark with ISO100, and at ISO800, you would see a lot of noises. Check out some image samples I took below.
I'm disappointed with the image quality as it is much lower than current standard. The only thing it can beat is camera on my old Nokia E63. The camera could record video but I am also not satisfied. Watch a short video sample below.
Regarding to the interesting self-powered feature, there are some downsides as well. The solar panel will start charging only when it receives direct sunlight. Therefore, when I place it near my window, it could just receive sunlight for a couple of hours and it is not enough to power up the camera. If you really want to use the solar panel, I recommend to put it outside where it could get more sunlight. The camera will need more than 12 hours of consistent sunlight to fully charge its battery.
The hand crank seems to be more helpful but it is also difficult to use. I couldn't use it until reading the manual. To generate power to charge battery, you will need to rotate the crank at a high speed and make sure to check if the power light is on. And one minute of fast rotating will help you capture about 10 pictures.
It is very difficult to recommend this camera despite its interesting features and unique design. If the image quality is improved, it will be another story. I hope they will improve the sensor in the next generation. Anyways, this product is still very helpful for education. I'm pretty sure kids will love this as a gift, the camera will not only guide them to photography, basic components of a camera, but also they will learn how power could be generated.
The Sun & Cloud camera is available for around $180 on Amazon. If you could afford the price, this is a great gift for your kids.
Disclosure: As an Amazon Associate, I earn from qualifying purchases. The commission help keep the rest of my content free, so thank you!