Removing a stuck Moen 1200/1225 or similar shower cartridge can be a challenging task, especially if conventional methods like using the Moen shower cartridge removal tool have failed. Here's a step-by-step guide to fix the issue.
Tools Needed
Steps for Removing a Stuck Moen Shower Cartridge
Safety First: Always ensure that the water supply is turned off before attempting any plumbing repairs.
Assess the Situation: If you've already tried using the Moen shower cartridge removal tool and ended up breaking the inside of the Moen 1200 or 1225 cartridge, leaving the outer shell still stuck inside the shower valve housing, this method is appropriate.
Remove 2 tabs on the cartridge: Use a plier to break the 2 tabs on the outside of the cartridge. This would be helpful when you pull out the cartridge.
Thread the Cartridge Core: Insert the 1/2″ – 13 NC tap into the inside of the Moen cartridge. Carefully turn the tap to dig 1/2″ threads into the core; You might add lubricant if necessary. This step is very important as it will create a grip point for the bolt.
Insert the Bolt: Once you have threaded the center core of the cartridge far enough, remove the tap and screw the 1/2″ wedge anchor into the core. I use a 4-1/4-inch long wedge anchor but anything longer than 3″ would be good enough. Use a couple of washers on the front to push against the front face of the shower valve opening, aiding in the removal of the stuck cartridge.
Apply Force with Wrench: Attach your wrench to the nut and turn it clockwise to the right. This action will draw the stuck Moen cartridge towards the front of the valve opening. When it goes out far enough, it will push against the washer and you won't be able to pull it out further. In this case, you can add a wrench between the washer and the valve opening; Make sure not to block the cartridge.
Remove the Cartridge: As you continue turning the bolt with the wrench, the cartridge will gradually come loose. Once it's sufficiently loose, you should be able to pull the stuck shower cartridge out the rest of the way.
Completion: After successfully pulling out the cartridge, your stuck Moen shower cartridge issue should be resolved. You can clean and flush the valve before installing a new cartridge.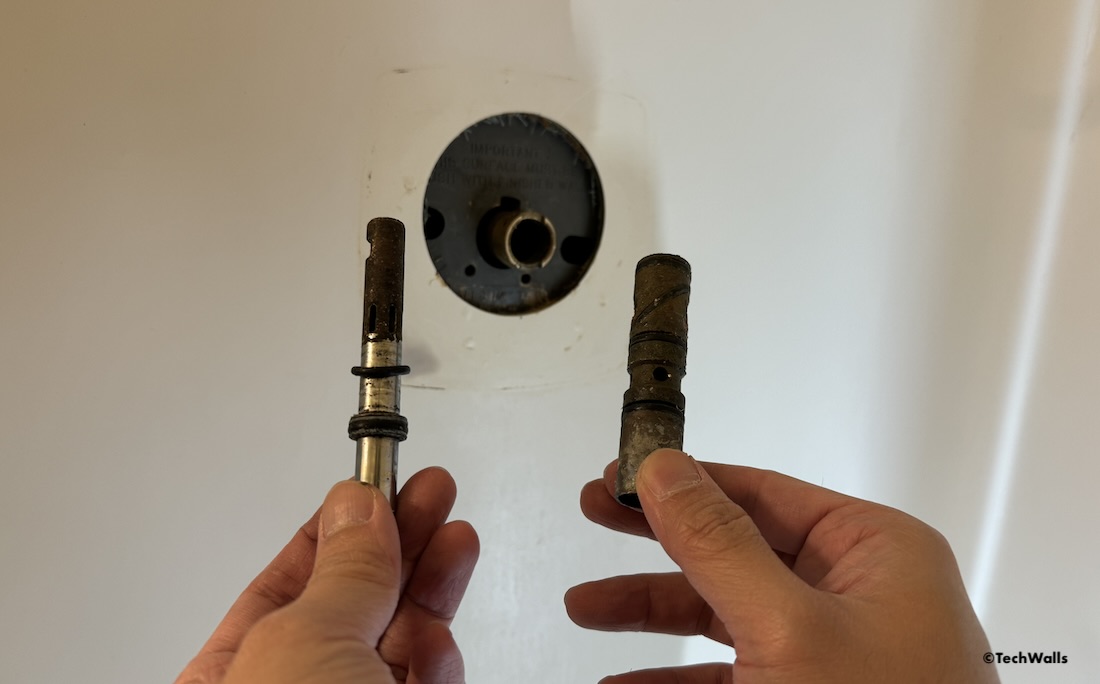 By following these steps, you should be able to remove the stuck Moen cartridge without needing professional assistance. Remember to work carefully and steadily to avoid causing any damage to the shower valve housing or the plumbing.
Disclosure: We might earn commission from qualifying purchases. The commission help keep the rest of my content free, so thank you!