As a small service provider, it's easy to become overwhelmed with all the areas of your business you have to focus on keeping everything running smoothly. Scheduling appointments, keeping track of your accounting and finances, and paying your employees. All of these tasks can be time consuming when done manually. And this is time you don't have.
This is where apps come in – there are numerous business apps available that can automate and streamline tasks so you can stay organized, efficient, and productive.
Here are 3 business areas where apps can save your day by automating your businesses processes:
Scheduling and appointment booking you can rely on
Your business depends on appointments but scheduling and booking appointments manually can be challenging and demand a lot of your time. As a small service provider, you'll need to be available on the phone and by email 24/7 so your current and prospective clients can reach you at their convenience. And then there's the problem with no-shows. Clients forget they have an appointment and leave you with time in your schedule that you could have booked with other clients.
The challenges and disadvantages of manual scheduling can cost you time and revenue. As your business grows, you can't afford to spend valuable hours each day organizing your schedule. You can solve your scheduling and booking challenges with an app that automates the process, such as vCita's scheduling app, which can help you manage your appointment schedule by enabling automatic reminders, accepting upfront payments, integrating with Facebook, and letting clients reserve through Google.
Apps that ace small business accounting and finances
Another challenge for small businesses is keeping track of accounting and finances and hiring an external accountant can be costly. The minute you lose control of your financial tasks, you lose control of your business. When you don't have the time, or you're not confident of your own accounting skills, accounting apps let you stay on top of the numbers. These apps can help you keep track of your expenses and profits, manage your employee payroll, and keep current with your tax accounting. This leaves you time for other tasks and ensures that your accounting books and finances are accurate.
Here are a few accounting apps that can benefit small businesses:
QuickBooks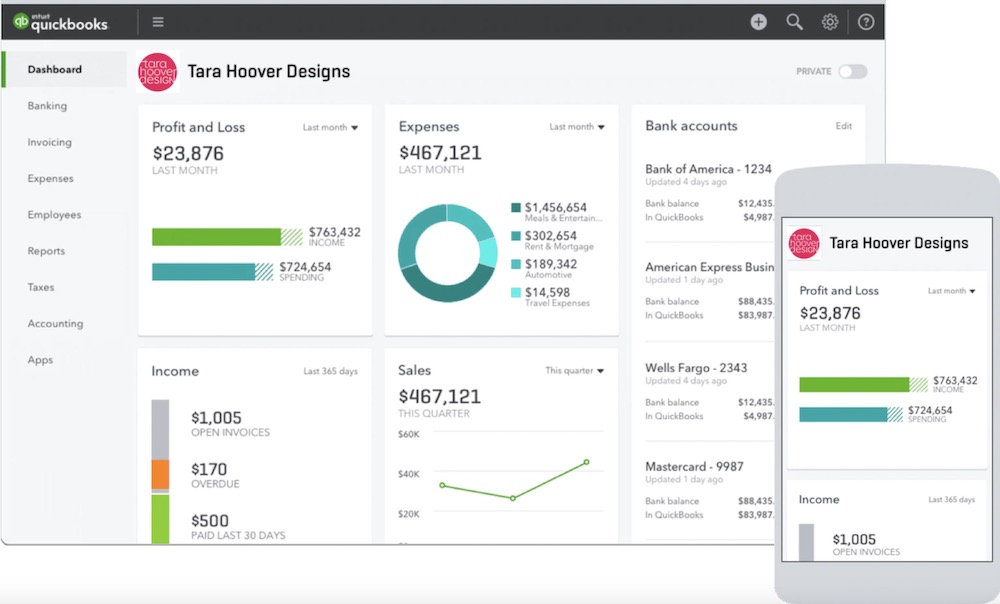 QuickBooks is perhaps the most popular accounting software for small businesses. Send invoices, keep track of spending, view your profits and losses, and link to your bank account and PayPal – all in one app.
FreshBooks
Software designed for small business, FreshBooks lets you create professional invoices, manage recurring invoices, and track expenses wherever you are, including on your smartphone.
Wave
Another accounting app designed for small businesses of fewer than 10 employees, Wave helps you manage your invoicing and track expenses.
Manage employee payroll accurately and efficiently
When you're running a small business, you have a lot of tasks to organize and decisions to make. Managing your employee shifts can be one of the most challenging and time-consuming tasks. You'll need to keep track of employee work hours, organize schedules, and review timesheets.
These employee scheduling apps can make it easier to manage your employees:
TSheets
This simple app lets you create and track employee schedules, automate timesheets, and integrate it all with your accounting software, such as QuickBooks.
ClickTime
Manage employee timesheets on your laptop or phone, including approving hours for vacation and sick time. This app is easy to use, automating staff management by integrating timesheets with schedules.
Gusto
Gusto is designed for the small business. The app will help you manage your employee payroll, including calculating benefits and tracking vacation time.
Take advantage of business apps and focus on what's important
The less time you spend organizing and managing the many processes of running a small business, the more time you'll have to spend doing what you do best – providing exceptional service to your clients. Whether it's scheduling software, accounting apps, or tools for employee scheduling and timesheets, apps have been designed to automate business processes, saving you time, energy, and money.
Disclosure: We might earn commission from qualifying purchases. The commission help keep the rest of my content free, so thank you!