Even though college students are well into their studies at their universities and colleges, high school seniors are currently in the process of preparing for this transition. Many of these students are retaking their SAT/ACT tests or at least taking it for the first time. All of which has to be in for many colleges by either mid-fall or by new years.This means crunch time for many high school students to ensure they are prepared.
From study flashcards to test help books, there are a ton of resources out there, but you usually have to pay top dollar for the best stuff. That's until now at least. Many of the great educational brands have iOS apps that offer the same help. We will cover 4 of the best today.
SAT Vocab Challenge for iOS
SAT vocabulary is an important aspect of the test that can be highly ignored by prospective test takers who are studying for the test. It's more important that what many individuals think because of how it's not only useful in the reading section. Having a good grasp of vocabulary you'll expect on the test will also be helpful when you approach the essay section.
SAT Vocab Challenge app allows you to review commonly used words and even practice those words through useful tests. SAT Vocab Challenge makes studying easier through useful flashcards, allowing you to review more details on definition, pronunciation, and other useful facts about the word. SAT Vocab Challenge is available on App Store for $4.99.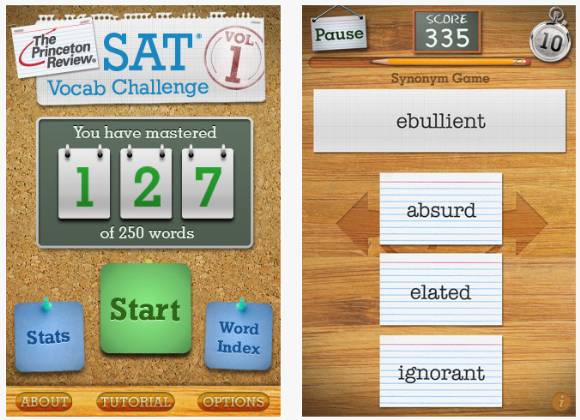 Khan Academy for iPad
Khan Academy is the future of education. That's a strong statement to say, but it's something that can be agreeable with many other users. Khan Academy makes explaining complicated educational topics and issues very easy for anyone to grasp and understand. It doesn't have to be complicating material either. Khan Academy has a special section for SAT Math, a section that garners the most trouble for many SAT test takers. Khan Academy is also a great resource for garnering advice for other aspects of the test.
Khan Academy is also available online for individuals wanting a larger screen real estate when studying. Khan Academy is for free on the App Store today.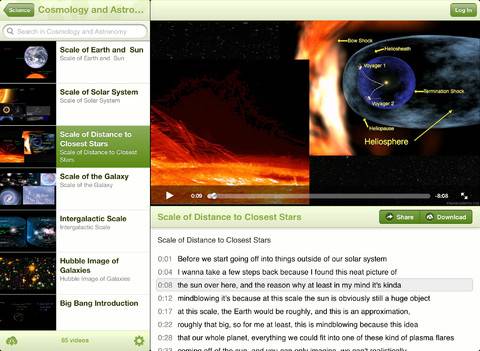 SAT Vocabulary Practice for Dummies
The "for Dummies" collection of books offer simple ways on achieving, learning, or doing just about anything. The collection currently has SAT Vocabulary Practice for individuals needing help in that department. SAT Vocabulary Practice for Dummies allows you to practice with in-depth notecards, practice through drills, plus get all of the basic term information that you would expect from an app of this kind.
SAT Vocabulary Practice for Dummies is available on the App Store for $3.99 today.
Adapster
Until now, we focused mainly on vocabulary, with a couple of math help apps. However, math is an aspect of the SAT that many individuals find the most demanding out of the other two sections. A great app that is focused on the math aspect of the SAT is Adapster. The application allows you to go deep into the SAT Math section, where you can choose topics that you find yourself having trouble in. Plus, you get to take a full test in the SAT Math section, allowing you to recieve your "score" at the end of the test. This can be great for individuals looking to improve in their math section of the SAT I or SAT II.
Adapter is available for $9.99 on the App Store today.
Disclosure: We might earn commission from qualifying purchases. The commission help keep the rest of my content free, so thank you!