Spring clean is the time of the year when most heavy-duty cleaning happens. For me, it's a combination of three vital elements – digging out cat hair and dirt in the tiniest corners my daily lazy routine cleanings rarely reach, dealing with soil and other gardening waste (for those who are not familiar with plants — flowerpot-changes need to happen before summer starts), and of course, deep cleaning of all soft surfaces — my couch, my bed, carpets, etc.
The Deep Cleaning Essential – T10
Design & Features
The Dreame T10 is the cordless vacuum with the "cleanest" design I've ever seen. Everything is either in white, light silver, or transparent. It blends in so much better as a home decor compared with my Dyson v8 fluffy.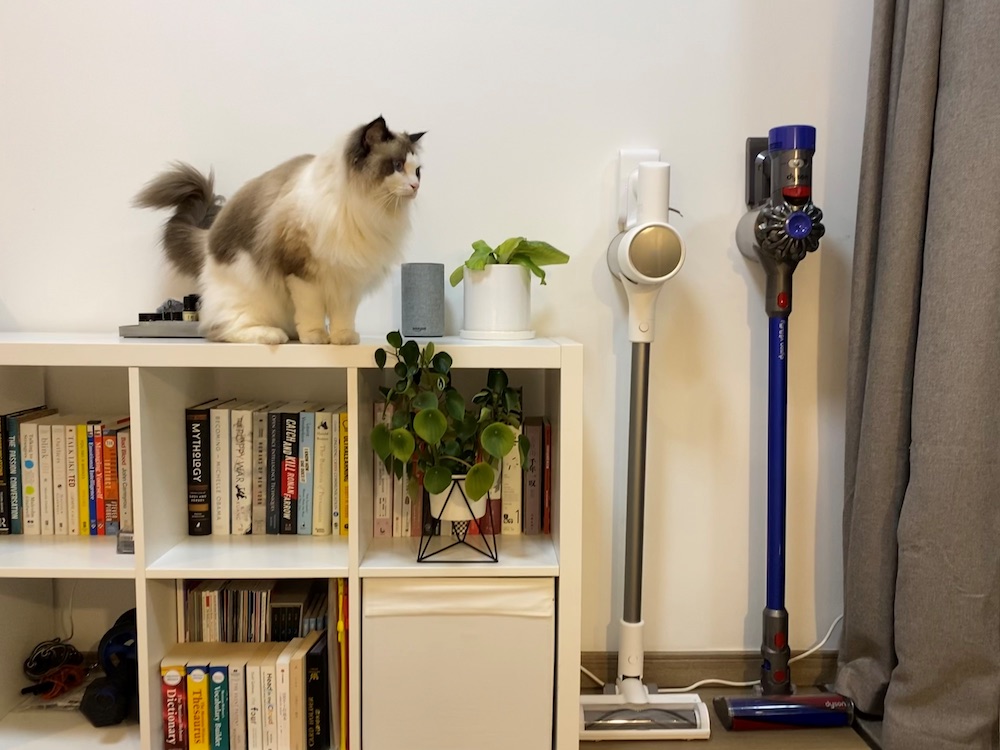 T10's main body only weighs 3.64lbs, and it feels a lot lighter than my v8. It comes with a v-shape roller brush, an extension rod, a mini motorized brush, a crevice tool, a 2-in-1 brush, and an extension tube, storage and charging 2-in-1 wall mount, and of course, an adapter. The various types of attachments are essential supports for different cleaning purposes.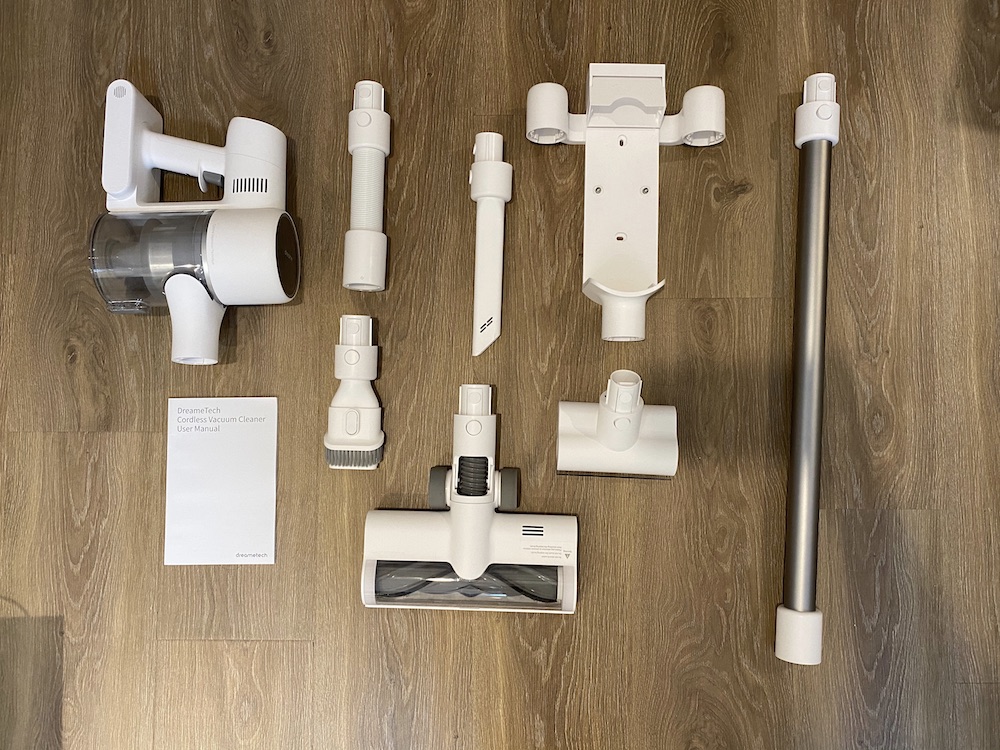 To confess — I do have one or two accessories that came with my old v8 that I rarely use, but T10's accessories are pretty practical. The extension tube was extremely helpful as it makes cleaning from flexible angles, helping the brush reach those "dark corners" where my previous straight brushes couldn't go.
Floor Cleaning
Dreame T10 comes with a v-shape roller brush. Combined with the extension rod, it's perfect for cleaning different types of floors. The vacuum features a 120AW suction power and up to 20,000Pa suction pressure, meaning it's a bit more powerful than the Dyson V8. The vacuum picked up gardening wastes at ease — even if some of the soil was still a bit moist as it was fresh out of the pot. I do not recommend doing this often, as it requires extra work to clean the dust bin, but T10 allows me to do this thanks to its detachable and washable dust bin.
The crevice tool is also an essential helper for deep cleaning, especially when it's attached to a powerful machine with 120AW suction power — it takes out dust and dirt in the cracks in no time.
Couch and Bed Cleaning
The mini motorized brush is designed for deep cleaning soft surfaces such as couches and beddings, and the powerful motor with high suction power makes T10 a dust-mite eliminating machine. As a semi-cleaning freak, I recommend using the T10 with the mini motorized brush in your routine cleaning, not just spring clean, as dust mites can cause big trouble for people who suffer from asthma and allergic reactions.
A Pet-Friendly Powerful Tool
As a long-time pet owner myself, checking whether something is pet-friendly is always on my list while I get anything new. Even though T10 features a 100k RPM high-speed motor that leads to its high suction performance, its noise sounds softer than Dyson v8 Fluffy thanks to T10's eight-layer noise reduction system. My cat can sit calmly on the side while the T10 is cleaning under the most powerful mode.
Conclusion
Pros
Long battery life: 60 minutes with one battery, additional battery available for purchase
Powerful suction: 120AW, 20k Pa
Full of attachments for different cleaning purposes
Excellent noise reduction system makes it pet friendly
Elegant pure white + transparent design, great for blending in as home decor
AFFORDABLE — costs only $240 on Amazon with such strong performance and features (while Dyson V8 is around $330)
Cons
The All-Time Routine Helper — D9
Machines are slowly taking over our routine duties. Regular floor cleaning is one of those off my plate duties ever since I started using robot vacuum cleaners. While we're on this subject of cleaning, it's time to shine the light on this all-time favorite I own — Dreame D9 Robot Vacuum and Mop.
Precise Navigation and Obstacle Avoidance
After D9's initial cleaning session, the robot vacuum saves a floor layout and cleans with high efficiency. 23-minute is the average cleaning time of my 600 sq ft apartment. The LiDAR sensor helps it avoid my furniture and objects on the floor. However, it can't seem to avoid some lower and flatter items such as my lower cat bowls. In general, the SLAM navigation and obstacle avoidance are accurate enough to ensure an efficient cleaning routine.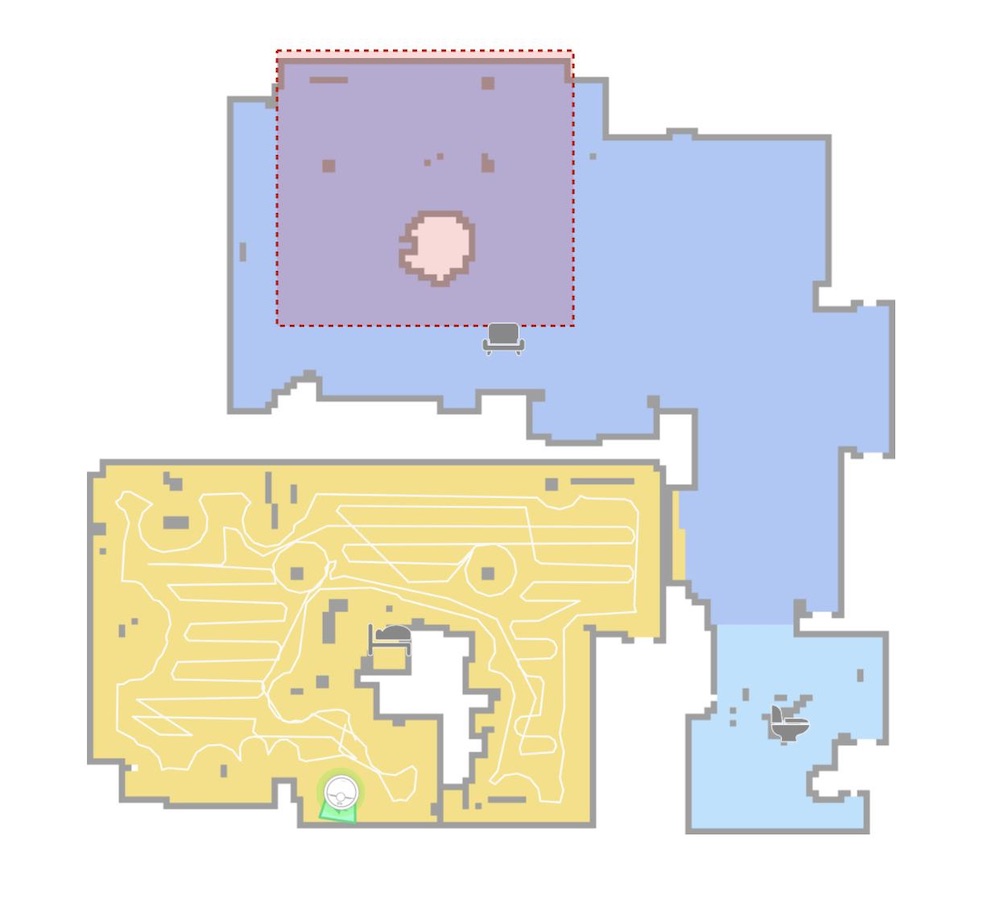 Strong Suction Power
D9's 3,000Pa intense suction can pick up dirt and debris with ease, even those hidden deep down in the carpets. This is utterly essential for a daily cleaning tool, especially for homes with carpets, as the routines are where we're most likely to overlook, and dust that was not picked up in time can accumulate to stubborn stains that could take ten times the effort to get rid of.
Long Battery Life
Most robot vacuums return to their charging dock automatically when they're low on battery, so battery life wasn't a vital pain point. But it was still game-changing to see the D9 with its 150 minutes battery life. I don't have a big apartment (around 600sq ft), and I prefer the cleaning routine to be vacuuming twice and mopping once. D9's battery life was more than enough to do those three runs with only one charge.
Design and Features
I have the white unit, and it has a similar sleek and clean design like the T10. It's got an almost-all-white design with a hint of bright orange-red color hidden underneath the raised LiDAR sensor. There are only three buttons in total, and I've only used them while setting up the vacuum for the first time. After setting up, I always use the app or the voice control feature via Alexa. I personally prefer controlling via the app as it's easier to set up detailed instructions, such as the cleaning order (I prefer bedroom → living room → bathroom) and cleaning times. The no-mop zones set up in the app was also very helpful as I'd like my carpets to remain dry.
Conclusion
Pros
Reasonable price: $349.99 on Amazon with all essential features and powerful performance
150-minute battery life, sufficient to cover 2,100+ sq ft in one charge
3,000Pa strong suction power offers sufficient automatic deep cleaning
Intelligent SLAM smart algorithm for precise navigation, cleans efficiently
Smart app control to set up no-go zones, no-mop zones, cleaning times, etc.
Cons
Unable to avoid smaller/lower objects
Needs to manually take out the water tank when you don't want to mop (otherwise it'll keep the floor damp)
Upcoming New Products
Dreame has officially announced its launch of the upgraded products: Dreame T30 Cordless Stick Vacuum and Dreame Bot L10 Pro.
The T30 is said to feature a 150k RPM high-speed motor, which would lead to a high suction power of 190AW. The battery life of 90-minute in Eco mode and an additional battery pack enables powerful deep cleaning for larger homes in one charge.
The Dreame Bot L10 Pro, however, is the one I'm most looking forward to. Dreame upgraded the suction power to 4,000Pa, making it the most attractive feature for cleaning freaks like me. Its latest dual-laser LiDAR sensors can rebuild the 3D environment, offering a highly precise object recognition and avoidance feature.
With May 8th being the launch date, both products are expected to be available on Amazon this May, just in time for spring cleaning if you're looking to upgrade your tools. With a track record of offering ultra-affordable yet high performing products, I'm looking forward to seeing what the T30 and L10 Pro have to offer.
Disclosure: As an Amazon Associate, I earn from qualifying purchases. The commission help keep the rest of my content free, so thank you!