Social media has become a vital part of our lives. From sharing the most mundane details of our lives on Facebook, to finding great ideas on Pinterest to landing a fabulous new job on LinkedIn, almost everyone belongs to at least one social network and uses it to stay connected and informed.
But it should come as no surprise that not everyone on social media uses the sites for the intended purposes, and not every user is who they claim to be. Many cyber criminals view social media as a gold mine: Not only do people share massive amounts of information about themselves and their employers, but the very nature of social media allows for the spread of malware with little intervention by the criminals.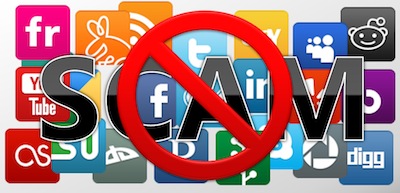 Social media security has become a major issue, particularly for organizations that need to protect large amounts of sensitive data. Just one employee falling victim to a spearphishing attack launched via social media can put network security at risk. Even individuals are at risk for viruses, spyware, adware and phishing or spam schemes thanks to social media attacks.
The good news is that many social media scams are easy to spot — and you can avoid placing your personal and professional networks at risk.
"Check Out This Video!"
The number one rule to spotting social media scams and possible viruses is to use common sense. In other words, if it seems too good to be true, it probably is. A post might use a picture of a prominent figure or a corporate logo, but that doesn't mean it's legitimate. Do you really think that Bill Gates will be sending $500 checks to everyone who likes a post with his photo, or that a major airline is going to give away free round trip airline tickets anywhere in the world to thousands of Twitter followers?
One of the reasons that social media scams spread so quickly is that they are presumably shared by trusted people. When your best friend shares a video that purports to be of a major celebrity engaging in scandalous behavior, you're more inclined to click on the link because you trust your friend. She's not going to send you malware, right? The problem is that malware on social media is often spread without the user's knowledge. When your account is hacked by a malicious application, it will often post images, videos and links on your behalf — and many times, you won't see it yourself. You only learn of a problem when someone mentions it to you, and by then, it could be too late.
"Get Off My Wall!"
Beyond avoiding the "too good to be true" posts, you can spot social media scams by asking a few other important questions.
First, does this make sense? Does it make sense your social media contact would be posting something related to Justin Bieber or Taylor Swift when most of their posts are of a professional nature? Second, do you trust this person enough to click on their links, whether on their Facebook or LinkedIn page, or via email? And finally, can you get this content elsewhere? For example, if you see a post regarding a death or a major scandal involving a major figure, you can determine its veracity by looking to a trusted news source.
Not all scams involve famous people or free stuff, though. We've all received messages from "friends" claiming to contain links to photos and videos that show us doing something inappropriate. Most of the time, these are malicious links. You can check the destination of any link on social media by hovering over the link to see where it really goes; use a link extender to check links on Twitter, which are usually shortened. And remember: No social media site will ever ask you for your password or other sensitive information via email or direct message.
Protecting Yourself
Being able to identify social media scams is the first step to avoiding security breaches, but there is more that you can do. Make use of the privacy settings, particularly on Facebook, and do not accept friend requests from people you do not know.
It's also vital that you keep your antivirus and security software up-to-date, and install important security patches when prompted. Use a secure browser when perusing social media to further protect yourself.
Finally, should you suspect you've fallen prey to a scam, the first thing to do is to change your passwords. If you click on something that isn't what it claims to be, report the post to the site and run a virus scan and security check on your machine. You may be able to mitigate the damage with early detection.
As social media continues to grow in popularity, it's only inevitable that cyber criminals will become more sophisticated and find new ways to steal information from users. Stay on top of the latest scams and attacks, and you can protect your own information and networks.
About the Author: Melissa Cromwell is a content curator. She writes on such subjects as cyber security, and data center infrastructure among others.
Disclosure: We might earn commission from qualifying purchases. The commission help keep the rest of my content free, so thank you!