Imagine placing yourself in a world where Stephen Hawkins has placed his brain in the Internet. With the dark time-travelling energy of the god particle harvested, it is now our mission to explore the final frontier.
Space Settlers is the game that helps facilitate your mission, in a multiplayer fashion, allowing for the ability to team up with others to establish your next base. How do you go about accomplishing your Space Settlers mission? Let's review the new game to find out how it does it, and how it looks while doing it.
The Interface
The game's interface includes high quality graphics and animation with high detail. The upper region of the screen shows you your current stats, including the levels relevant in your area. The center region of the screen shows your current game play view, the bottom area shows your game play options including the ability to go to the base, planets, view your current legions, and more. However, despite the high quality animation, the design seems to be a bit confusing for some individuals. This results in individuals unfamiliar with the game in the beginning to also get confused and bored of the game. This makes it crucial to follow the on-screen prompts.
Game Play
Space Settlers offers you with a bunch of tasks to complete. Manning a base of the final frontier is a difficult job. When you aren't working on improving the base, you can go work on making your visit to other planets around you. This is all while inspecting your standing – ensuring that your tech level and honours are earned and high. Ultimately, game play works like this. In Space Settlers, you will mostly find yourself spending time upgrading your base by use of the blueprints to make needed upgrades and up keep. When not doing this, you will be in combat, attacking planets that are getting in the way and harming your planet and its mission.
The Gaming Experience
Game play all in all was fun once you get started and know what you are doing. For long game play, I found the experience on the iPad to be a bit more enjoyable than my iPhone 5. However, when you look at the game outside of its (fictional) cause, you may find it a bit tedious. Yes, you are working to upgrade your standing, however, in game play, your hard work can go up in pieces when I found certain controls faulting on the iPhone. Not so much on iPad, however when it did, it wasn't fun. However, this is only the combat aspect, base upgrades it actually fun and not so strenuous.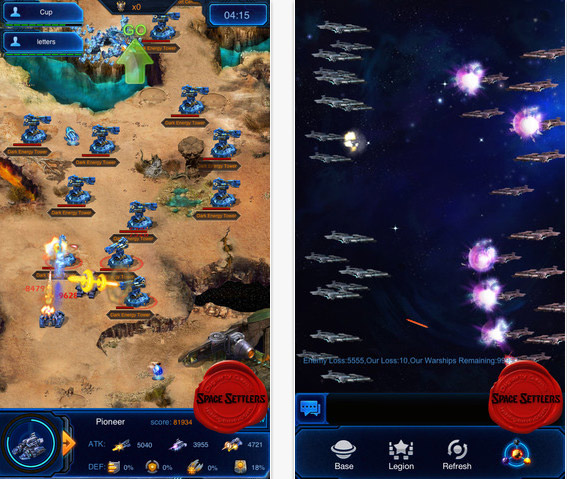 Final Opinions
All in all, there are so many aspects of Space Settlers that there is to love. The semi-futuristic design and high quality animation makes it enjoyable to play. However, it seems that the problem with the game is that there is too much animation and graphics that can make it confusing for individuals who aren't exactly used to it – especially with many applications going for a push for a simpler game design. Overall, as we are always taught, as long as we read directions all will go well!
You can download Space Settlers today from the App Store, for FREE. Let us know in the comments section below about what you think of the game.
Disclosure: As an Amazon Associate, I earn from qualifying purchases. The commission help keep the rest of my content free, so thank you!