A recent survey revealed that 20% of Americans never floss, and less than half meet the recommended daily flossing requirements. This led Soocas to develop the Neos, a device that combines the benefits of brushing and flossing, aiming to combat the commonality of inadequate oral hygiene practices. This product came to life after a successful Kickstarter campaign where Soocas raised more than $76,000 against a goal of just $20,000, highlighting the public's interest in this innovative approach to dental care​. This 2-in-1 cleaning feature redefines oral hygiene by ensuring a more comprehensive cleaning of all areas of your teeth, including the largely neglected gaps between teeth and the gum line​.
Disclosure: This is a sponsored article; We were compensated to publish it on our website.
Design and Functionality
The Soocas Neos showcases an ergonomic design, featuring a handle with grip aids and a head that matches the contours of our mouths. This battery-operated toothbrush and flossing hybrid stores water in its nozzle, making it more space-efficient than a regular water flosser. To use the Neos, you simply fill it with water and empty it once finished.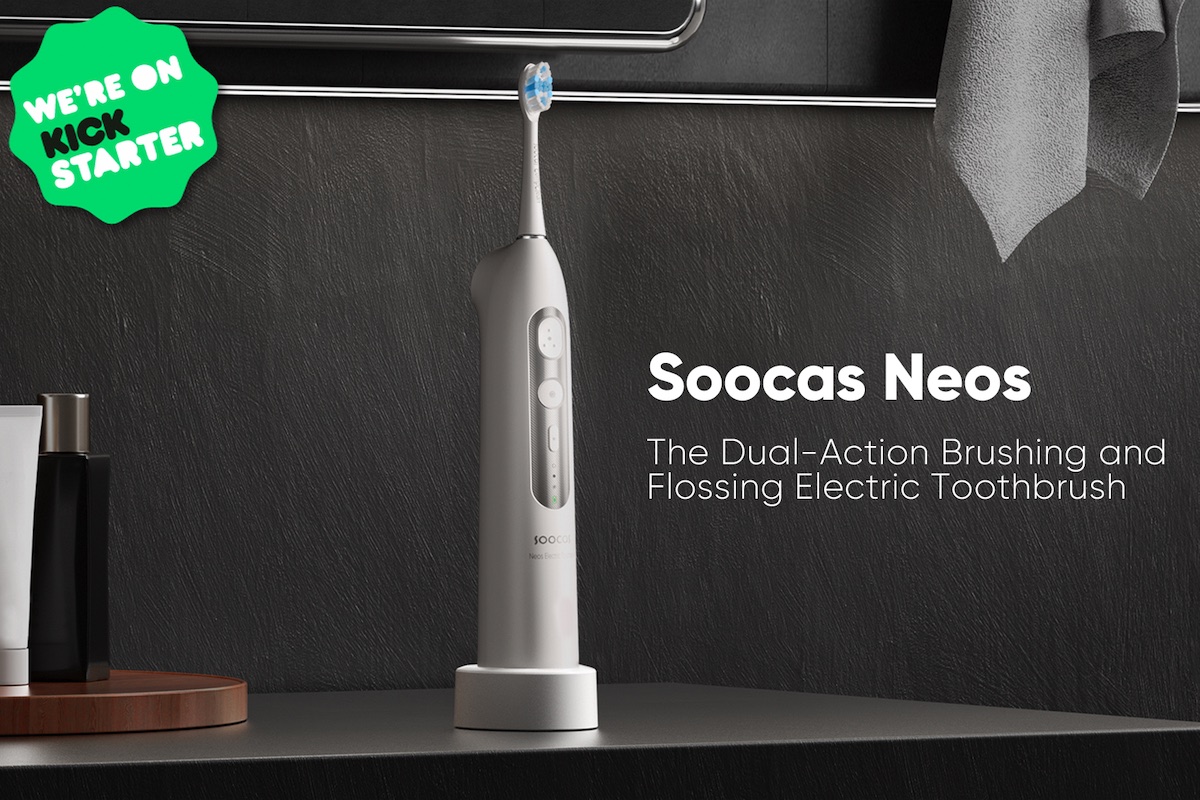 In terms of storage, the Neos can rest upright in its recharging dock when not in use, which further helps to conserve counter space. The device also alerts users when the battery is running low, ensuring you're never caught off guard. For those who may be concerned about the device's water resistance, rest assured that the Soocas Neos is certified IPX8 Waterproof, meaning it can be immersed in over a liter of water and continue to function
Key Features
The Neos is built with a unique technology called the FlowPulse Pump, which applies water pressure to form a pulsating water flow through the high-frequency vibrational motor known as the MagVortex. This motor delivers the energy needed to clean teeth effectively, while the toothbrush head combines the pulsed water flow to thoroughly clean the teeth from all directions. The dense, subtle bristles are shaped to match the teeth and gum line to remove food residue gently without damaging the gums​​.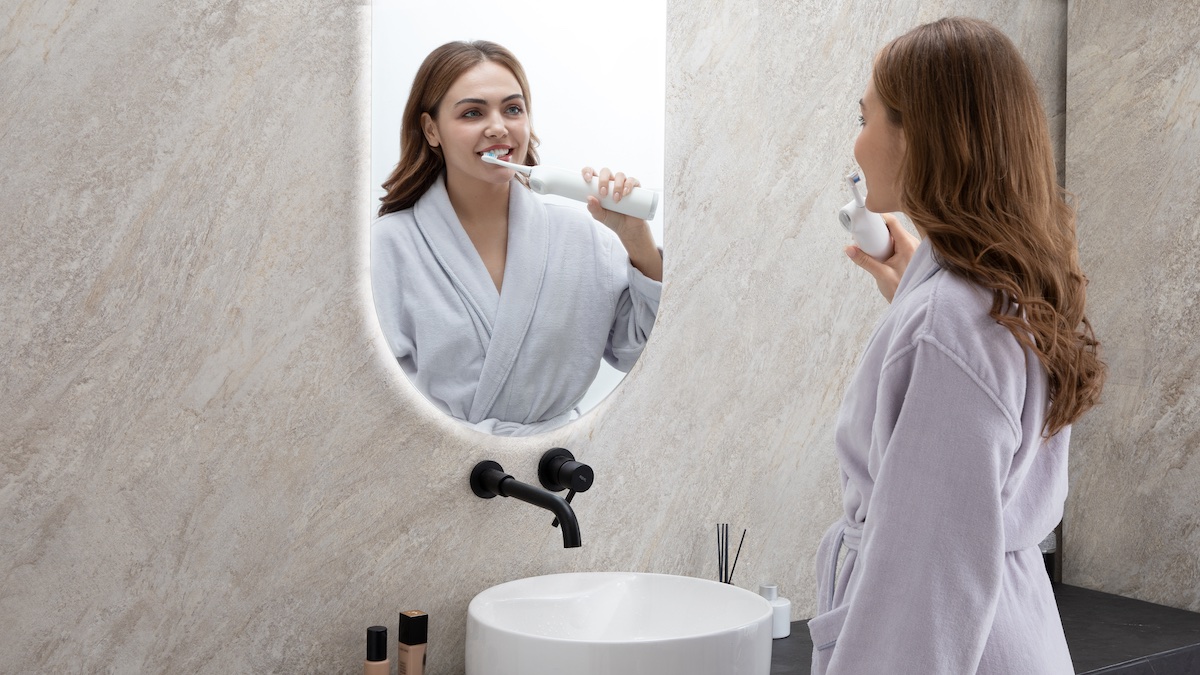 The device also features a CompClean brush head, which cleans surface stains and removes food residue from tooth gaps and gums simultaneously. Traditional electric toothbrushes often rely on vibrational energy and a W-shaped brush head for cleaning, but this can be insufficient for optimal dental care. The Neos alleviates this issue with its unique dual brush and floss mode combined with high-quality Dupont bristles, effectively eliminating the risk of enamel decay caused by the abrasiveness of rotating brush heads​. The replaceable brush head is constructed with high-quality Dupont bristles in a contoured layout designed to clean your gum line and reach between gaps. The center blue bristles fade over time, serving as a reminder to replace your brush head​.
Modes and User Experience
The Soocas Neos offers two cleaning modes based on user needs. The Deep Cleaning mode brushes teeth for 75 seconds, followed by a 30 to 50 second brush and floss combination. The Speed Cleaning mode provides a faster brush and floss routine, taking only 30 to 50 seconds, making it ideal for users in a rush​​.
The Neos's water-flossing feature has three intensity settings, allowing you to customize your brushing experience based on your needs. Whether you've just enjoyed a steak dinner or are quickly brushing after your morning coffee, the Neos's FlowPulse Pump can efficiently control the water flow at a consistent pressure, even in low-battery mode​​.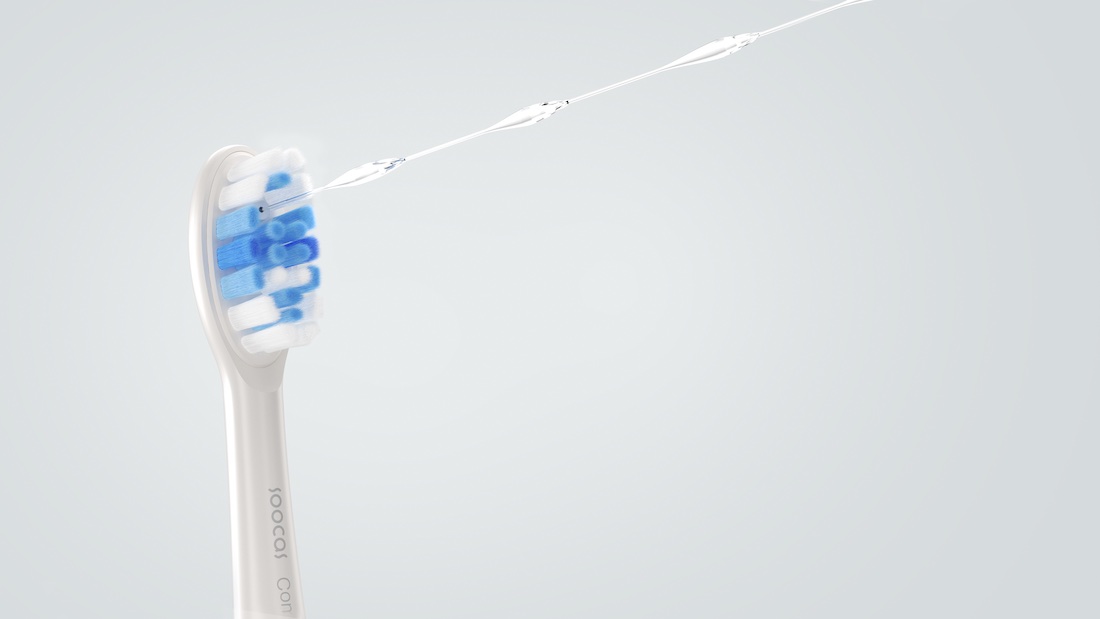 Battery Life and Portability
The Soocas Neos comes equipped with a 30-day battery duration with the IPX8 waterproof rating and also comes with a wireless charging base and a low-battery LED indicator to inform users when it's time to charge​. The Neos makes the perfect travel companion with its wireless charging capabilities and convenient storage bag​.
Pricing and Availability
The Soocas Neos has the MSRP of $229.98 but it was launched on Kickstarter and can be purchased at a discounted rate of $134. The package includes the Neos electric toothbrush, four additional brush heads, a cleaning brush, a waterproof travel bag, a wireless charger, a quick-start guide, and a one-year warranty.
Disclosure: We might earn commission from qualifying purchases. The commission help keep the rest of my content free, so thank you!