With its new camera RX100, Sony has stepped into the world of large sensor compact cameras. It sports a 1-inch sensor which is larger in size when compared to most of the standard compact cameras such as HX20V. Read on to find out what else does this 20.2 MP resolution camera have in store for you.
Sony RX100 Camera Image quality
Although the one inch sensor size is not an entirely new concept, it is unique because it has 20.2 MP resolution. ISO 125-400 shots will give you quite a lot of details and from ISO 800 or above, image noise begins to effect the quality noticeably. ISO 1600 is fair enough and ISO 3200- 6400 are usable even after more noticeable texture as well as loss of the detail due to noise reduction processing.
It is impossible to increase the sensitivity once you reach ISO 6400. (although there is this pseudo ISO 25,600 setting which uses multiple frames). however there are options like ISO 100 and ISO 80 at the lower end. When using the auto ISO mode, these cannot be selected.
The Image quality of the amazing Sony RX100 is surely pretty impressive. When it comes to low ISO settings, Sony wins. However same cannot be said for the higher ISO settings.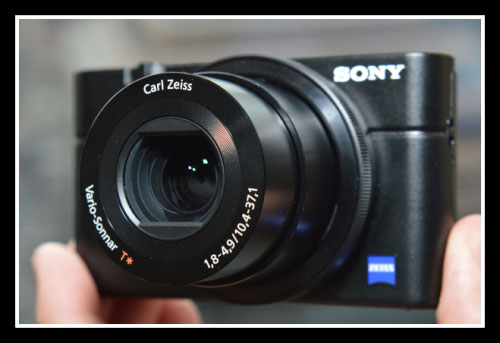 Sony RX100 Camera Handling
When you first have a look at it, Sony RX100 will seem to be quite similar to Canon S95 in appearance.
Despite the similarities, there are many differences between the two. Sony RX 100 has control ring (around the lens) which can be accessed more easily.  The lens of this camera from Sony takes more room and you may find that your finger (middle one) is often rested against the camera barrel.
When it comes to the interface, Sony RX100 menus are clearly lifted out of the Sony's Alpha SLRs. It also has an updated Fn menu which has been made clearer as well as totally customizable. The screen of the camera has VGA resolution and is RGBW- type display.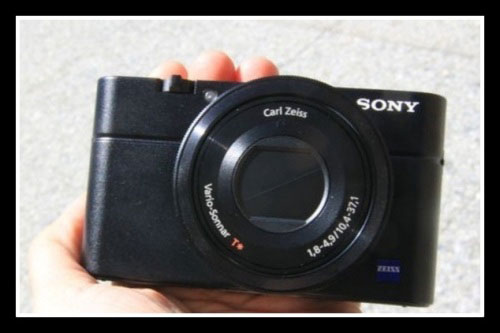 Although beginners will be able to handle the camera without any difficulty, advanced users will be able to use it in the best way possible. The control ring, the customizable interface and the handy settings wheel over four way controller make the key functions accessible very easily.
Sony RX100 Camera Responsiveness
When deployed, the zoom lens of RX 100 is similar in size to the lenses sported by a number of superzoom compacts (owing to the size of sensor), so it isn't a surprise that the start up time (of only under 2.5 seconds)  is rather sluggish.
The autofocus of this camera will work in half a second approximately in every condition and its really great. A number of cameras are quicker when good light is available, Sony's system is better than just average in case of low light conditions.
Sony RX100 can click a photo every second and hence the photo to photo turnaround is really great. The same speed is maintained in RAW mode as well.
Sony RX100 Camera Video
The camera is capable of recording clear, smooth videos with its Full HD 1080/60p video capture in AVCHD version 2.0 format at 60fps.  The image sensor as well as the high performing lens of Sony RX 100 will help you record clear videos of fast moving objects even in dark settings. The camera is undoubtedly capable of recording excellent videos.
Pros and Cons
Pros
20.2 MP and night shots are definitely among the good points of this camera.  Among other things the camera has a great lens and optical zoom is also good.
Cons
Users may find the range of f-stops low and also might complain that the color reproduction is not too good as there isn't enough green.
Price of Sony RX 100
The price of this handy camera from Sony is $648.
Verdict
Sony RX 100 is undoubtedly among the best compact cameras available. The picture quality is really good. It will certainly help you capture or record the happy moments of your life and cherish them forever. It offers a number of features which you are going to love. From the beginner, amateur photographers to experts, this camera is for everyone.  It is a combination of great looks as well as excellent features. So in case you were planning to get a Sony RX 100 for yourself, there is no reason why you should change your mind.
Disclosure: As an Amazon Associate, I earn from qualifying purchases. The commission help keep the rest of my content free, so thank you!