Learning to play the piano has never been more accessible thanks to numerous apps available today, like Simply Piano by JoyTunes, Yousician, Flowkey, Skoove, or Playground Sessions. Each of these apps has unique strengths, catering to different learning styles and objectives, making piano learning a breeze in the digital age. I've tried many apps to find out the most engaging apps that could push me to learn piano for a long period of time, and finally ended up with Simply Piano by JoyTunes. The app boasts an impressive interactive interface that facilitates self-guided piano learning. My family has subscribed to the app for over 2 years and we are quite satisfied with its offerings.
Design and Usability – ★★★★☆
Simply Piano stands out with its clean, intuitive, and user-friendly interface. Both novices and intermediate players can navigate the app with relative ease, and the progression of lessons is designed to ensure learners don't get overwhelmed. Lessons are neatly organized into well-structured courses, making it easy for learners to track their progress.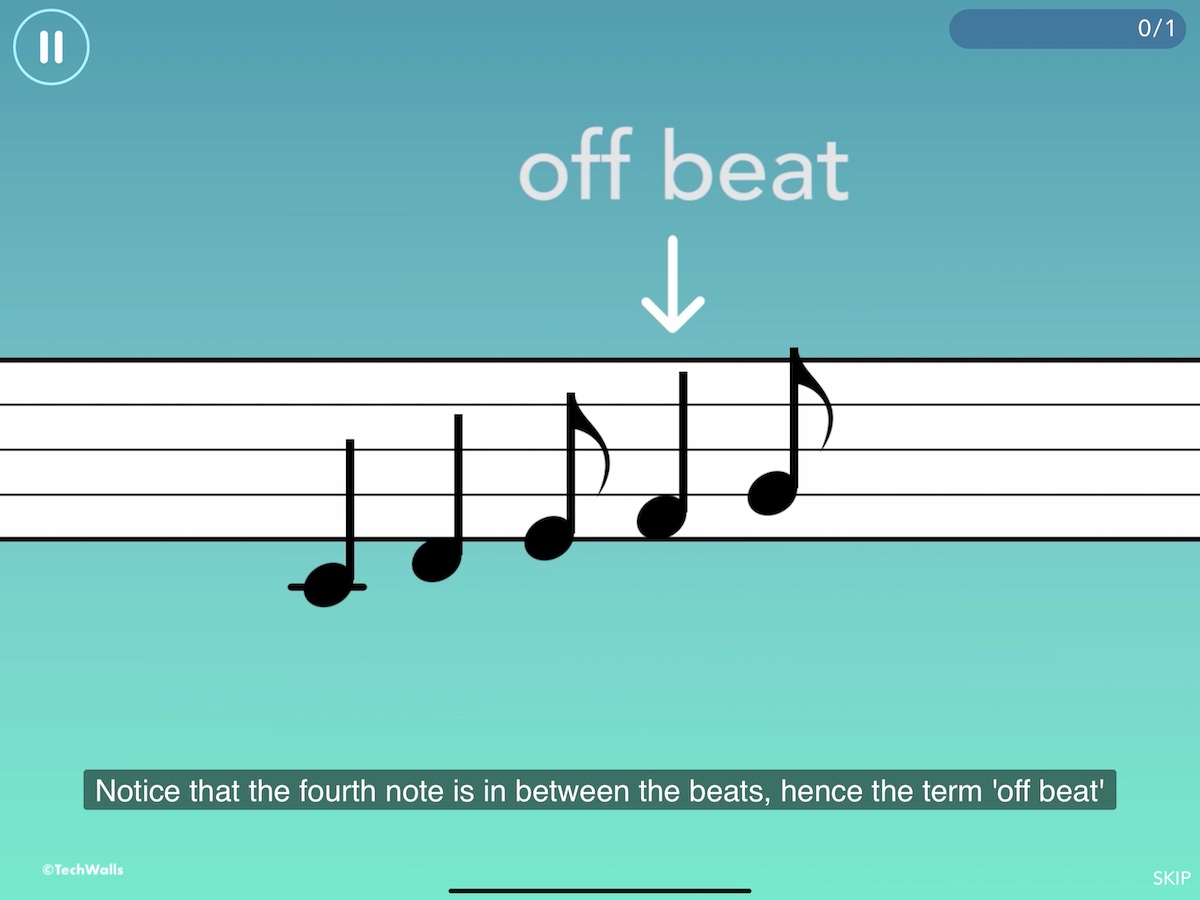 However, the app is not without minor flaws. A small percentage of users, especially on Android devices, have reported occasional app freezes or crashes, somewhat tainting the otherwise seamless user experience. If you want to use the app, I highly recommend the iOS version and you should get an iPad for a bigger screen.
The app can recognize notes via the built-in microphone of your device but it won't be accurate when you play more complicated songs. Therefore, you should use a digital piano and connect it to your iPad via the USB MIDI cable to have the best experience. We had a video showing the setup here.
Learning Content and Methodology – ★★★★☆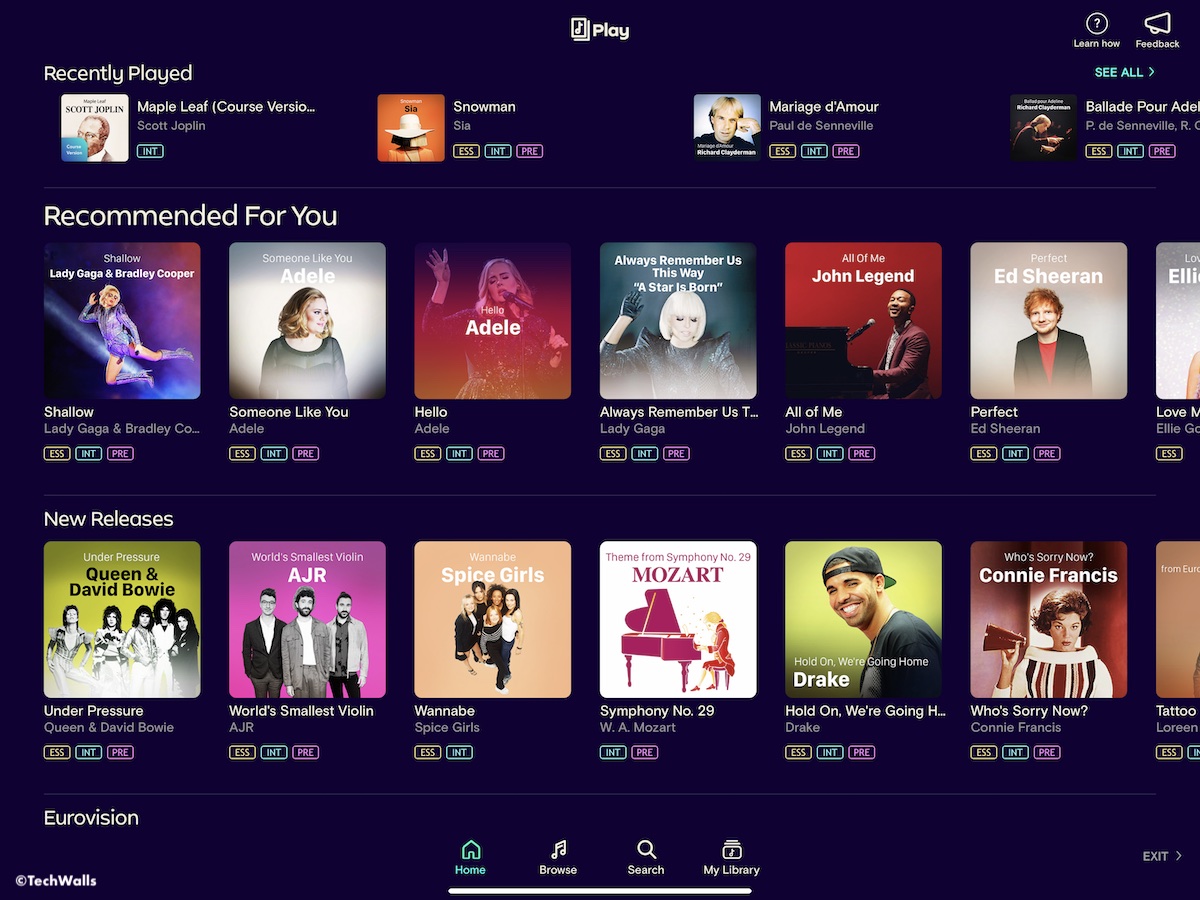 The app's core strength lies in its comprehensive content and innovative learning methodology. A broad variety of songs from different genres caters to all tastes and ensures that learners stay engaged throughout their journey. You can also find a lot of new songs added to their library every week.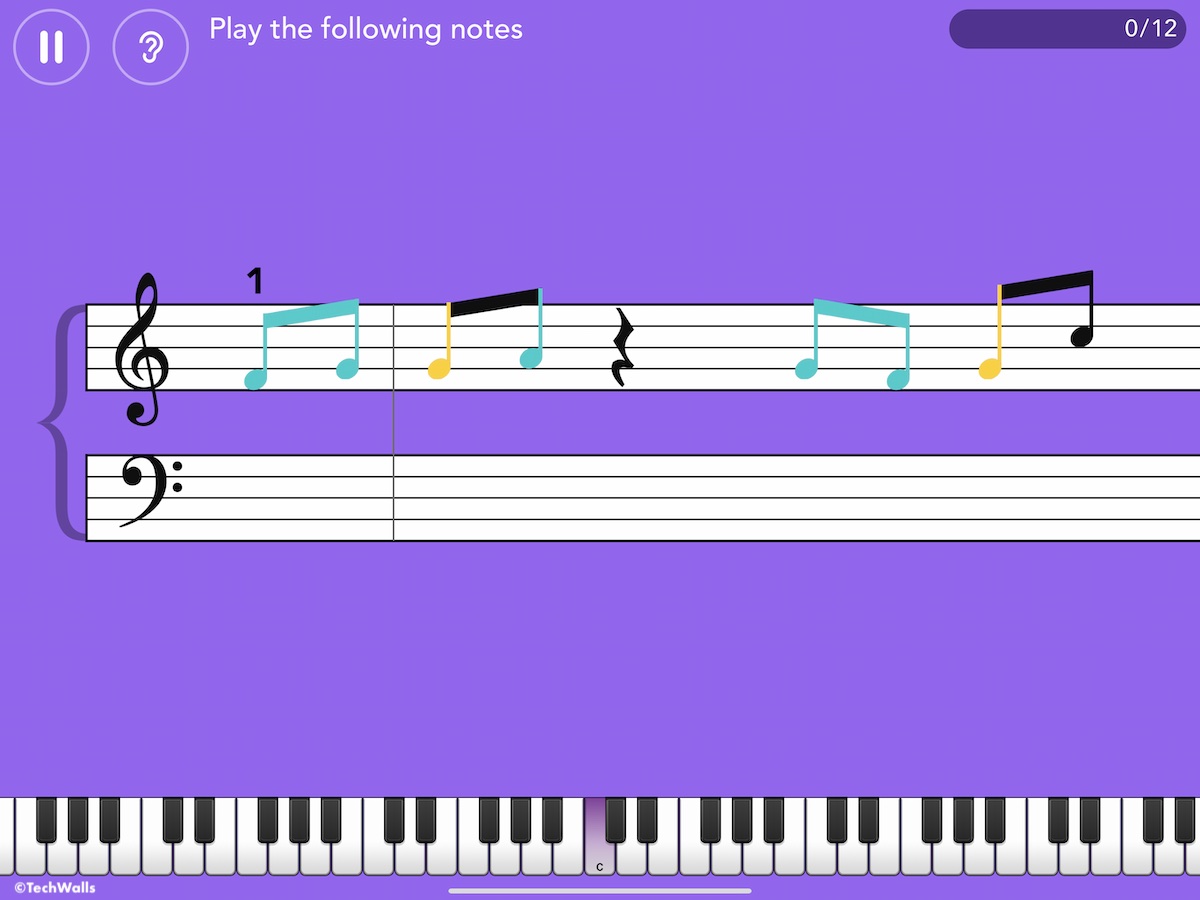 Simply Piano uses a real-time feedback system that guides learners as they play along with the songs. The feedback mechanism employs a "wait-until-you-get-it-right" approach, ensuring learners understand and master each segment before progressing further. During the lessons, the notes will turn blue when you hit the correct key and turn yellow when you can't find the right key. This method can be beneficial for reinforcing concepts and nurturing correct techniques. However, some learners may find this approach a tad repetitive and potentially frustrating if they struggle with specific parts.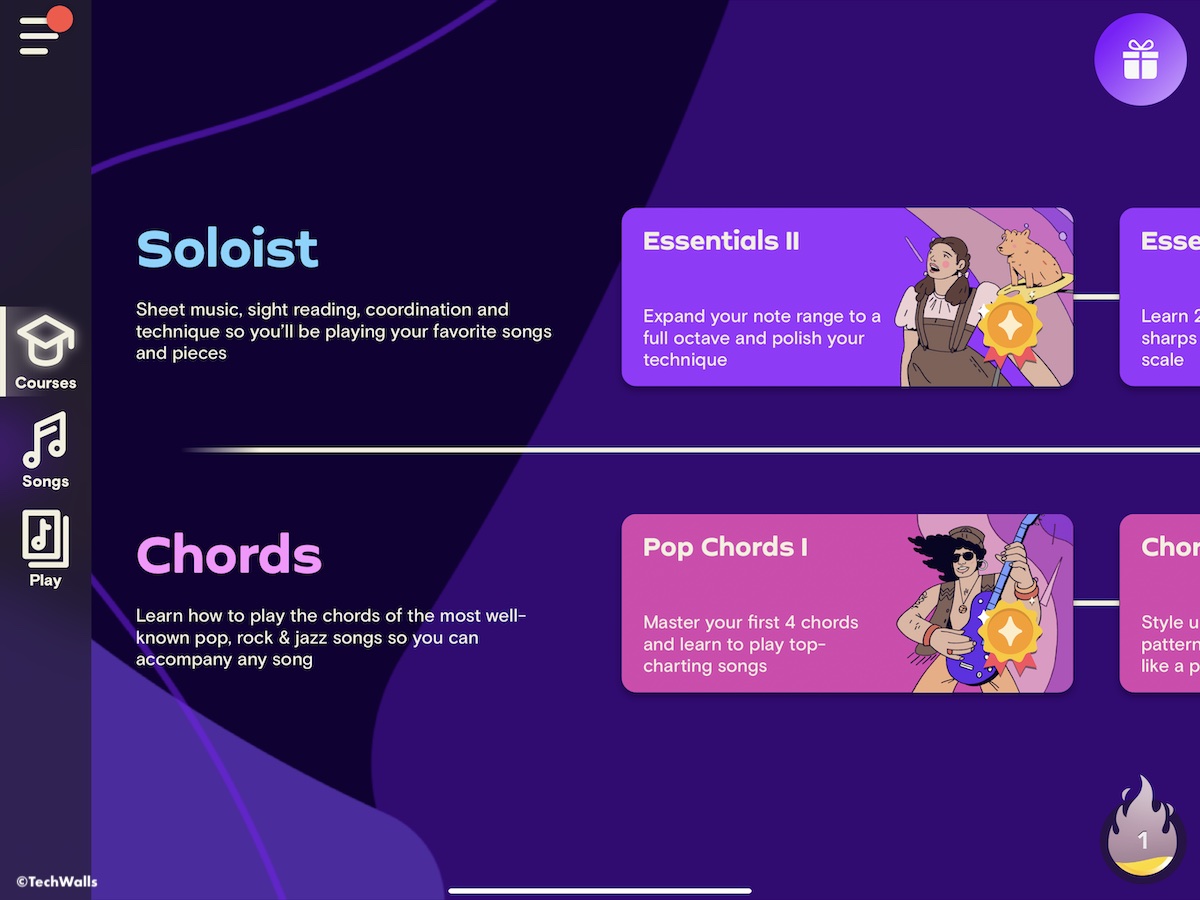 There are over 33 courses in the app, mostly divided into Chords and Soloist pathways. The Soloist pathway primarily focuses on traditional note reading and playing melodies. This involves playing one note at a time and is best suited for individuals who wish to learn to play intricate melodies, solos, and classical music pieces. On the other hand, the Chord pathway centers around understanding and playing chords. This method is particularly useful for accompanying singers or playing along with popular music, as it provides a fuller sound with harmonies. It equips learners with the skills to interpret chord symbols often seen in pop, rock, or jazz sheet music. Both pathways are important for comprehensive piano learning, as they each contribute to a different skill set.
The level starts from Essentials to Pre-Advanced, so even when you finish all the course, you are still pretty much a beginner in the piano career. A slight shortcoming of Simply Piano is its scant focus on music theory. While it does cover the basics, it falls short of providing in-depth knowledge for those interested in delving into the theoretical nuances of music.
Features and Tools – ★★★☆☆
Simply Piano comes loaded with several useful features that aid learning. The sheet music view, coupled with the interactive rhythm exercises, significantly enhances the learning process. The app's "hands separately" and "hands together" technique is particularly commendable. It provides learners with a comprehensive understanding of piano playing and helps them coordinate their hand movements more effectively.
One of the standout features of Simply Piano is its ability to make you feel like you're part of a band or orchestra. You can play along with backing tracks that include other instruments and singers, adding a whole new level of excitement and immersion. It's not just about hitting the right notes; it's about making music. This lively, play-along approach infuses a sense of fun into the learning process, keeping you motivated and eager to continue your musical journey.
However, the app lacks certain advanced features that would have taken it a notch higher. The absence of a metronome, for instance, is a significant drawback, as it is a crucial tool for learning rhythm. Additionally, the app lacks a recording feature, which would have been beneficial for self-assessment and tracking progress.
Pricing – ★★★★☆
When compared to other similar apps, Simply Piano does lean towards the higher end of the spectrum. But when considering the value it provides – a large library of songs, a powerful interactive learning methodology, and consistent app updates – the cost might seem justified for many. At this time, it costs $149.99 per year or $89.99 for 6 months; This is still way more affordable than taking piano classes.
Customer Support – ★★★☆☆
In terms of customer support, the app provides a detailed FAQ section and offers support through email. However, some users have reported slow response times from the support team. On the brighter side, the developers seem proactive in addressing issues, indicating a sincere commitment to enhancing user experience.
Overall Rating: ★★★★☆
Pros:
User-friendly Interface: The design is intuitive, making it easy for users of all ages to navigate.
Interactive Learning: The app provides instant feedback, ensuring you play the correct notes and rhythms.
Wide Variety of Songs: The app's library covers a vast range of genres, catering to different musical tastes.
Structured Learning Path: Lessons are well-organized into courses, ensuring a smooth progression in difficulty.
"Hands Separately" and "Hands Together" Practice: This feature helps develop the coordination necessary for piano playing.
Price: The subscription can be on the pricey side but it is the best piano learning app on the market.
Cons:
Limited Theory Lessons: The app doesn't delve deeply into music theory, which may be a disadvantage for learners wishing to gain a comprehensive understanding of music.
Lack of Advanced Features: There's no metronome or recording feature, which could be beneficial for more advanced learners.
Possible Frustration with 'Wait-Until-You-Get-It-Right' Method: Some learners might find the feedback method to be repetitive and frustrating, especially if they're struggling with a particular section.
Better Performance on iOS: While infrequent, technical issues on Android can hinder the learning experience.
Customer Support Response Times: Some users reported slower response time from the customer support team.
In conclusion, Simply Piano emerges as a potent blend of a user-friendly interface, a wide-ranging song library, and a robust learning methodology. It serves as a valuable tool for anyone wishing to learn the piano at their own pace. It's always recommended to supplement app learning with traditional lessons to ensure a holistic musical education.
Simply Piano's well-rounded approach to learning, complemented by an extensive library of songs, makes it an appealing choice for beginners and intermediate learners alike. The lack of some advanced features and a more comprehensive approach to music theory leaves room for improvement. It's a solid choice for anyone looking to learn the piano from scratch or brush up their skills, but to delve deeper into the world of music, additional resources might be necessary.
Disclosure: We might earn commission from qualifying purchases. The commission help keep the rest of my content free, so thank you!