This post brought to you by Fellowes, Inc. . All opinions are 100% mine.
Data has always been an important thing in our society. It is used in almost every field of life. With technological advancements, data became more and more sensitive. Data is the main source for critical analysis of market and people's behavior. Over the past couple of years, there have been a lot of serious incidents involving data breaches in different parts of the world. The risk of losing previous data is becoming more and more severe for businesses.
There are a lot of organizations and businesses who do not feel the need to secure their data at critical times. They do not feel the importance of document shredding or managing documents in a secure place. And by the time they realize the importance of these things, it's too late.
Many people think that the real threat is from the hackers who hack in company databases but what more threatening is the mismanagement or loss of important paper records. What if there is an employee in the office ordered to destroy several documents containing crucial data and he just dumps it into a dumpster or something like that? It's very dangerous.
Most companies and organizations tend to have off-shore shredding centers. But the cost of having such services is 55% more than the in house shredding services. Other companies use online data storage to save their documents but it's not even safe there. The ultimate solution to prevent any form of data breach is to destroy the physical documents. But the next question is, how to destroy such a large number of documents in short period of time?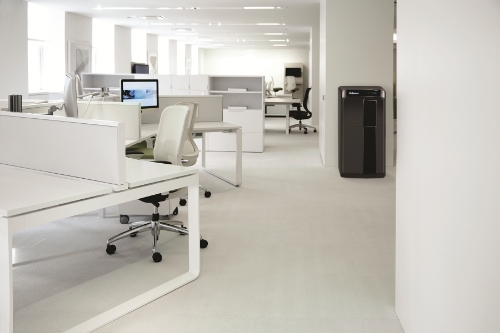 There are a lot of shredders available in the market that offers both speed and more shredding capacity. But what I've found is the best shredding solution so far available in the market. AutoMax Shredders destroy documents faster than any other shredder available in the market and also provides enhanced functionality for more security.
The Fellowes AutoMax shredder is capable of shredding 500 sheets at once including CDs, paper clips, crumpled papers, glossy papers, double sided color printed papers, DVDs and post mails. What more interesting is that once the shredding starts, it uses its SmartLock feature to prevent the drawer from opening while shredding. Besides that, it also has a Patented SureFeed Technology that ensures that the material is shredded completely by cutting it into blocks and pieces in such a way that they cannot be recovered back.
For instance, you get hit by a data breach incident and want to dispose of the documents, you can do it quickly and safely using AutoMax shredder. And with its automated processing and JamGuard System, it allows you to just dump all at once and let the shredder do its work.
I would suggest any business owner to have AutoMax Shredders in his office to avoid data breaching and to dispose critical documents before it's too late.
Disclosure: We might earn commission from qualifying purchases. The commission help keep the rest of my content free, so thank you!