Are you looking for a steady stream of prospects who enjoy your sales process and a team of sales superstars who love what they do? Sales Engagement is the key to developing a winning sales team focused on building relationships with buyers and closing more deals.
Sales engagement is not a new concept. However, the definition of a Sales Engagement Platform (SEP) has changed. Once merely a tool to automate call dialing and lead nurturing, SEP has become a crucial sales technology that automates the sales process and delivers key analytics and insights on buyer behavior. Rich buyer insights enable sales teams to develop deep relationships with prospective customers along their buying journey.
Not Just Another Sales Tool
A Sales Engagement Platform brings sales software together, integrating a CRM with tools that collect intelligence on buyer engagement and inform the sales rep at key points in the sales funnel. As sales reps engage prospects quickly and efficiently, they deliver content that leads the buyer through the sales process. Data and buyer insights inform communications with buyers which are centered on their needs and interests, leading to higher win rates.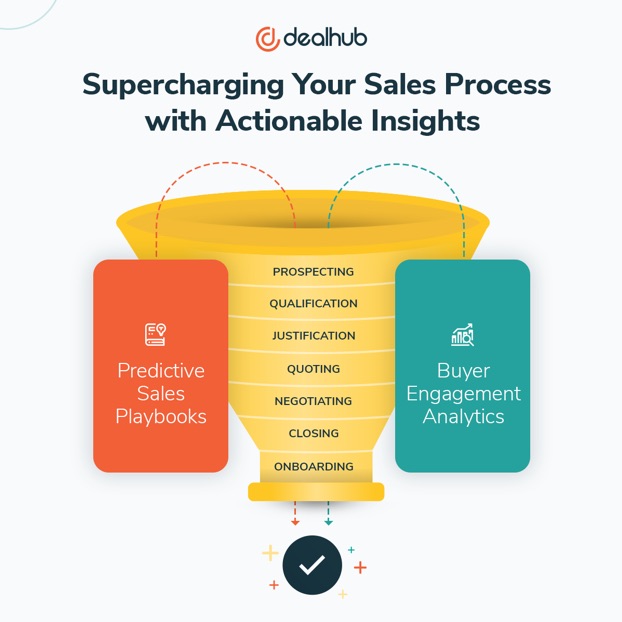 A Unified Sales Engagement Platform Increases Revenue in 5 Ways
A standard SEP helps organizations track engagement at the top of the funnel (prospecting, qualification, and justification). However, a unified SEP which connects all stages of the buyer's journey carries the prospect relationship, content, and data forward throughout the funnel, including quoting and negotiating, as well as closing and onboarding.
A unified SEP increases revenue in the following ways:
Boosts Cash Flow and Reduces Spend
Higher revenue is the natural benefit of an effective sales process and reduced sales cycle. A Sales Engagement Platform helps sales reps discover buyers' needs through rich insights into their response and engagement. A focused sales team achieves better results.
Streamlining and consolidating your sales stack and keeping only the software that produces optimal results reduces tech spend. A slim sales stack has other benefits including reduced time spent managing multiple platforms and vendors, minimal time required to maintain data in multiple locations, and faster onboarding of new hires.
Reduces Administrative Time
Sales reps spend approximately 30% of their time talking to prospects. A Sales Engagement Platform increases the amount of time sales reps can spend focusing on prospect calls. It reduces time spent on administrative tasks such as writing emails, data entry, finding relevant content to share with prospects, and scheduling calls. Many standard SEPs simply log and track interactions with prospects. But, a unified SEP reduces time spent configuring quotes, drafting proposals, and chasing down approvals.
When all parts of the sales funnel are connected in one platform and integrated with a CRM like Salesforce or Microsoft Dynamics, there are major improvements in sales team efficiency, productivity and effectiveness, and the length sales cycle.
Reduces Training Time
The SaaS AE Metrics study by Bridge Group found that it takes about 4.5 months to ramp up new account executives, while full productivity averages 25 months. Sales reps' effectiveness is hampered when they don't use a sales playbook to guide their selling and when they have difficulty locating the sales content they need when they need it.
Automating parts of the sales process and using a sales playbook helps new hires learn quickly. Velocify discovered that "high-performing sales organizations were almost twice as likely as underperforming organizations to describe their sales processes as 'closely monitored' or 'strictly enforced or automated.'" A Sales Engagement Platform places guardrails around the sales process. Reps optimize their time and focus on serving their potential customers.
Provides a Unified Buyer Experience
A seamless buying experience benefits buyers as well as sales teams. When everyone from the SDRs to the sales reps is working from the same platform, the information gathered at the beginning of the relationship is carried forward through each step of the buying journey. The buying experience makes customers feel like their rep is truly trying to understand them, not merely logging data in a CRM.
When every piece of sales content and every buyer interaction is on-brand and produced from a sales playbook, buyers notice and appreciate the extra effort.
Insights on Buyer Engagement
Understanding the buyer's decision-making process is a top challenge for sales teams, according to Richardson's 2018 Selling Challenges Study. A unified SEP provides data and insights on buyer engagement while providing the framework and tools to nurture the relationship with buyers effectively. Buyers can make informed decisions because the sales team engages with buyers in ways that are meaningful to them. Content such as case studies, interactive videos, ROI calculators, and testimonials help tell the story that resonates best with buyers.
Real-time buyer behavior data and digital engagement insights help sales teams learn, personalize, and optimize the sales process. Personalized content that connects with buyers replaces standardized sales decks.
Ready to Increase Revenue Through Sales Engagement?
If your goal is to increase revenue, consider a Sales Engagement Platform. Integrating a unified, all-in-one Sales Engagement Platform with your Salesforce or Microsoft Dynamics CRM will improve your sales operations and increase revenue. A robust platform on which marketing, sales, and customer success teams manage the customer engagement process from end to end can yield substantial ROI.
Disclosure: As an Amazon Associate, I earn from qualifying purchases. The commission help keep the rest of my content free, so thank you!