A string trimmer is a versatile tool designed to tackle a wide range of tasks that your lawnmower can't handle. From precisely trimming grass around trees, fences, and garden beds, to cutting back overgrown weeds and maintaining steep inclines, a string trimmer ensures that every nook and cranny of your outdoor space is groomed to perfection.
The RYOBI ONE+ HP 18V Brushless 13″ Cordless String Trimmer P20120 reaffirms RYOBI's reputation as a go-to manufacturer for high-quality, power-packed home and garden tools. Offering excellent performance, convenience, and durability, this string trimmer exemplifies the virtues of cordless garden tools, proving that they can compete toe-to-toe with their gasoline and corded counterparts.
As we've come to expect from RYOBI's ONE+ range, this model's seamless integration with an extensive battery ecosystem offers users remarkable flexibility. The compatibility with any ONE+ 18V battery is a boon for existing RYOBI users, providing the convenience of switching batteries between tools. For novices to the brand, this feature opens a gateway to a whole array of high-performing cordless tools powered by the same battery system.
Performance-wise, the String Trimmer stands tall. It boasts an 18V motor, which, when coupled with the efficiency of brushless technology, delivers power that comfortably rivals gas models. The brushless motor promises not only increased power but also a longer lifespan for the tool, further substantiating its value-for-money proposition. Ryobi also made a 40V string trimmer but the 18V is more than enough for me.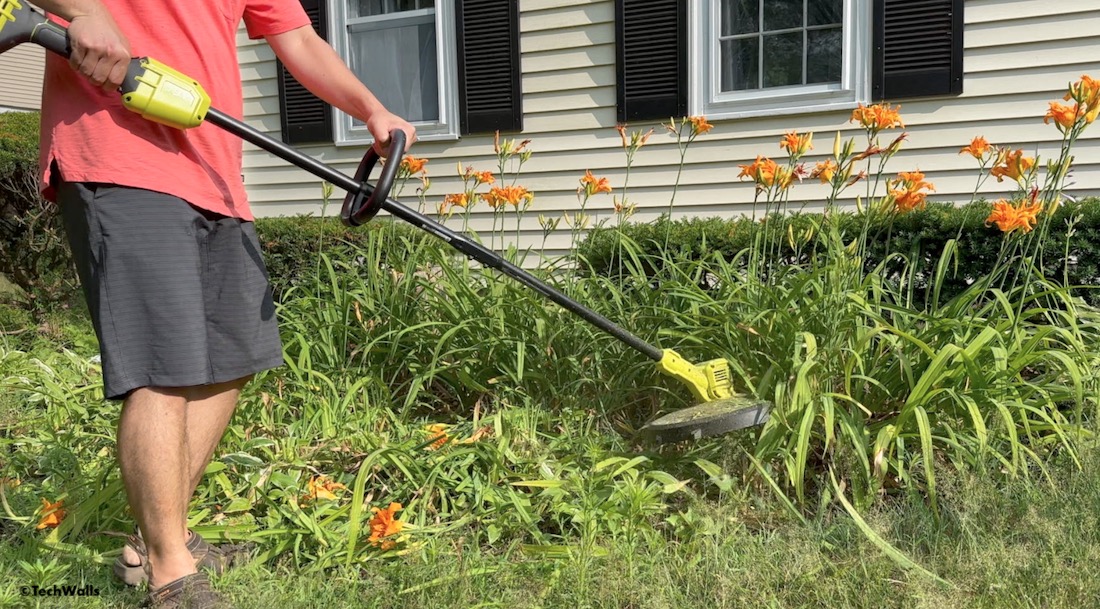 The trimmer's 13″ cutting swath proves ample for tackling medium to large-sized gardens. It makes short work of overgrown grass and stubborn weeds, delivering clean, precise cuts. The 2-speed trigger gives users the ability to adjust the cutting speed, offering an effective way to conserve battery life for less demanding tasks or crank up the power when needed.
RYOBI's design aesthetic places an emphasis on user-friendly ergonomics, and this model is no exception. Weighing in at just over 9 lbs including a 4Ah battery, it is light enough to be maneuvered around the garden with relative ease, making it suitable for users of all strengths and ages. The secondary handle is another nice touch to provide additional support and control.
There is a button on the side that unlocks the shaft for rotation, enabling the trimmer to transform into an edger. This feature highlights the tool's versatility, offering more value to the user by serving dual purposes. A quick press and twist, then turn the handle and you're ready to switch between trimming and edging tasks. However, the design does leave a bit to be desired. A noticeable omission is the guide wheel, an element typically found in other trimmer-edger hybrids.
The RYOBI deviates from the bump-feed mechanism usually found in string trimmers. Instead, it employs an auto-feed line head that dispenses a 1/4″ of line each time the trigger is released. Although this feature aims at user convenience, it could lead to some line waste initially, particularly for users who are habitual trigger-releasers. The trimmer guard cuts off any excess line, ensuring the tool's efficiency, but this might result in consuming the line at a faster rate than expected. Nonetheless, these concerns should fade away once users acclimate to the tool's functionality and usage pattern.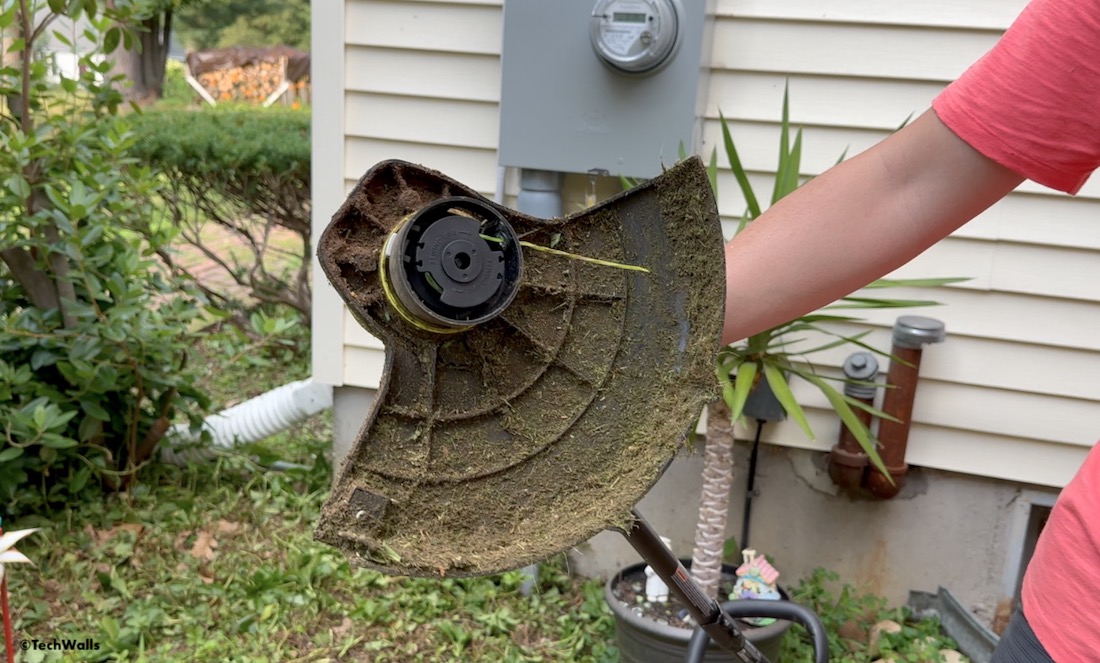 Reloading new line to this trimmer is a stress-free task. Once the cap is off, all you need to do is to align the arrows on the spool, insert a length of new string into the hole, and wind it around in the direction of the arrows. When you've wound the string, replace the cap, and you're ready to get back to work. I use 0.08″ replacement line from Lowe's and it is quite affordable at just $13 for 175 ft.
Battery life, as with any cordless tool, is also a concern. On its default setting, the trimmer provides a commendable run time of up to 40 minutes with a 4.0 Ah battery. However, continuous high-power usage can significantly decrease the battery life. Fortunately, this can be mitigated with the purchase of a second battery or opting for a higher capacity model.
In conclusion, the RYOBI String Trimmer is a triumph of power, performance, and convenience. It embodies a successful balance between these three essential aspects, making it an excellent choice for anyone looking to invest in a reliable, versatile, and efficient string trimmer. Despite the minor issue, this trimmer provides undeniable value that should cater to a broad range of users, from garden enthusiasts to professional landscapers.
Disclosure: We might earn commission from qualifying purchases. The commission help keep the rest of my content free, so thank you!