Although the Ryobi RY401180 was released nearly 2 years ago, it is still among the best-selling lawn mowers on the market. It emerges as an impressive choice in the 40V lineup of cordless mowers, delivering a winning combination of power, convenience, and innovative features at an affordable price.
Box Contents
Upon unboxing the product, you'll find a thoughtful selection of accessories to kickstart your lawn maintenance. The box contains the mower, neatly folded for compact storage during shipping. Additionally, a sizable grass collection bag is provided for efficient clippings disposal. A side-discharge chute is also included, giving users the option to discharge clippings to the side as they mow. To power the unit, Ryobi supplies a 40V Lithium-ion battery and its corresponding charger. Another useful accessory provided is the mulching plug, enabling a swift transition to the mulching mode when needed. Finally, the box includes a thorough instruction manual, guiding users clearly through assembly, operation, and maintenance, ensuring you extract maximum value from your new mower.
The mower's compact design is worth a special mention. With easy-fold handles, the lawnmower is not just simple to store, but it also fits comfortably into smaller spaces. This is a real advantage for homeowners with limited storage space.
Brushless Motor
The most noticeable feature of the mower is its 40V brushless motor, which differentiates it from its competitors. The brushless motor allows for greater efficiency and longer motor life, making it a robust, reliable choice for homeowners with medium to large lawns. Performance-wise, it doesn't disappoint, demonstrating excellent cutting power even in dense patches of grass.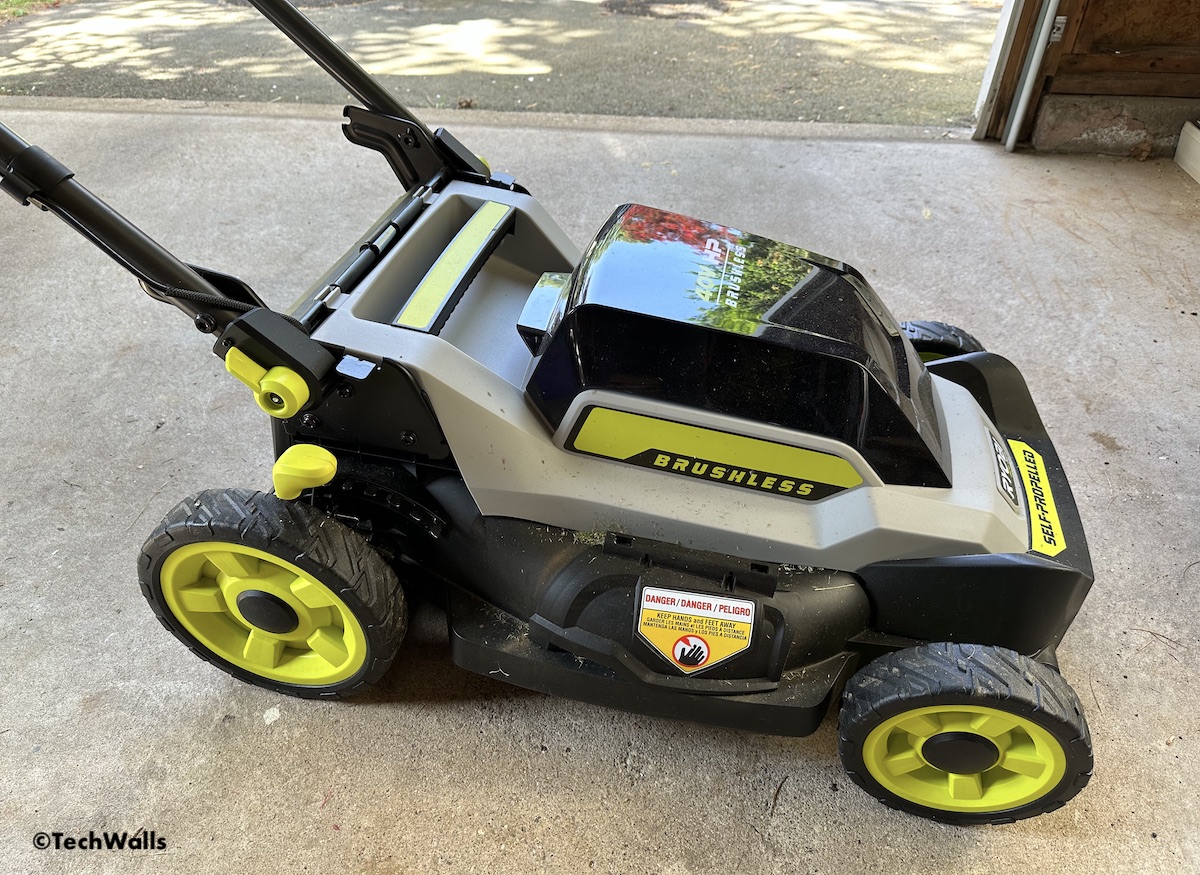 Self-Propelled Rear Wheel Drive
Another standout feature is indeed its self-propulsion system, an attribute that offers numerous benefits to homeowners. Particularly useful when mowing on slopes, the self-propelled nature of the mower drastically reduces physical effort, making it less strenuous to navigate inclines. This is achieved by the mower essentially driving itself up the slope, requiring minimal push from the user.
The self-propelled rear wheel drive is not only beneficial for dealing with slopes, it also makes the mowing experience easier for a wider range of users. For instance, even younger family members can operate the mower safely under supervision, turning lawn care into a shared family task rather than a solitary chore.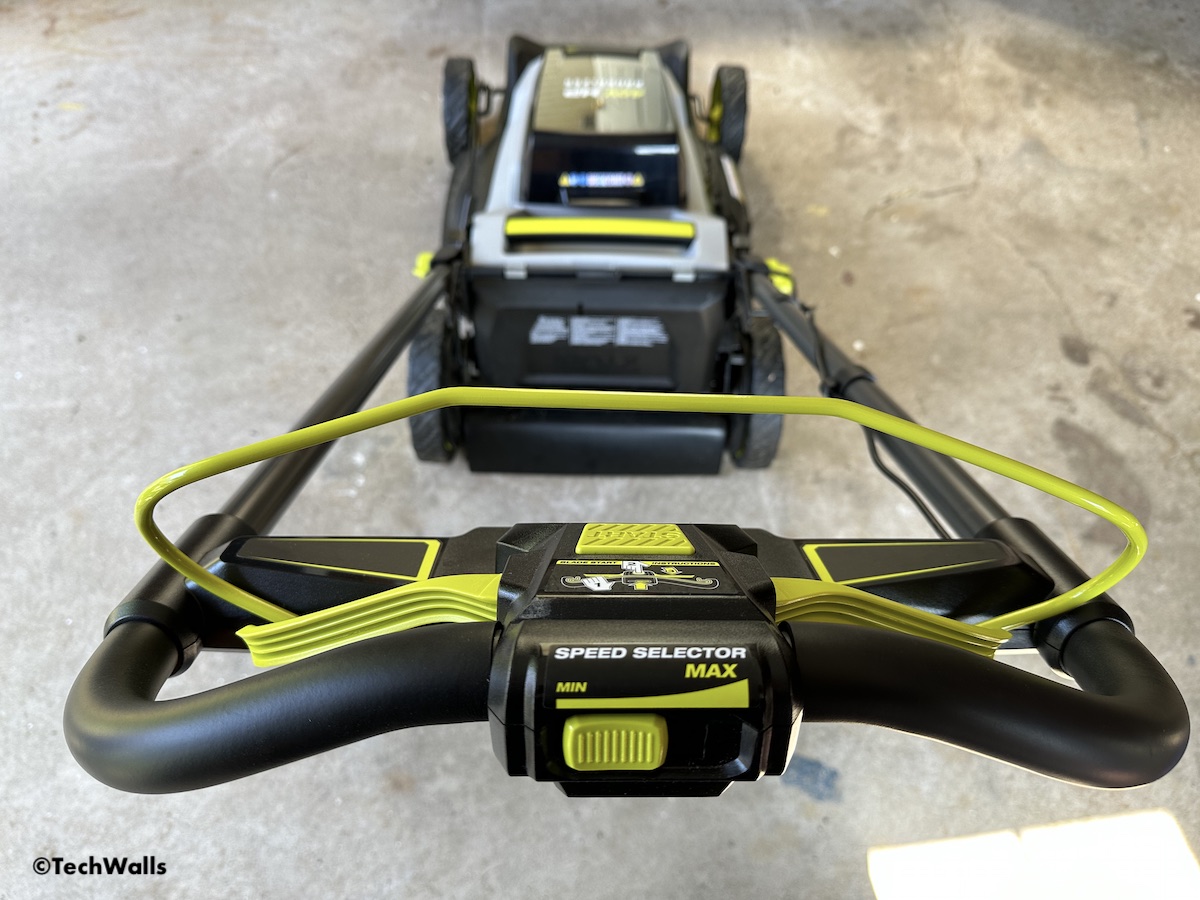 The speed of the self-propulsion can be conveniently adjusted via a dial on the handle, allowing for a controlled and customized mowing experience. This means that irrespective of the user's walking pace – be it a teen just learning to mow the lawn, or an adult who's been doing it for years – the Ryobi can match it, ensuring comfort and efficiency in each mowing session. Users may notice a bit of lag before the propulsion kicks in, but it's relatively minor and doesn't detract significantly from the mower's overall performance.
Ease of Use
When it comes to ease of use, the Ryobi scores high marks. The push-button start is straightforward and convenient, eliminating the often frustrating pull-start mechanism found on many gas mowers. Furthermore, the mower's light weight and compact design make it easy to maneuver around corners and obstacles.
The mower's cutting height can be adjusted to seven positions, with a range of 1.5″ to 4″, offering a considerable amount of flexibility depending on the specific requirements of your lawn. This can easily be adjusted with a single lever, contributing to the user-friendly nature of the mower.
In terms of noise, this model shines. Compared to the noisy gas-powered models, the Ryobi RY401180 operates with minimal sound, making it a more pleasant option for those who prefer a quieter mowing experience. Now I even don't need to wear any noise-reduction earmuffs.
Bagging, Mulching, and Side Discharge Functions
An added feature of this Ryobi lawnmower is its ability to mulch, bag, or side-discharge clippings. The bagging capacity is quite satisfactory, holding a substantial amount of clippings before needing to be emptied. Mulching is efficient, but a tad less impressive when tackling taller grass. Nonetheless, the ability to switch between these 3 modes offers much-appreciated versatility.
Battery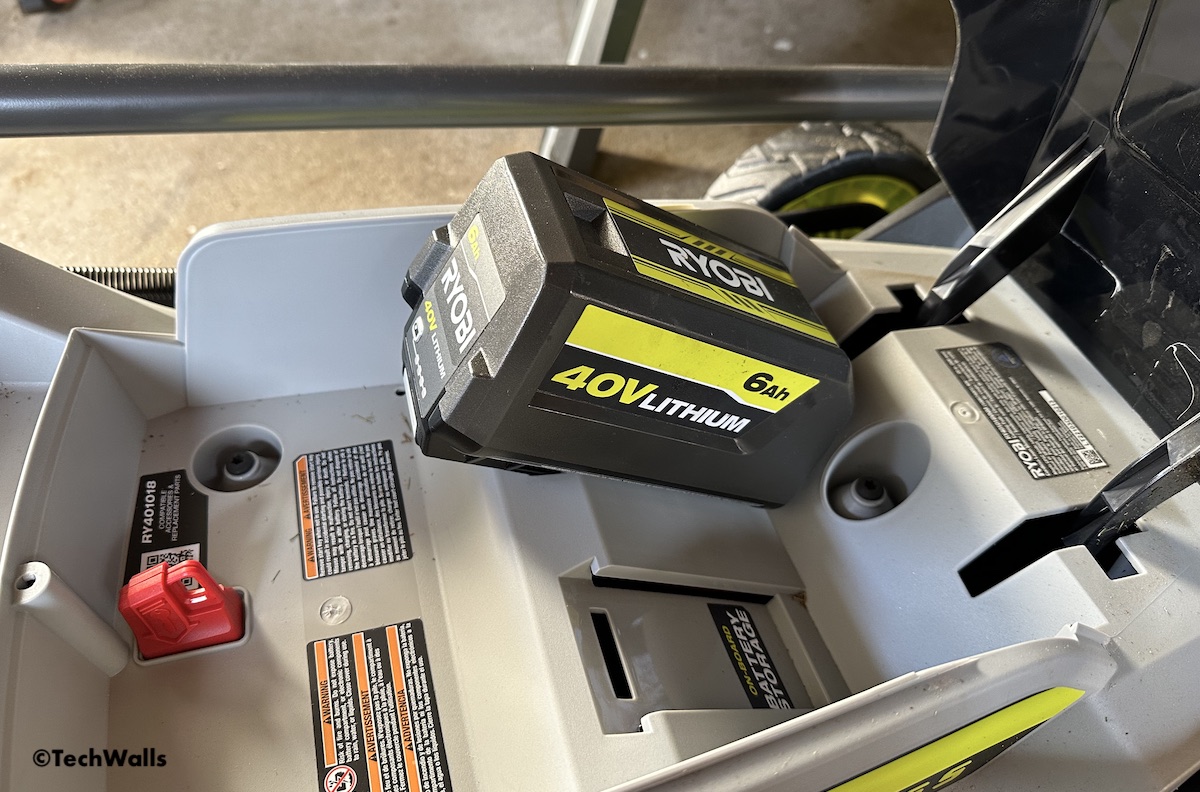 The Ryobi is powered by 40V lithium-ion battery, mine uses a 6.0Ah battery included in the box. The mower's run-time is impressive, comfortably cutting up to half an acre on a single charge. However, the battery life could be shorter when I use the self-propulsion a lot. Charging is straightforward with the included charger, but the charging time may be a downside for some users, taking approximately two hours to reach full capacity.
A Drawback
One potential drawback is the plastic deck. While it contributes to the lightweight nature of the mower, it might not be as durable as the steel decks found on more heavy-duty models. That said, for most residential applications, this shouldn't pose a problem.
Conclusion
Pros:
Efficient Performance
Self-Propulsion
Mulch, bag, or side-discharge clippings
Ease of Use
Impressive Battery Life
Adjustable Cutting Height
Quiet Operation
Compact Design
Cons:
Plastic Deck
Slight Propulsion Lag
Longer Charging Time
Mulching Limitations
In conclusion, the Ryobi RY401180 40V Brushless Self-Propelled Mower presents an impressive balance of performance, convenience, and innovative features. It's an excellent choice for homeowners looking for a reliable, user-friendly, and efficient lawnmower. While it has a few minor drawbacks, such as a slower self-propulsion start and a longer charging time, they are easily outweighed by the strengths.
Disclosure: We might earn commission from qualifying purchases. The commission help keep the rest of my content free, so thank you!