Most individuals go on Facebook to catch up with the news of friends and family. Outside of this realm, Facebook started to become a news source for many individuals looking to catch up on headlines in both world news and pop culture.
With the inclusion of advertisements, it became apart of the business model of many businesses who found that they can reel in a larger audience with such a creation. Now, with many of these businesses including restaurants, Facebook has now created the ability for them to post menus of their establishments. Let's take a closer look at how this will affect the face of the social media site amid the competitors Facebook has.
More about Menus
Facebook is making the menu system possible through what is known as SinglePlatform. Through SinglePlatform, from Constant Contact, restaurants are able to not only post menus, but also allow individuals to see images and other aspects of the restaurant that they wish to eat at. In the end, this is able to be shown on any platform that the restaurant requests to present it on, whether its  Yelp, or Facebook. Speaking of Yelp, it is important to note that such a service is already available on Yelp. However, Facebook hopes to revolutionize it.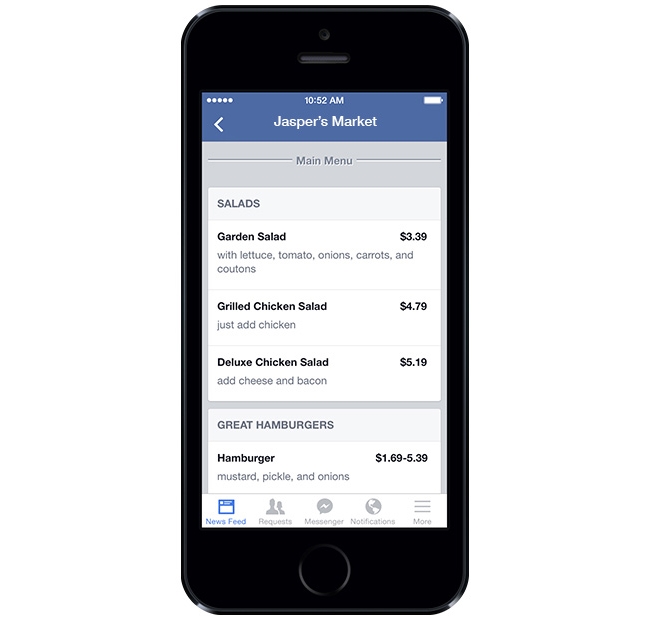 What about Yelp?
Yelp currently allows individuals to go onto a restaurant's website, and along with viewing the hours of operation, user submitted photos, and reviews, individuals can also click the "Explore Our Menu" page to see what the restaurant is serving up. Yelp has excelled at this for years, however, the reviews website and application is looking to become more social. There are a lot of restaurant pages that are well written and completed, but lack an adequate number of reviews. Regardless, individuals can order meals through Yelp's OpenTable client. However, Facebook hopes to use the new menus feature as a springboard for ordering through Facebook itself.
Signal for Something Larger?
To host ordering in-house offers a new monetization route for the social network, in addition to advertisements that offer a majority of the revenue for both Facebook and Yelp. Online ordering can be profitable for Facebook by taking a percentage of credit card transactions or offering a flat subscription fee to allow individuals to use such a service. The price could be worth it due to the potential audience that Facebook presents to restaurants and businesses.
What we'd Like to See
Currently with such a system, similar to that on Yelp, the only way you can click through the menu is if there are more options for a specific item. For example, if a restaurant is serving hamburgers, they may have the option to click to see options for cheese or without cheese. However, you are still simply viewing a menu and nothing more. In the future, we hope to have a menu where you can order and make adjustments to your food order.
However, even on Yelp, this isn't a possibility. You can only order with OpenTable, and this is to make a reservation, rather than a delivery order. Another great feature would be to allow for inviting Facebook friends to a dinner, opening the way a mesh of Facebook Events and Facebook Restaurants. Ultimately, a bill splitting feature would set Facebook apart as a leader in mobile online ordering.
Could Facebook allowing restaurants to show their menus in a more organized format a signal for something larger for Facebook? This may be the case, but for the future, not necessarily now. As users of Facebook already know, an advancement of this feature into something larger, tapping into Facebook's current features including Facebook Events, Payments, and more, will allow the social media giant to increase revenue. Let us know in the comments below on your opinion about restaurant menus on Facebook.
Disclosure: As an Amazon Associate, I earn from qualifying purchases. The commission help keep the rest of my content free, so thank you!